Download HS MailPerfect for Windows
Virus, spam and unwanted email remover before downloading occurs.
Download.io

-
Users

-
Your vote
Latest Version:

HS MailPerfect 1.1

Category:

License:

Shareware

Price:

$29

Operating system:

Windows

File size:

0.76 MB

Downloads:

4,659

Publisher:
trusted
DOWNLOAD
Virus, spam and unwanted email remover before downloading occurs
Email filtering software which sits behind an email client such as Outlook Express. It wakes up when the client starts checking email messages from the account and lists messages classifying them in three categories : possible virused messages (RED), spam messages (YELLOW) and useful messages (GREEN).
Software Summary
You can run HS MailPerfect on all modern Windows OS operating systems. HS MailPerfect is a software product developed by Yenicag Bilisim Ltd and it is listed in Browser & Email category under Email Anti-Spam. HS MailPerfect is licensed as Shareware which means that software product is provided as a free download to users but it may be limited in functionality or be time-limited. You may need to pay at some moment to continue using product or to use all functionalities. HS MailPerfect was last time updated on Jan 22nd, 2008 to version .
Download HS MailPerfect
Download and install HS MailPerfect safely and without concerns.
FREE DOWNLOAD - SAFE & SECURE
What do you think about HS MailPerfect?
HS MailPerfect awards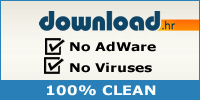 HS MailPerfect 1.1
Jan. 22, 2008