Sands of Salzaar for Windows
Bringing you to an exotic desert where you'll recruit, train, and guide your troops into battle against rival cities and factions. Embark on an adventure that's uniquely yours; Customizable characters, professions, and factions. The land is filled with a

Early Access Roadmap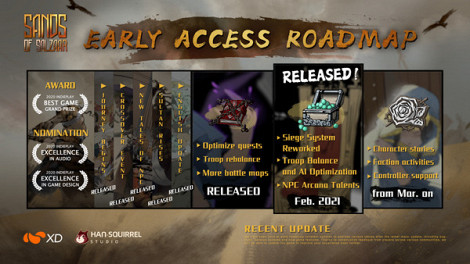 Join Us on Discord!
Welcome to our official Discord server! We've brewed a pot of tea waiting for all desert travelers to come by and have a nice stay:


MOD and Workshop available now!
Check out our MOD Developer Manual: index.php?title=MODDeveloperManual&uselang=en

About the Game
The English Localization Update is Available Now!
We are happy to announce that the English language edition is finally here, along with a slew of new storylines and multiplayer mod support!
Enjoy your English gameplay and join us in our Discord channel to share your gaming moments: xdindie
Background Story
This is a fantastical tale of an exotic land. The Old Empire which once ruled the desert has fallen, leaving various tribes to fight for control of their world. Little do they know of the seeds of darkness which grow in the shadows with each passing day...
Game Features
Epic War & Strategy:
Recruit and train your soldiers for both large-scale battles and skirmishes. Customize your hero's skills to become a martial arts master, powerful archmage, and more. Manage your resources, ally with different factions, and command your troops in real-time to win.


Explore a Dynamic Open World:
Roam across a giant map to encounter various characters, take on quests, explore dungeons for loot, and uncover tons of secrets behind this sprawling desert...


A New Adventure Every Time You Play:
With each playthrough, you become stronger and discover different questlines, using Legacy points to unlock bonus characters, abilities, and rare items.


Full Modding Support:
Shape your own desert adventure with a full set of mod development tools. Discover hundreds of Steam mods already available featuring large-scale campaigns, multiplayer maps, characters, perks, and more!

-----------------
If you encounter any in-game issues, please report to us on Discord: xdindie or contact us by email ([email protected]).
Game Summary:
You can run Sands of Salzaar on Windows operating systems. Sands of Salzaar is a game developed by X.D. Network Inc. and it is listed in the category. Sands of Salzaar is licensed as Sands of Salzaar.
Alternatives in on Windows