Springboard 1.03 for Windows
Six Mile Creek Systems LLC
Graphic & Design / Editors
A fast, easy-to-use tool for drawing a storyboard for a movie production.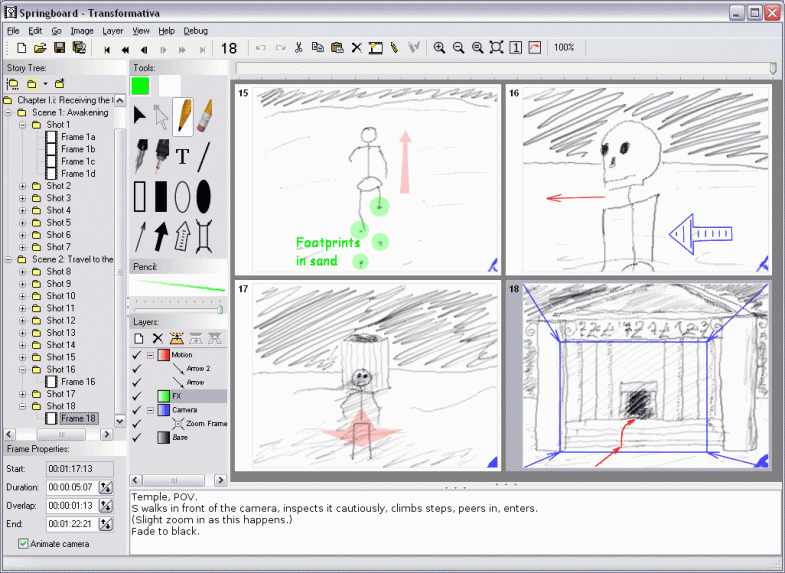 Springboard is a fast, light, easy-to-use Windows application for easily and quickly sketching and annotating your storyboard ideas for film, video, animation, or other dynamic media. Outline your story to organize your work; draw your storyboards with both natural-media and vector tools; import or copy and paste text and graphics from other applications; add annotation layers to show camera moves, special effects, etc.; use a multi-layer model to productively reuse content; easily edit graphics and sounds with external programs if you prefer; record animation and play back as an animatic in real-time; record or import sounds; include fade transitions, layered animation, and camera movement easily; print in a variety of formats; work with feature-length or longer projects; and export to AVI, HTML, WAVE or sequential image files for review or integration with other applications. Springboard keeps the process simple and organized.
Software Summary:
You can run Springboard on Windows operating systems. Springboard is a software product developed by Six Mile Creek Systems LLC and it is listed in the Graphic & Design category under Editors. Springboard is licensed as Shareware which means that the software product is provided as a free download to users but it may be limited in functionality or be time-limited. You may need to pay at some moment to continue using product or to use all functionalities.
Alternatives in Graphic & Design on Windows