The Talos Principle for Windows
Devolver Digital,Croteam
Games / Action
The Talos Principle is a first-person puzzle game in the tradition of philosophical science fiction. Made by Croteam and written by Tom Jubert (FTL, The Swapper) and Jonas Kyratzes (The Sea Will Claim Everything).

Check out The Hand of Merlin
About the Game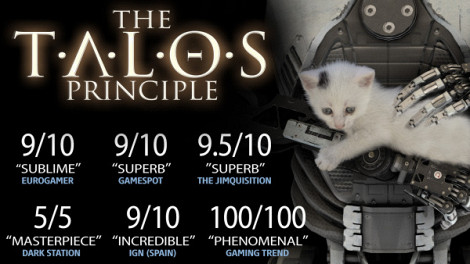 As if awakening from a deep sleep, you find yourself in a strange, contradictory world of ancient ruins and advanced technology. Tasked by your creator with solving a series of increasingly complex puzzles, you must decide whether to have faith or to ask the difficult questions: Who are you? What is your purpose? And what are you going to do about it?
Features:
Overcome more than 120 immersive puzzles in a stunning world.

Divert drones, manipulate laser beams and even replicate time to prove your worth - or to find a way out.

Explore a story about humanity, technology and civilization. Uncover clues, devise theories, and make up your own mind.

Choose your own path through the game's non-linear world, solving puzzles your way.

But remember: choices have consequences and somebody's always watching you.
Game Summary:
You can run The Talos Principle on Windows operating systems. The Talos Principle is a game developed by Devolver Digital,Croteam and it is listed in the Games category under Action. The Talos Principle is licensed as The Talos Principle.
Alternatives in Games on Windows