LanTalk NET 3.7.5605 for Windows
CEZEO software Ltd.
Communications / Chat & Instant Messaging
LanTalk NET office instant LAN messenger, WAN or Internet (without server)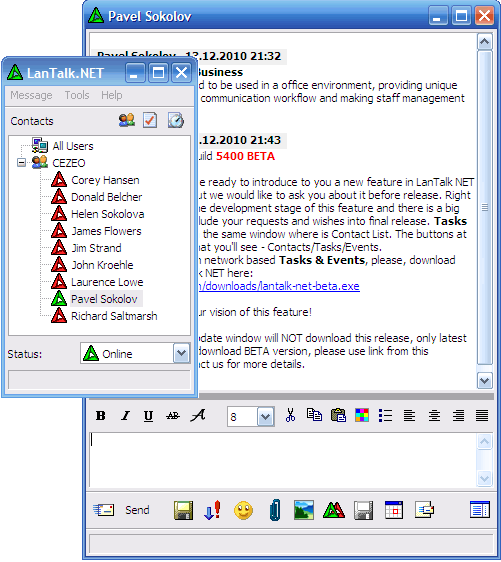 LanTalk NET office instant LAN messenger that work in LAN, WAN or Internet, without any server or internet access! Designed for business networks. In fact, in most companies LanTalk.NET replaced corporate e-mail for exchanging files and messages. For an additional fee you will get a custom version of LanTalk NET. Key Features: - Command line interface ( CLI ) to send messages - Read receipts, you will be notified when the user has read your message - File transfers replace e-mail attachments - Broadcast Messaging for instant broadcasting - Serverless operation with live contact list - Paste images from clipboard - Internal Scheduler - Drag and Drop support - Active Directory support - Compatible with Terminal Server - HIPAA friendly instant messenger - Offline delivery - Graphical Emoticons and Embedded Images - Configurable user interface - Read-Only and Reply-Only modes to restrict social chatting - Printing support - Fast Replies - Fast Messages - Multilanguage support - Conversation History - Automatic Check for Updates No setup, no administrator, no server. The program does everything on its own. It does not require a server. Instead, the program uses TCP/IP and UDC protocols, and port 2307 (by default), to make sure that there aren't any problems with a firewall. All PCs "communicate" to each other directly. The application automatically determines which users are available on its own. Thus, there is no need to set up or administer the program.
Software Summary:
You can run LanTalk NET on Windows operating systems. LanTalk NET is a software product developed by CEZEO software Ltd. and it is listed in the Communications category under Chat & Instant Messaging. LanTalk NET is licensed as Shareware which means that the software product is provided as a free download to users but it may be limited in functionality or be time-limited. You may need to pay at some moment to continue using product or to use all functionalities.
Alternatives in Communications on Windows