Explore a galaxy full of wonders in this sci-fi grand strategy game from Paradox Development Studios. Interact with diverse alien races, discover strange new worlds with unexpected events and expand the reach of your empire. Each new adventure holds almost limitless possibilities.
Nemesis
Necroids: Species Pack
Stellaris Necroids Species Pack
Ascension Pack



Stellaris: Ascension Pack
Your species has mastered the seemingly impossible. Faster than light travel means a new era for your civilization. Brave pioneers set forth from our ancient homeworld into the unknown, while scientists unlock more and more of the vast mysteries of the cosmos... But you are neither the first nor the only, species to climb to the heavens. You must test your military and diplomatic prowess against rival galactic empires.

The Stellaris Ascension Pack includes:
Apocalypse:
This expansion redefines stellar warfare for all players with a host of new offensive and defensive options. Destroy entire worlds with terrifying new planet-killer weapons, fight against (or alongside) ruthless space pirates, and maybe discover a few non-violent game features as well.
Utopia:
This expansion adds megastructures and new options for the ultimate advancement of your species.
MegaCorp:
This expansion is all business with new MegaCorp empires that establish branch offices on other planets to add a portion of that planet's Trade Value to their own network.
Leviathans Story Pack:
A story pack that includes monstrous new creatures and encounters
Synthetic Dawn Story Pack:
Provides an all-new way for players to establish their empire across the stars, starting the game as a Machine Empire -- a society made up entirely of robots. Unique game features and event chains will allow the machines to expand as a robotic consciousness and create an AI-led network that grows to galactic dominance.
Plantoids Species Pack:
A species pack that includes fifteen new species portraits, new templates for plantoid civilian and military ships and a cityscape art.
Humanoids Species Pack:
A species pack that includes ten new Humanoids portraits, new ship models, three new voiceovers sets for VIR and three remixed music tracks.
Galaxy Edition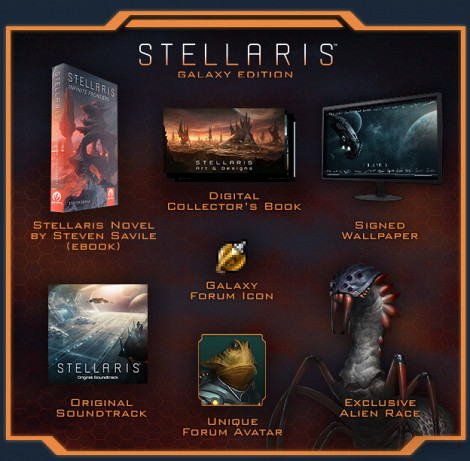 Stellaris Galaxy Edition includes:
DIGITAL ORIGINAL SOUNDTRACK
The Stellaris soundtrack delivers two and a half hours of original music, including bonus tracks and alternate versions not included in the game. Composed by Andreas Waldetoft with appearances by the Brandenburg State Orchestra and Mia Stegmar, listeners will hear themes meant to evoke discovery and far-reaching exploration through the vast expanse of space through the fusion of orchestral and electronic music. MP3 and lossless FLAC are included.
EXCLUSIVE ALIEN RACE (COSMETIC DLC)
Colonize the unknown and build a glorious spider empire! An exclusive alien race will be added to your game with a unique arachnid design. When your friends ask how you obtained these new spacefaring spiders, be sure to tell them you found the deal on the web.
DIGITAL COLLECTOR'S BOOK
Join the creative team behind Stellaris to learn how the game's aesthetic was designed and realized for Paradox's most visually unique game to date. From concept art all the way through full illustrations and 3D renderings, this exclusive 130-page book includes a collection of game art unavailable anywhere else -- along with insight into the thoughts and research that drove these designs, the problems the team faced along the way, and the ways they finally brought these visuals to life.
STELLARIS INFINITE FRONTIER NOVEL BY STEVEN SAVILE (ebook)
From best-selling author, Steven Savile comes an original novel based on the science-fiction setting of Paradox's Stellaris. When the Commonwealth of Man receives proof that they are not alone in the universe, humanity is divided: should our species seek salvation in potential friends among the stars, or prepare for an inevitable war? What discoveries await the colony ship as they journey into the unknown to find the source of a mysterious alien signal? Download and read on epub, mobi (Kindle) and PDF.
EXCLUSIVE AVATAR AND GALAXY FORUM ICON
Show your love for Stellaris on the Paradox Forums and other social networks.
SIGNED WALLPAPER
Pay your respects to the pioneers who ventured forth into the unknown with this desktop wallpaper signed by the Stellaris development team.
About the Game
Get ready to explore, discover and interact with a multitude of species as you journey among the stars. Forge a galactic empire by sending out science ships to survey and explore, while construction ships build stations around newly discovered planets. Discover buried treasures and galactic wonders as you spin a direction for your society, creating limitations and evolutions for your explorers. Alliances will form and wars will be declared.

Like all our Grand Strategy games, the adventure evolves with time. Because free updates are a part of any active Paradox game, you can continue to grow and expand your empire with new technologies and capabilities. What will you find beyond the stars? Only you can answer that.


DEEP AND VARIED EXPLORATION
Every game begins with a civilization that has just discovered the means to travel between stars and is ready to explore the galaxy. Have your science ships survey and explore anomalies, leading you into a myriad of quests, introducing strange worlds with even stranger stories and discoveries that may completely change your outcome.




STUNNING SPACE VISUALS
With characteristically complex unique planets and celestial bodies, you will enter a whirlwind of spectacles in a highly detailed universe.




INFINITE VARIATION OF SPECIES AND ADVANCED DIPLOMACY
Through customization and procedural generation, you will encounter infinitely varied races. Choose positive or negative traits, specific ideologies, limitations, evolutions or anything you can imagine. Interact with others through the advanced diplomacy system. Diplomacy is key in a proper grand strategy adventure. Adjust your strategy to your situation through negotiation and skill.




INTERSTELLAR WARFARE
An eternal cycle of war, diplomacy, suspicions and alliances await you. Defend or attack with fully customizable war fleets, where adaptation is the key to victory. Choose from an array of complex technologies when designing and customizing your ships with the complex ship designer. You have a multitude of capabilities to choose from to meet the unknown quests that await.




ENORMOUS PROCEDURAL GALAXIES
Grow and expand your empire with thousands of randomly generated planet types, galaxies, quests and monsters lurking in space.




PLAY THE WAY YOU WANT
Customize your Empire! The characters you choose, be it a murderous mushroom society or an engineering reptile race, can be customized with traits like ethics, type of technology, form of preferred space travel, type of habitat, philosophies and more. The direction of the game is based on your choices.
FREE UPDATE HISTORY