Cigati VMDK Recovery Tool 22.0 for Windows
Cigati Solutions
System Utilities / File Recovery
VMware tool to recover unlimited data from corrupt VMDK files.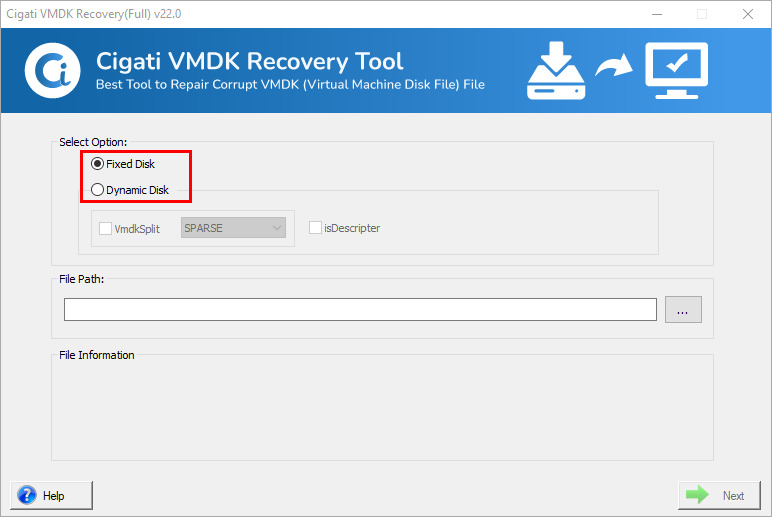 Cigati VMDK Recovery Tool provides an absolute recovery of unlimited data from corrupt VMDK files. It offers to recover Split, Sparse, Flat, or even Descriptor VMDK files along with three different recovery modes to repair severely damaged files.
This advanced VMDK File Repair Tool facilitates the recovery of corrupted VMDK files from Fixed and Dynamic disk types. The data will be parsed from the two scanning modes i.e., Standard and Advanced. This way, it detects the issue with your severely damaged Virtual Machine Disk Files. Apart from this, it also supports the Master Boot Record and GUID Partition tables. You can also try its free version to analyze its performance.
What is VMDK?
VMDK is a file format used to store virtual machine disk images, and is one of the disk image formats supported by VMware Workstation. VMDK files are typically created by using third-party tools to "capture" an existing physical machine's installation onto a set of files which can then be run in VMware Workstation.
Software Summary:
You can run Cigati VMDK Recovery Tool on Windows operating systems. Cigati VMDK Recovery Tool is a software product developed by Cigati Solutions and it is listed in the System Utilities category under File Recovery. Cigati VMDK Recovery Tool is licensed as Cigati VMDK Recovery Tool.
Alternatives in System Utilities on Windows