If you're here reading this, chances are you're trying to find the best anti-virus software products for Windows OS. Finding the right program isn't an easy job because of the variety of software available out there. Some of them are free and some of them are paid bringing additional features to users. So, in order to help you here is the list of the 10 best anti-virus software products you can try rated by number of user downloads on Download.io. Hope that you will find our list useful and that you will find the right software for you!

Ad-Aware Free Antivirus+ features real-time protection, a rootkit removal system, automatic updates, and much more
At Lavasoft, we believe that every computer user, regardless of economic status or geographic location, must have
the power to control their individual privacy and security when they use the Internet. That is why we continue to
offer Ad-Aware Free, a proactive malware removal tool that allows users to combat today?s toughest cyber threats.
With over 400 million downloads worldwide, Ad-Aware Free delivers a proven technology trusted and used by
more people than any other online security product. Ad-Aware Free features real-time anti-malware protection,
rootkit protection, and community-driven initiatives to ensure that you have the power to protect yourself online.
Ad-Aware Free Antivirus+ now includes the following features that were, up to now, reserved for our paid products:
? Gaming (silent) mode
? Advanced Rootkit Protection
? Enhanced Real-Time Protection
? Download protection to block malicious files before they are written to disk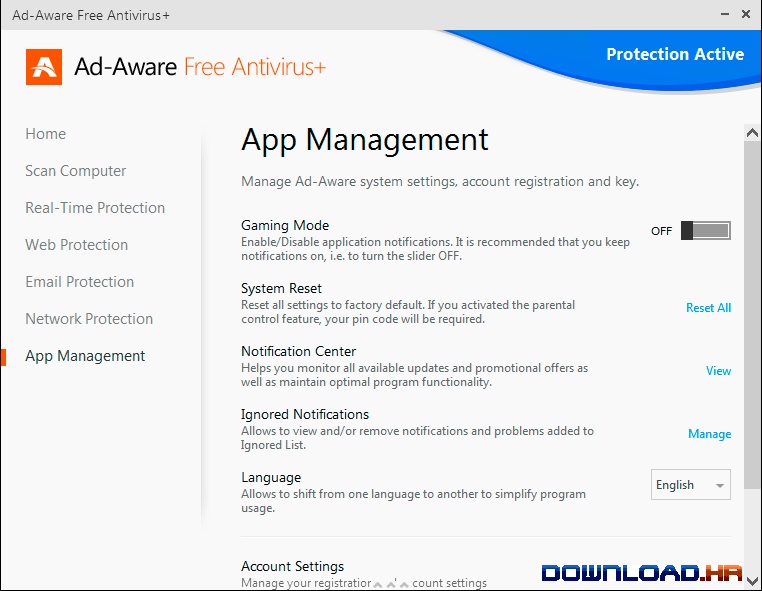 Download Ad-Aware Free Antivirus| Visit Developer's Website

Free antivirus software with spyware protection
Antivirus and anti-spyware engine
State of the art scanning engine provides reliable protection against viruses, spyware and other forms of malicious software.

Real time anti-rootkit protection
Unique "on access" technology checks all kernel-mode drivers that the operating system is loading for signs of rootkit behavior. This enables even unknown rootkits to be detected and stopped before they can do any damage.

avast! Community IQ
Most samples we process come from sensors deployed throughout the avast! community in the Behavior shield and anti-rootkit modules. This is a unique source of data made possible only thanks to our huge user base. Most of the collected samples are analysed by a number of automated processes and only a small fraction of the samples need to be processed manually by our virus analysts.

Code emulator
When a suspicious executable is encountered (during both on-demand and on-access scanning), avast! is able to emulate the program's code in an isolated environment. The code emulator is used for two purposes. First, it is used for generic unpacking. Secondly, it is used in the heuristics engine. Technically, this is done using dynamic translation, a method much faster than traditional emulation techniques.

Heuristics engine
Starting with version 5.0, avast! features a new heuristics engine designed to proactively detect malware undetectable with normal definitions. The heuristics engine is able to cover both binary (executable) and script malware.

Potentially unwanted programs detection
New in version 5.0, avast! now detects potentially unwanted programs, such as remote admin tools and commercial key loggers. Custom rules can be set for dealing with these types of programs.

ScanningBoot-time scanner
Allows you to scan your computer for infections before the operating system has started and before a virus can be activated (32-bit operating systems only).

Command-line scanner
Enables you to run a scan directly from the command line.

Wake-up for scan
Microsoft Windows is woken from sleep or hibernation mode, performs a scheduled scan, then returns back to sleep mode.

Scheduled scanning
Allows users to define the scan time and files to be scanned.

avast! Intelligent Scanner
Can reduce the number of required file scans by up to 80% through a white list of proven safe applications. Files identified as safe are not rescanned unless they change.

Shields Behavior Shield
Monitors activity on your computer using a number of sensors (file system, registry and network based) and reports/blocks any suspicious behavior.

Behavioral Honeypots
avast! sensors identify and monitor suspicious file activity on selected computers, automatically submitting files to the Virus Lab for additional analysis.

File System Shield
Real-time scanning of opened/executed files.

Mail Shield
Scans all incoming/outgoing e-mails for malware. For MS Outlook, a special plug-in is used. Other email clients are protected by a generic POP3/IMAP4/SMTP proxy. New in version 5, the proxy also supports scanning of SSL communication (gmail.com, sympatico.ca, ….)

Web Shield
Scans all visited web pages and checks all files, pages and java scripts downloaded from the internet. Thanks to the Intelligent Stream Scan feature, the Web shield doesn't slow down your web browsing.

P2P Shield
Checks files downloaded using P2P programs. - ABC, Ares, Azureus, BearShare, Bit Torrent, BitComet, BitLord, BitPump, CZDC++, Direct Connect, eDonkey, eMule, iDC++, iMesh, Kazaa, Kceasy, LimeWire, Morpheus, Opera's DC++, Overnet, Qtrax, Shareaza, SoulSeek, StrongDC++, uTorrent, Vuze, WinMX, Winny2, Zultrax.

IM Shield
Checks files downloaded while using instant messaging or "chat" programs. - AIM (AOL Instant Messenger), Gadu-Gadu, gaim/Pidgin, Google Talk, ICQ, IM2 Messenger, Infium, Miranda, mIRC, MSN/Windows Messenger, Odigo, PalTalk Messenger, Psi Jabber Client, QIP, QQ, SIM, Skype, Tlen, Trillian, WengoPhone, XFire, Yahoo! Messenger.

Network Shield
Provides protection against network-based viruses. The module has two main components: a URL blocker, designed to block malicious URLs (as defined by the Virus Lab), and a lightweight intrusion-detection system.

UpdatesSmart virus definition updates
Incremental updating system minimizes the size of regular update files.

Fast application of updates
New format for the virus definition file speeds up application of updates into avast! 5.0 and reduces demand on CPU/memory, resulting in uninterrupted computer use.
New format for the virus definition file means faster updates and reduces demand on CPU/memory, resulting in uninterrupted computer use.

Gaming Silent/Gaming Mode
New Silent/Gaming Mode automatically detects full-screen applications and disables pop-ups and other on-screen notifications without degrading security.

Optimized for latest Intel Core i7 CPUs
Critical sections of the avast! scanning engine code have been optimized to deliver unrivaled performance on the latest Intel chips.

CPU optimization Multi-threaded scanning optimization
avast! runs faster on new multi-core CPUs. A new avast! feature allows the splitting of large individual files between cores, accelerating the scanning process.

Green computing
Reduced demands on the disk drive result in lower energy consumption.

avast! iTrack
Real-time graphic scanning reports.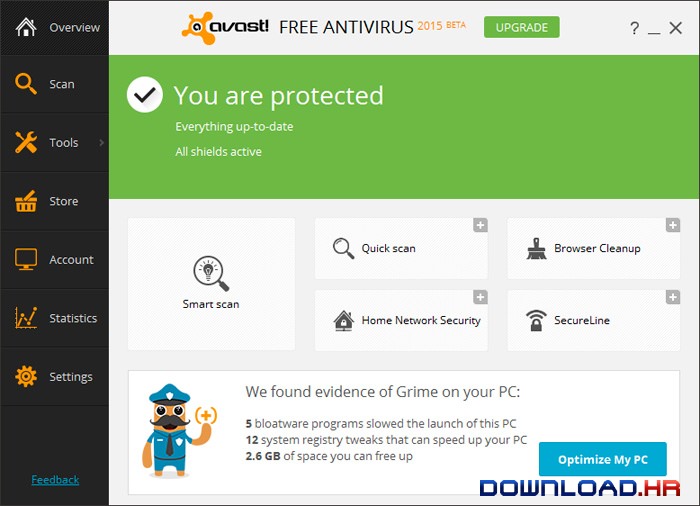 Download avast Free Antivirus| Visit Developer's Website

Antivirus System that provides well balanced, state-of-the-art protection against threats endangering your PC
NOD32 Antivirus System provides well balanced, state-of-the-art protection against threats endangering your PC. Viruses, worms, trojans and other malware are kept out of striking distance of your valuable data. Advanced detection methods implemented in the software even provide protection against the future threats from most of the new worms and viruses.
The fourth generation of the NOD32 Antivirus System features a fully integrated software suite characterized by an unprecedented detection track record, the fastest scanning rates and extremely low utilization of system resources.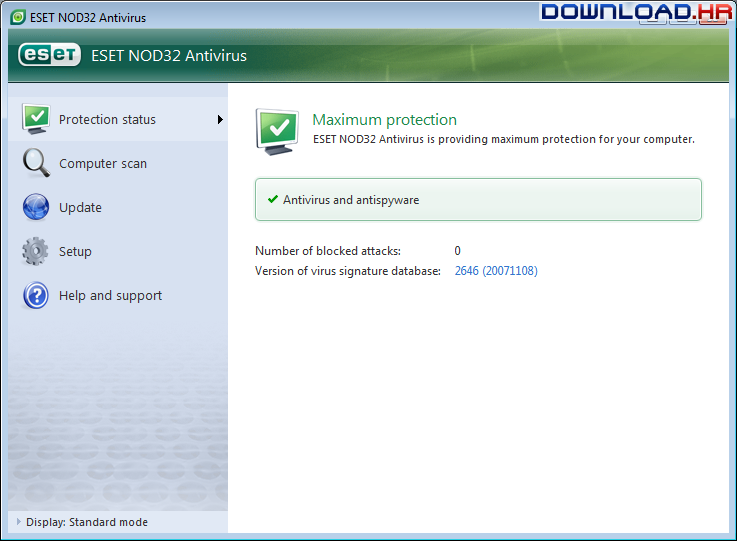 Download NOD32 Antivirus| Visit Developer's Website

AntiVir Personal Edition - free, effective protection against computer viruses
Avira AntiVir Personal FREE Antivirus was developed to be a reliable free antivirus solution, that constantly and rapidly scans your computer for malicious programs such as viruses, Trojans, backdoor programs, hoaxes, worms, dialers etc. Monitors every action executed by the user or the operating system and reacts promptly when a malicious program is detected.

Avira AntiVir Personal is a comprehensive, easy to use antivirus program, designed to offer reliable free of charge virus protection to home-users, for personal use only, and is not for business or commercial use.

Avira AntiVir Personal gives you the following functions:
· Control Center for monitoring, administering and controlling the entire program
· Central configuration with user-friendly standard and advanced options and context-sensitive help
· Scanner (On-Demand Scan) with profile-controlled and configurable search for all known types of virus and malware
· Integration into the Windows Vista User Account Control allows you to carry out tasks requiring administrator rights
· Guard (On-Access Scan) for continuous monitoring of all file access attempts
· Integrated quarantine management to isolate and process suspicious files
· Rootkit protection for detecting hidden malware installed in your computer system (rootkits) (Only for 32-bit systems)
· Direct access to detailed information on the detected viruses and malware via the Internet
· Simple and quick updates to the program, virus definitions, and search engine through Single File Update and incremental VDF updates via a webserver on the Internet
· Integrated Scheduler to plan one-off or recurring tasks, such as updates or test runs
· Very high rates of virus and malware detection using innovative search technologies (search engines) and heuristic search processes
· Detection of all common archive types, including detection of nested archives and smart extensions
· High-performance multithreading function (simultaneous high-speed scanning of multiple files)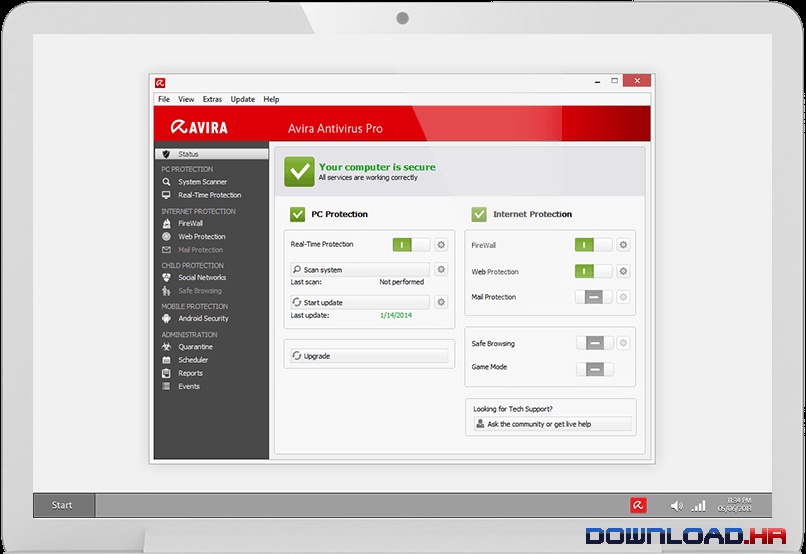 Download Avira Free Antivirus| Visit Developer's Website

Free advanced antivirus protection for surfing, emailing, and social networking.
Our most feature-packed FREE product ever, AVG AntiVirus FREE delivers security features usually found only in paid products. An ideal solution for anyone looking for great basic protection while web surfing, emailing, and social networking.

AVG AntiVirus FREE goes beyond traditional virus detection and removal to protect your privacy, too. Our AVG Do Not Track feature gives you back control of your online privacy by allowing you to choose which websites can collect and use your data (available if you accept AVG Security Toolbar as part of your installation). Together with our Anti-Spyware feature, AVG Do Not Track delivers powerful personal data protection whether you're at home or on the go. And the newly integrated File Shredder permanently deletes sensitive files to keep them from falling into the wrong hands.

And it's not just your PC and privacy that we help protect. Performance remains a significant factor, too. We firmly believe that antivirus software should never get in your way, so our smart scanning technology not only reduces scan times, it ensures that they take place when your PC isn't busy with other tasks. In other words, you can get on and do what you need to without any delays or interruptions.

Improvements to the interface now also give you direct access to our great range of free apps, so we can help protect your mobile and tablet, too. Combine all this with comprehensive free online technical support, and you can be sure you're getting the best possible free protection, privacy, and performance-that's now even easier to use.

And for those who shop or bank online, AVG's paid products can do even more to protect your PC, optimize its performance, and safeguard your privacy.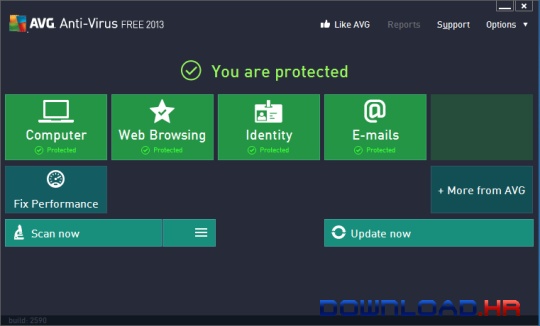 Download AVG AntiVirus FREE| Visit Developer's Website

Protect your PC with an expert antivirus solution specially created for home use
Kaspersky Anti-Virus (KAV) provides all types of anti-virus protection: antivirus scanners, monitors, behavior blockers and integrity checkers. Kaspersky Anti-Virus combines reactive antivirus detection methods with the latest proactive technologies to provide your computer with the most effective protection against malicious programs. The product is simple to install and set up, while offering advanced users a range of versatile settings for fine-tuning the program.

Essential Protection

· Protects from viruses, Trojans and worms
· Blocks spyware and adware
· Scans files in real time (on access) and on demand
· Scans email messages (regardless of email client)
· Scans Internet traffic (regardless of browser)
· Protects instant messengers (ICQ, MSN)
· Provides proactive protection from unknown threats
· Scans Java and Visual Basic scripts

Preventive Protection

· Scans operating system and installed applications for vulnerabilities
· Analyzes and closes Internet Explorer vulnerabilities
· Disables links to malware sites
· Detects viruses based on the packers used to compress code
· Global threat monitoring (Kaspersky Security Network)

Advanced Protection & Recovery

· The program can be installed on infected computers
· Self-protection from being disabled or stopped
· Restores correct system settings after removing malicious software
· Tools for creating a rescue disk
· Data & Identity Theft Protection
· Disables links to fake (phishing) websites
· Blocks all types of keyloggers

Usability

· Automatic configuration during installation
· Wizards for common tasks
· Visual reports with charts and diagrams
· Alerts provide all the information necessary for informed user decisions
· Automatic or interactive mode
· Round-the-clock technical support
· Automatic database updates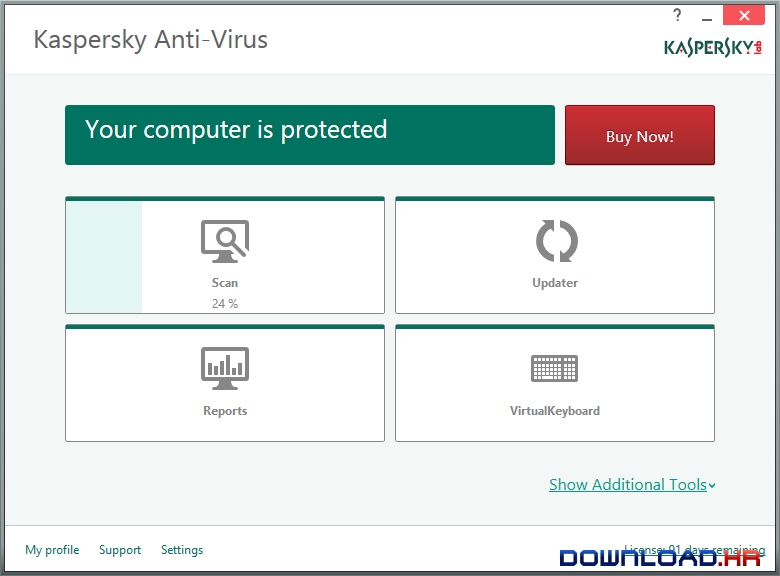 Download Kaspersky Anti-Virus| Visit Developer's Website

One of the best free antivirus programs.
The new release uses the ICSA Labs certified scanning engines for Microsoft Windows® XP allowing users to enjoy their virus protection as they move to the future's technologies.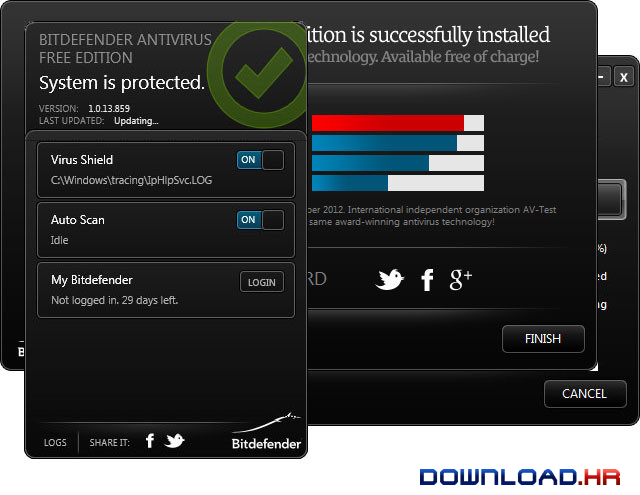 Download BitDefender Free Edition| Visit Developer's Website

ESET Smart Security was designed to be complete solution in the field of computer protection against infiltrations and attacks
Eset Smart Security offers more than just a sum of its parts – it is synergy that matters most. If all components are used simultaneously, the effectiveness of the whole program is multiplied. ESET Smart Security unifies all its functions to create a complex security solution.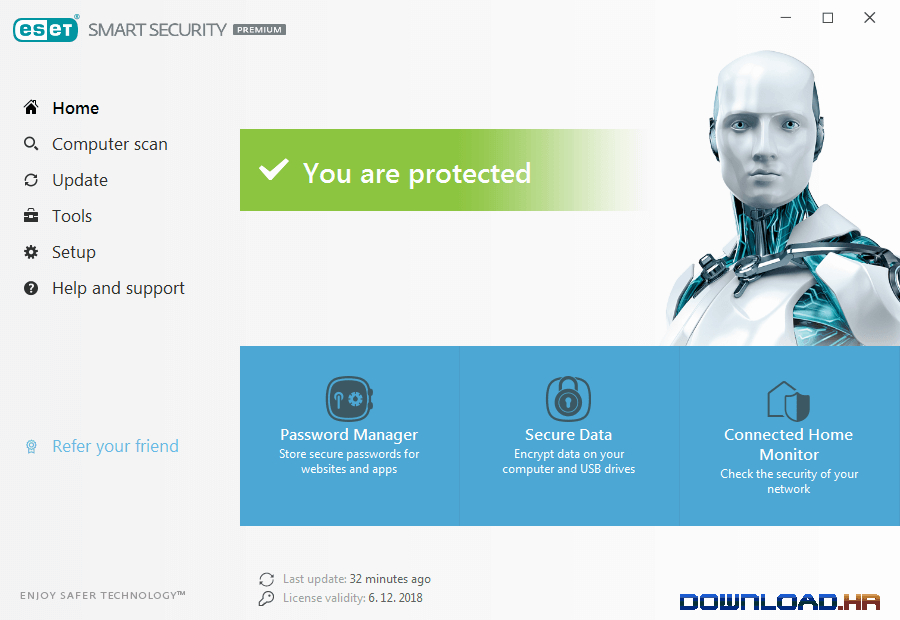 Download Eset Smart Security| Visit Developer's Website

Complete ICSA certified antivirus package for small office, home office
avast! 4 Professional Edition is a collection of award winning, high-end technologies that work in perfect synergy, having one common goal: to protect your system and valuable data against computer viruses. It represents a best-in-class solution for any Windows-based workstation. This page demonstrates its most important features and provides links to further resources.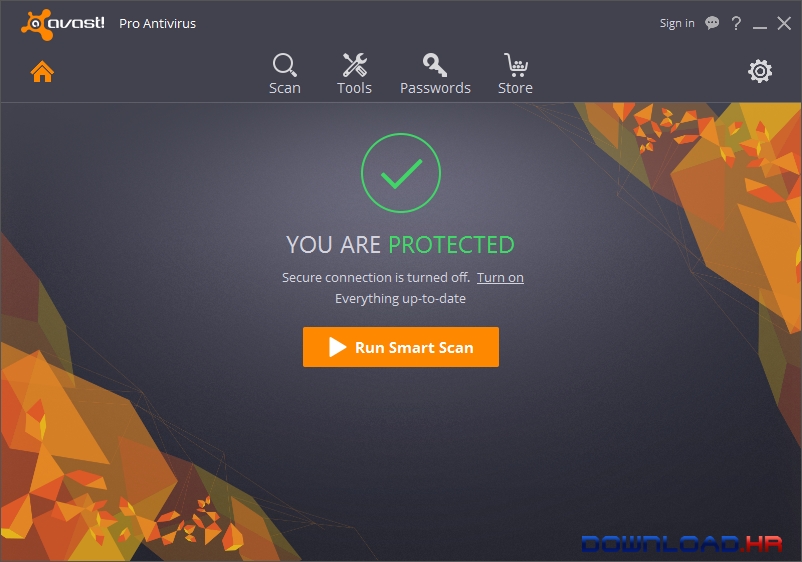 Download Avast Pro Antivirus| Visit Developer's Website

avast! 4 Home Edition is a free antivirus software for home noncommercial use.
It scans for viruses, worms and Trojans. avast! obtained multiple VB100% award in Virus Bulletin reviews. avast! scans: On Demand - with Skinnable Simple Interface, during Boot Time and On Access. It protects E-mail, HTTP, NNTP, ICQ, mIRC, Kazaa etc. It maintains Virus Chest. True incremental updates are small and fast.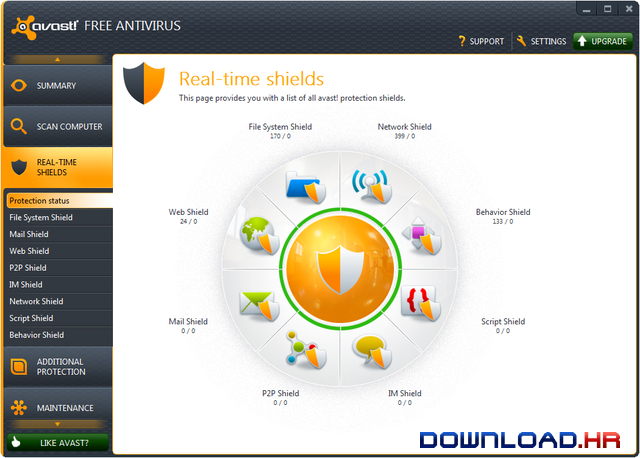 Download avast! Home Edition| Visit Developer's Website