If you're here reading this, chances are you're trying to find the best download managers software products for Windows OS. Finding the right program isn't an easy job because of the variety of software available out there. Some of them are free and some of them are paid bringing additional features to users. So, in order to help you here is the list of the 10 best download managers software products you can try rated by number of user downloads on Download.io. Hope that you will find our list useful and that you will find the right software for you!

Schedule, resume and accelerate downloads by up to 5 times with this accelerator
Accelerate downloads by up to 5 times, schedule downloads, recover and resume broken downloads. The program features an adaptive download accelerator, dynamic file segmentation, high speed settings technology, and multipart downloading technology to accelerate the download process. It reuses available connections without additional connect and login stages to improve download performance. Comprehensive error recovery and resume capability will restart broken or interrupted downloads due to lost connections, network problems, computer shutdowns, or unexpected power outages. Internet Download Manager can connect to the Internet at a set time, download the files you want, then disconnect or even shut down your computer when its done.

Internet Download Manager supports firewalls, proxy and mirror servers, FTP, HTTP, HTTPS protocols, redirects, cookies, download queues, directories with authorization, MP3 audio and MPEG video content processing, and a large number of different server platforms. IDM integrates seamlessly into all browsers automatically (IE, FireFox, Opera etc). It can be also integrated into any other Internet applications that use FTP, or HTTP protocols.

This version has Download Panel for IE and FireFox that appears on top of a web-player when IDM detects multimedia request, MMS protocol support, speed limiter for comfort browsing and the site grabber feature. Grabber lets you download, for example all audio files from a web site and subsets of web sites, or complete websites for offline browsing. It adds the complete compatibility with Windows Vista, the unique integration into all latest browsers, enhanced virus protection. Completely changed IDM scheduler. Added periodic synchronization of files and the possibility to create new queues for downloading or synchronization. Added new features on starting and stopping queue processing.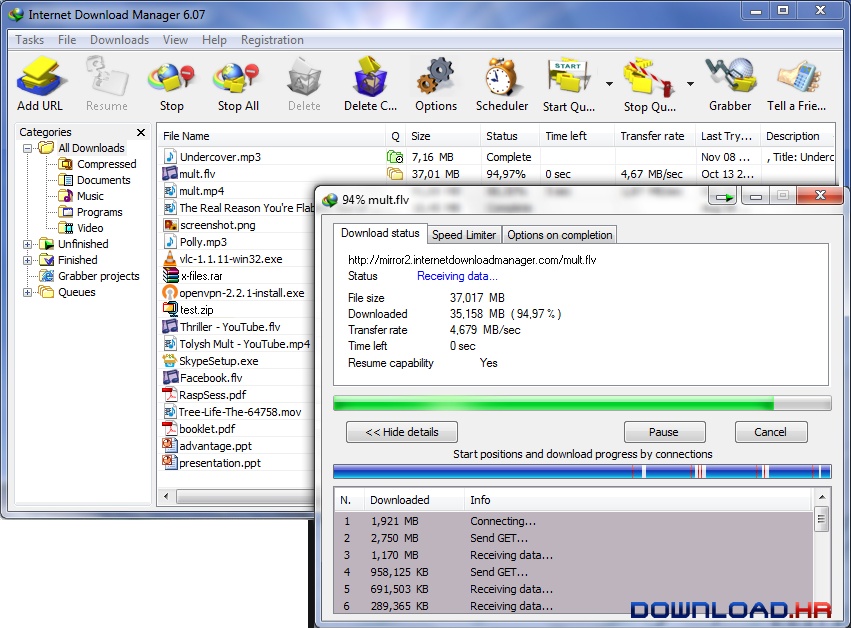 Download Internet Download Manager| Visit Developer's Website

Download music and video clips from Trilulilu
Trilulilu Downloader is an easy to use application that allows you to download music or clips from trilulilu with high speed. The application can download multiple files at the same time and also features a converter to help you encode your files the way you like.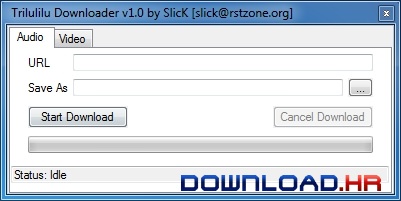 Download Trilulilu Downloader| Visit Developer's Website

It is a powerful modern download accelerator and organizer for Windows and Mac.
Free Download Manager features:
BitTorrent support
Download files using BitTorrent protocol.

Enhanced audio/video files support
Preview audio/video files before download is completed and convert file format after download.

Download acceleration
Free Download Manager splits files into several sections and downloads them simultaneously, allowing you to use any type of connection at the maximum available speed. With FDM download speed increases, or even more!

Resuming broken downloads
When the downloading process is interrupted, you needn't start from the beginning again. Free Download Manager can resume broken download from where it was interrupted saving your time, nerves and money.

Smart file management and powerful scheduler
With FDM you can easily organize downloaded files by their type, placing them in predefined folders. A smart scheduler allows you to start and pause downloading files, as well as perform other actions (launch other applications, establish or hang up connection, etc.) at the set time.

Adjusting traffic usage
There are several traffic usage modes. You can adjust traffic usage for browsing the Internet and downloading files at the same time.

Absolutely free and 100% safe
Free Download Manager is free, open-source software distributed under GPL license.

Cross-platform support

Modern interface
A more streamlined UI with a friendlier approach to configuration.

Remote Control
Create new downloads or view the list of active and completed downloads remotely, via the internet.

Portable mode
If you want to use Free Download Manager on different computers, you can easily create its portable version and avoid the need to install and configure the program on each computer.

Site Explorer
Site Explorer lets you view the folders structure of a web site and easily download necessary files or folders.

HTML Spider
You can download whole web pages or even whole web sites with HTML Spider. The tool can be adjusted to download files with specified extensions only.

Simultaneous downloading from several mirrors
Free Download Manager is able to download files from several mirrors simultaneously.

Zip files partial download
Free Download Manager lets you download only the necessary part of a zip file.

Active spyware and adware protection through active communication among users
You can read what other community members say about the file you are going to download, right in the program window, and also leave your own opinion about the file you downloaded. In this way FDM users are always warned against useless or malicious files.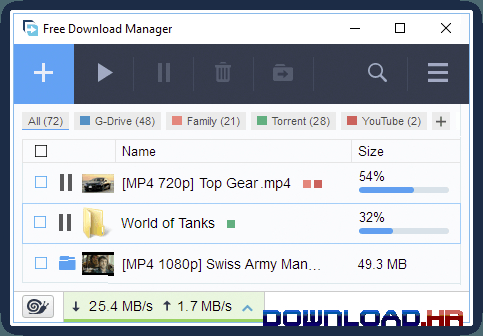 Download Free Download Manager| Visit Developer's Website

Download Accelerator Plus (DAP) - The fastest and most popular Download Manager.
Download Accelerator Plus (DAP) 10, the world's fastest and most popular Download Manager and Accelerator, has been installed over 300 million times. DAP accelerates your downloads to the fastest possible speed. DAP provides file management tools that allow you to download efficiently and save time. DAP's patented, award winning, multi-channel technology empowers you to download videos, applications, photos and music files with a higher level of speed and efficiency. DAP 10's Video Downloader and Converter lets you download web videos from such sites as Facebook and DailyMotion and is not just the fastest and easiest to use, but it also supports more sites than any other Video Downloader. Instant Video Play lets you watch and listen to your content as you download and within seconds from starting to download. The new DAPsters Manager feature offers a one-click solution for downloading from hosting sites such as RapidShare and Hotfile. DAP 10 Link Checker validates the download link directly from the browser. The new DAP includes past favorite features such as the Automatic Mirroring Speed Boost that switches to mirror sites for a faster downloading experience. Your privacy and security are never compromised with DAP's innovative download security technology. Speedbit's Multi Anti-Virus (MAV) technology lets you receive notice of threats from the most popular anti-virus programs, helping you protect your computer from harmful viruses. Speedbit Video Accelerator seamlessly uses the cutting-edge acceleration technology to significantly cut down web videos loading time, reducing annoying buffering and pauses. Using Speedbit Video Accelerator you will watch videos on Facebook, DailyMotion and the hottest video sites smoothly, and it will also accelerate your iTunes downloads. With Speedbit's translation wiki and thanks to the help of Speedbit's millions of users worldwide, DAP was translated to 48 languages. DAP10 is the fastest free download manager.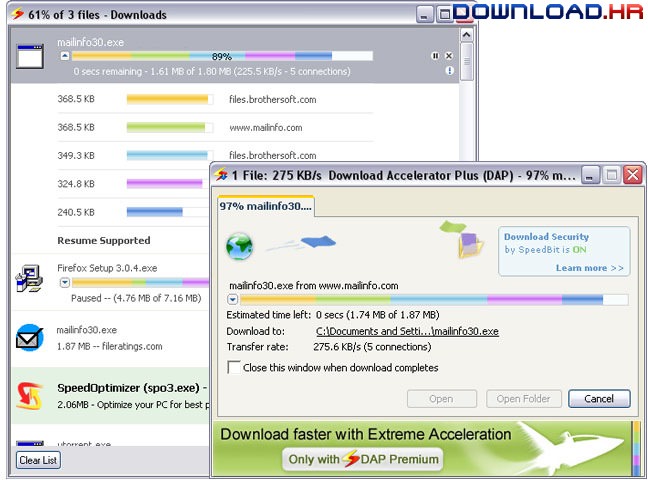 Download Download Accelerator Plus| Visit Developer's Website

GetRight: Internet Download Manager
GetRight extends your file downloading with resuming of broken downloads, easy error recovery, download acceleration, and many other features to give you faster and more flexible downloads.

Version 6 adds support for BitTorrent downloads, adds Podcast support to automate downloading files in a Podcast/RSS feed, adds support for anti-leech.com protected downloads, and much more. New: You can even play a game in GetRight as your files download.

GetRight has several features to get you faster downloads; it can Accelerate a file and download different pieces of it from different servers at the same time--which can increase your download speed by up to 10 times. And GetRight can use Mirror searching to find other places where a file may be downloaded--then switch between all the download sites transparently to ensure that you use the best one.

You can use GetRight to schedule your downloads for later; it can dial your modem at the set time, download the files you want, then hang up or even shut down your computer when done.

Other features include "skins" to personalize the look of your downloads; user name and password storage; several different ways to let you file your downloads into different folders on your computer; a "speed limit" that defines GetRight's share of your modem's resources; a browser that allows you to browse both FTP sites and Web pages to add batches of files; the ability to download the same file (like stock reports or news) on a daily basis; support for multiple ISP phone numbers; and many more.

GetRight will integrate with Microsoft Internet Explorer, Firefox, Mozilla, Opera, and Netscape Navigator to automatically take over your downloads to make using GetRight as easy as clicking in your web browser.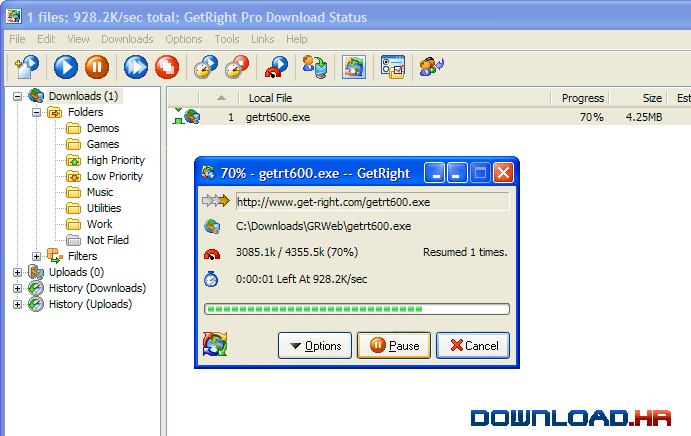 Download GetRight| Visit Developer's Website

FlashGet is an award-winning download manager for Windows
Optimize the system resource
FlashGet can use up the lowest system resources and will not influence your normal work or study.

Call anti-virus automatically
FlashGet can call anti-virus automatically to clean viruses, spyware and adware after finishing download.

Increase the download speed and stability
Flashget can increase download speed from 6-10 times. It uses MHT (Multi-server Hyper-threading Transportation) technique and optimization arithmetic and it

SupportHTTP,FTP,BT,eMule and other various protocols
FlashGet supports HTTP,FTP,BT,MMS,RTSP and other protocols. It is seamless between protocols and there is no need to operate manually for download switch. The One Touch technique optimizes BT download and can automatically download target files after getting seeds information, hence no need to operate again.

Powerful files management feature
It supports unlimited categories. Each category is assigned a download saving directory. The powerful management feature can support drag and drop, adding and description, search, rename, etc.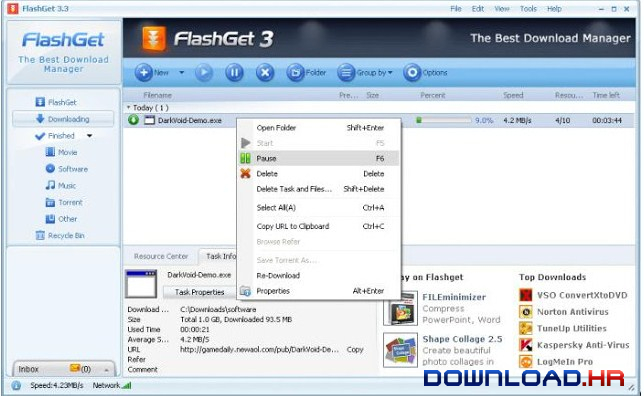 Download FlashGet| Visit Developer's Website

Easily save desired youtube video to your local PC, iPad, iPhone, Mobile.
Downloads videos from Youtube, Dailymotion, Tangle, Google, Break.com, TeacherTube, RedTube, yuvutu, xnxx, Megarotic etc. and saves it to your local PC, Laptop, iPad, iPhone, PDA, Pocket PC, Mobile phone. Download High Quality videos and High Definition videos from YouTube. Supported formats: .mp4, .mov, .avi, .3gp, 3g2, .mp3, .mpg, .flv, .wmv, .wav, .mp3. No extra codecs or players needed. Download several files at the same time. Preview selected videos before downloading. Get the size, length, rating, views of a file before downloading it! Download videos from adult video servers. Video age verification bypass. The user interface of save2pc is very simple, so you don't need any technical knowledge to use it. You don't need any players to play flash video just play it on the default media player classic.




Download save2pc Pro| Visit Developer's Website

JDownloader is open source, platform independent and written completely in Java. It simplifies downloading files from One-Click-Hosters like Rapidshare.com or Megaupload.com and others.
It offers downloading in multiple paralell streams, captcha recognition, automatical file extraction and much more. Of course, JDownloader is absolutely free of charge. Additionally, many "link encryption" sites are supported - so you just paste the "encrypted" links and JD does the rest. JDownloader can import CCF, RSDF and the new DLC files.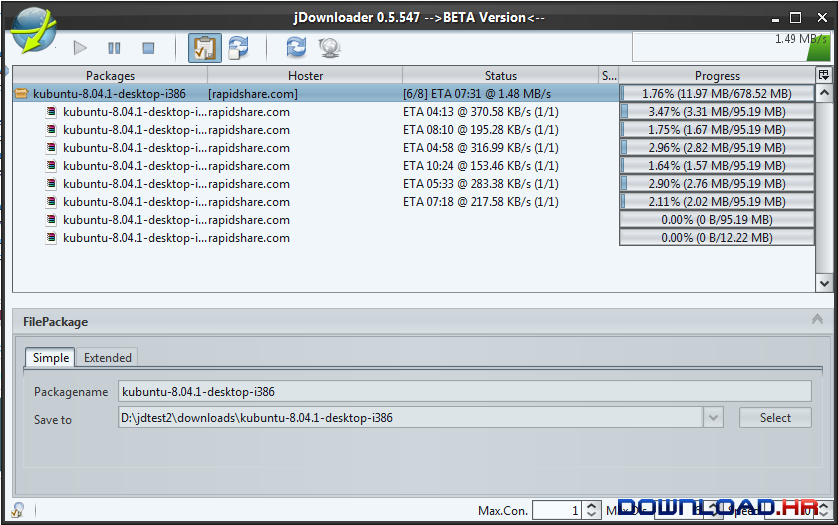 Download JDownloader| Visit Developer's Website

FLV download manager and converter
GetFLV enables you to download, manage, convert,repair and play Flash video (.flv) files. It includes a FLV Browser that you can use to browse popular video sites and download any FLV content that you come across. You can then use the extra utilities that come included to convert the downloaded FLV files to various video formats (AVI, MPEG, MP4, 3GP, MOV, WMV etc.) or extract audio tracks from the video files. GetFLV also includes a tool that lets you convert existing video files to FLV formats, as well as a FLV Fixer that you can use to repair FLV files that contain incorrect duration data.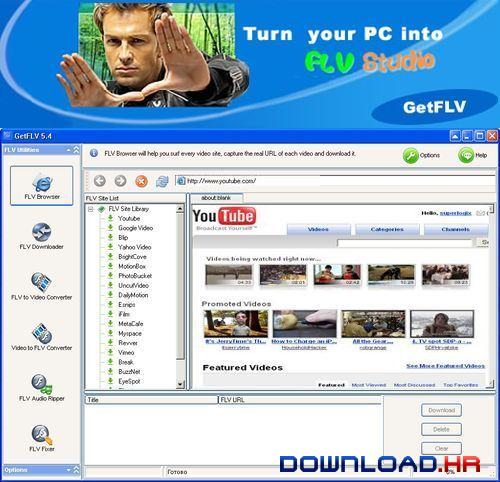 Download GetFLV| Visit Developer's Website

Free universal download accelerator. Download MP3 and YouTube with one click.
Free universal download accelerator. Supports HTTP, HTTPS, FTP, MMS and RTSP protocol. EagleGet uses multi-threaded technology to accelerate downloads. You can download video, music, documents, applications in Chrome, IE, and Firefox with single click. Support YouTube, Facebook, Dailymotion, as well as many other web videos. Resume broken downloads and save your time. The well-designed interface and task manager will help you do more with doing less, maximize your productivity. EagleGet is completely free without any additional conditions.

Highlights
EagleGet is a free all-in-one download manager; it can be integrated to Chrome, IE, Firefox, Opera, offering support for HTTP, HTTPS, FTP, MMS and RTSP protocol.

EagleGet uses advanced multi-threaded technology to speed up connections, along with automatic, manual and batch downloads. Downloading jobs can be dynamically adjust the priority, as well as sorted by various criteria.

EagleGet supports multiple download queues with smart scheduler. It is possible to run different downloading jobs at corresponding fixed time or on any day(s) of the week.

EagleGet automatically detects media contents on any website.

EagleGet provides flexible notification configurations. The featured Silent Mode can temporarily turn off all notifications while a full-screen application or PC game is running.

EagleGet contains automatic malware checker and file integrity verifier, the features that protecting users from virus attack as well as ensuring the downloaded file is genuine from the original.

EagleGet is the first freeware download manager that supports the automatic refresh expired download links feature, which can auto update download URLs without re-starting from the beginning.

EagleGet has visually appealing interface, and it's completely free without any virus, malware or spyware.

All Features
* Accelerate downloads by using multi-threaded technology.
* Download files in Chrome, IE, Firefox and Opera with one click.
* Support MMS, HTTP, HTTPS, FTP and RTSP protocols.
* Built-in download scheduler for multiple queues.
* Download different file types to separate folders.
* Batch downloads function with clipboard capture.
* Automatic refresh expired download address.
* Support HTTP and SOCKET proxy.
* Support fully customized User-Agent.
* Monitor running and completed tasks with TaskMonitor.
* Supports drag-and-drop to rearrange the priority of downloads.
* Automatic run virus scan after download.
* Automatic convert media format after download.
* Convenient task properties panel.
* Detailed connection log for each task.
* Verify integrity of downloaded files.
* Shutdown, hibernate or sleep computer after completing all transfers.
* Built-in speed limiter.
* Flexible notification configurations and Silent Mode (Game Mode) function.
* Import download lists from other download managers.
* Customizable user interface.
* Supports multi-language interface (more than 30 languages).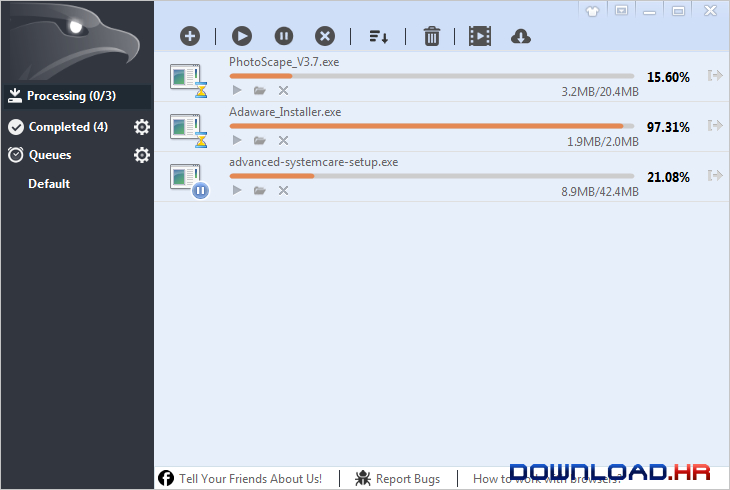 Download EagleGet