If you're here reading this, chances are you're trying to find the best internet radio/tv player software products for Windows OS. Finding the right program isn't an easy job because of the variety of software available out there. Some of them are free and some of them are paid bringing additional features to users. So, in order to help you here is the list of the 10 best internet radio/tv player software products you can try rated by number of user downloads on Download.io. Hope that you will find our list useful and that you will find the right software for you!

SopCast is a simple, easy to use system to watch stream media on the Internet
SopCast is a simple, free way to broadcast video and audio or watch the video and listen to radio on the Internet. Adopting P2P(Peer-to-Peer) technology, It is very efficient and easy to use.

Let anyone become a broadcaster without the costs of a powerful server and vast bandwidth. You can build your own TV stations comparable with large commercial sites with minimal resources.

With SopCast, you can serve 10,000 online users with a PC and a home broadband connection




Download SopCast
Watch live world TV stations for free, Music, News, Educational Sport + more.
Now you can watch over thousand live worldwide channels (Over 1500) on your PC, free of charge.
TVexe TV HD is an extremely easy to use application and anyone can find their own favorite stations on TV.
Music, news, educational, sports & shopping channels are sorted in a very easy to find way,
together with TV in English, Spanish, German, French, Portuguese & Arabic sections and over 60 languages in total.
You may also browse world TV by regions or by country name.
No configurations or settings are needed.
The intuitive & user friendly interface will give you a pure Plug and Play! Experience.
All you have to do is easily find your desired station, click on the station's name, then sit back & relax?
TVexe TV HD emulates the regular Television set on your PC, by using the high-speed (broadband ONLY!)
Internet connection (xDSL, Cable or LAN) for online global Television reception.

TV features multi format (Windows Media & Flash).
Live online streaming 24x7 worldwide Television.
(You don't have to care about the station's broadcasting format.
TV will switch automatically between formats.
TV works with any broadband Internet Service Provider (ISP) worldwide.
TV features over 1500 live international online channels, 24 hours a day.
With more than 80 dedicated 24x7 music stations that feature songs (video clips) in:
English, Spanish, German, French, Italian, Russian, Dutch and more?
It's like a free trip around the world; seeing other peoples' style of living,
hearing new languages and music and seeing world views and news.
1000's of Radio stations to choose from too.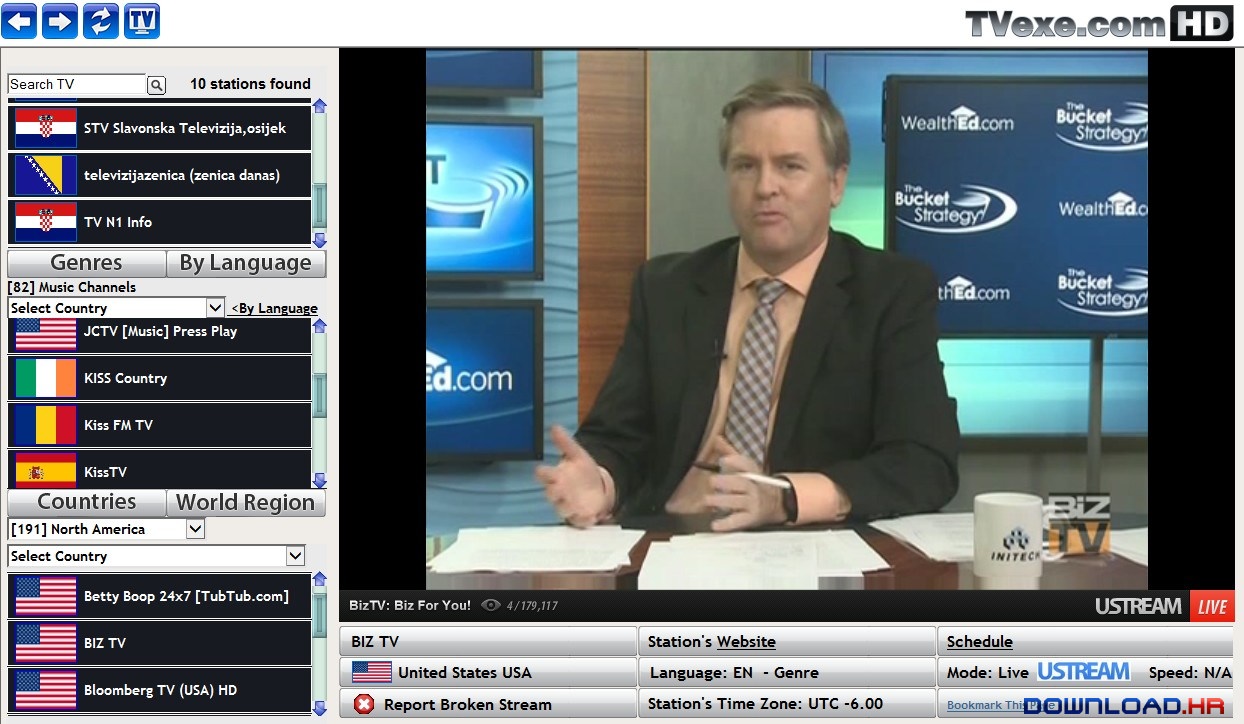 Download TVexe TV HD| Visit Developer's Website

Watch TV on your PC. No extra equipment required. Daily updates. Rating system.
Watch local TV, world Tv, Live TV, satellite TV from countries of all world in different languages on your PC with anyTV not just at home, but at the OFFICE , work or wireless. Watch 2630 Online TV, 6910 Video clips. Listen to 4750 Online Radio. Using anyTV means you can watch numerous of international TVs without a television, TV Tuner Card or a satellite receiver. Watch anywhere you have your internet Online. No additional equipments required. Watch news, entertainment, documentaries, music, sports, shopping, languages, cartoons, learning, culture, religious channels, live cameras etc .. from all over the world. Get immediate access to thousands of free streaming Internet TV channels, Online Radios. The channels are constantly updated to bring you up-to-date channel list.
You can filter channels by genre, country, bitrate or content. Set up a favorites list for quick access to your favorite Radio/TV/Video channels online.
Watch in regular or full-screen mode. anyTV supports both Windows Media & RealVideo. Channels from more than 100 countries.
Features:
- 2630+ Online TV
- 6910+ Video clips
- 4750+ Online Radios
- Daily updates
- Rating System
- Regular or full-screen mode
- No additional equipments required
- Multiple formats support (Windows Media & RealVideo)
- Easy to use
- Free
- Channels from more than 100 countries.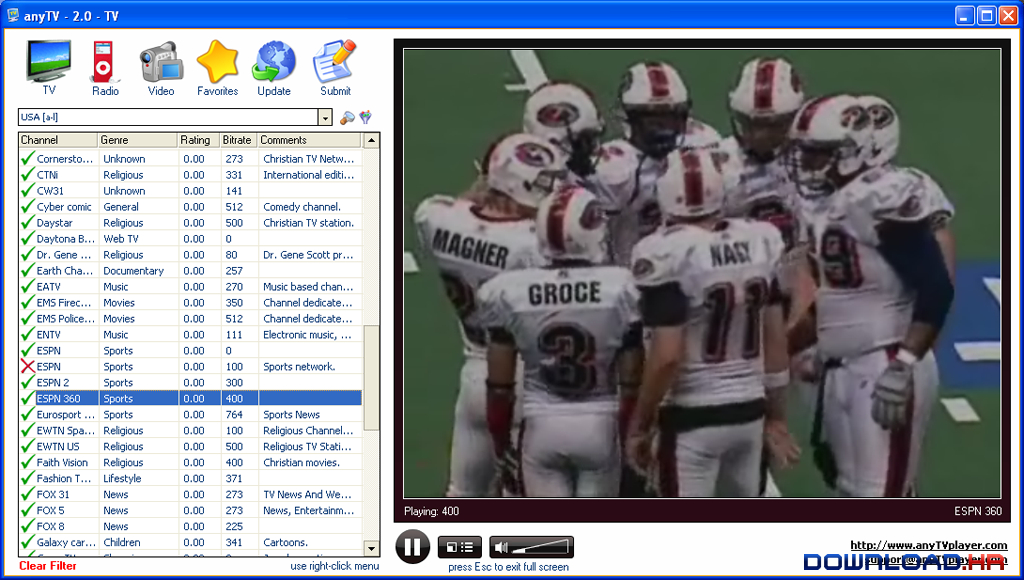 Download anyTV Free| Visit Developer's Website

ProgDVB will watch SAT-Television and listen to Radio channels directly from satellite by using DVB-PCI cards
Software which allows you to watch SAT-Television and listen to Radio channels directly from satellite by using DVB-PCI cards with hardware decoders on the board, SAT-dish, and personal x86-compatible computers with MicrosoftR Windows98, 2000, XP Operating Systems properly installed.

Download Elecard AVC Plugin for ProgDVB| Visit Developer's Website

TVUPlayer is a free program that enables viewers to watch high quality live Television programs around the world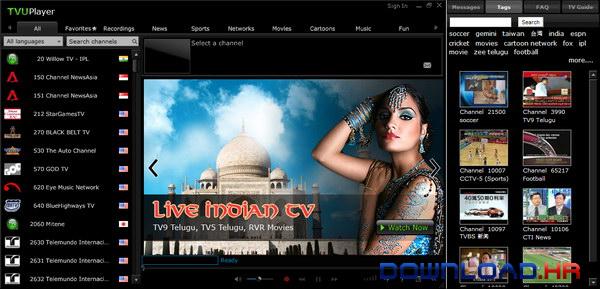 Download TVUPlayer| Visit Developer's Website

Miro downloads and watches all the best internet TV shows and video
Formerly known as 'Democracy Player', this new name, logo, and updated version of the software represents the next evolution of the project. We are hoping to reach even more people and build the open video movement.

Miro is more polished and stable than ever. The website has been re-designed with more focus on community and outreach. The new name will be less confusing to everyone who thought Democracy Player was only for videos about politics.

As always, we are a non-profit organization and we build this software because we think there's a chance to bring television online in a way that's more open and accessible
than ever. Companies are battling desperately to control video, monopolize users, and build proprietary distribution systems. It's a dangerous direction for the future of media.

Miro is built to be as open as possible open source, open-standards, compatible with any host that provides video rss, open to alternate channel guides, and able to search multiple video sites.

We want there to a be minimum of gatekeepers and a maximum of choice for creators and viewers. The future of online video is being defined right now. We need your help to make sure that the open approach is as strong as possible.

Works with your current music library
It's very easy to switch from iTunes to Miro -- without any copying. Just point Miro to your music and video folders and those files will appear. If you don't like Miro (impossible!), nothing's changed.

Converts and syncs to Android & Kindle Fire
You'd have to be crazy to use a music player that doesn't sync to your phone. Miro is simply the best music and video player for Android phones and tablets.

Buy Music and Apps inside Miro
The Amazon MP3 store is built-in to Miro. Buy, download, and listen, seamlessly. Buy Android apps from the Amazon or Google app stores and they will sync to your device.

Download and play almost any video
Do you still use separate programs to download, play music, play videos, and sync to your phone? Miro plays almost any video or music format and downloads from YouTube, podcasts, Amazon, and bittorrent.

Convert any video
You can convert almost any video with Miro into mp4/h264, with presets for almost any device you can think of (including iPhones, iPods, iPads, Android phones, and more).

Share Your Media on your Network
When two Miro's are on the same wifi network, they can stream and transfer music and videos to each other. It's the easiest way to watch a video or play music upstairs if the file is downstairs.

Ultra-fast torrent downloading
Miro has some of the fastest bittorrent downloading in the world, built in. Try us head-to-head with any bittorrent application!

Miro Video Converter
A super simple way to convert any video format to MP4 or for your phone or Apple device.

Universal Subtitles
Increase your viewership by subtitling, captioning, or translating any video, with the help of your viewers.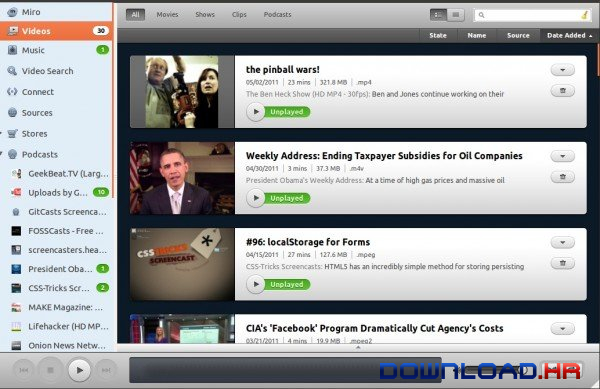 Download Miro| Visit Developer's Website

ChrisTV - The Best way to control your TV Card, TV on your PC-High Quality Image
ChrisTV Lite - The best way to control your TV Card - TV on your PC with High quality image and sound- developed by Chris P.C. srl for TV Tuners with WDM Drivers installed. Supports all TV Cards based on BT8x8 chipset, Philips SAA713x chipset, Conexant CX2388x, also works with any Capture Device like Webcams and Graphic Cards with Video IN. Great Image quality and very easy to use. Key Features : channel autoScan with fine tuning, customize each channel properties, support for dscaler deinterlace directshow filter, zoom feature, teletext, winlirc Support, image capture, slideshow, support for more than 25 languages.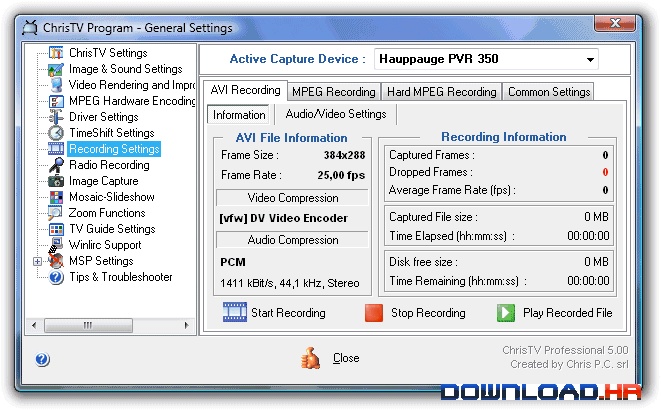 Download ChrisTV Lite| Visit Developer's Website

onlineTV is the easiest way to hear, view and record of TV and radiostreams
onlineTV is more then just a simple Mediaplayer; onlineTV is a Multimedia Player! With onlineTV user have access to different media, e.g. to 400 more as TV- and radiostations, more as 130 Webcam servers, more as 80 direct newspaper, more as 200 Musicvideo's and many more ... onlineTV lets Radiostreams comfortably recorded to WAVE or MP3 file.

What exactly is onlineTV?
- onlineTV gives you access to TV live streams, radio streams, webcams and more
- Listen to your favorite local radio stations such as NDR2 or FFH directly via internet
- Read the latest news of your daily newspaper ... from any point on earth
- You don't have a TV or you are not at home? All you need is just a computer and internet access
- Record while you're watching and upload it to the Google Drive or OneDrive cloud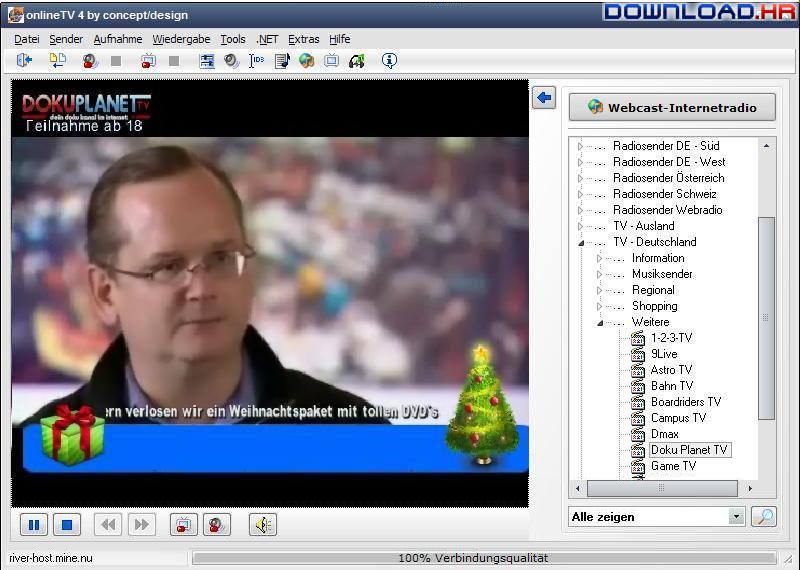 Download onlineTV
Watch SAT-Television and listen to Radio channels directly from satellite by using DVB-PCI cards
ProgDVB - software which allows you to watch SAT-Television and listen to Radio channels directly from satellite by using DVB-PCI cards with hardware decoders on the board, SAT-dish, and personal x86-compatible computers.

ProgDVB is a very useful application for those who want to watch television shows and programs on their computer.

ProgDVB has options for working with network broadcasting and Audio/Video recording of the stream to different digital-media formats. ProgDVBR is in development, so new versions will be available for download from time to time.

At the present moment work on the following cards is possible:
■ Aver DVB-S
■ BroadLogic 2030/1030
■ Compro VideoMate DVB-S
■ DVBWorld USB2.0 DVB-S/DVBWorldDTV(PCI-Sat), Acorp TV878DS/ DS110/ DS120, Nextorm NBS240/ NSC120
■ GeniaTech DigiStar DVB-S PCI
■ Kworld DVB-S 100 compatible (Vstream, Dynavision..... )
■ ADS Tech - Instant TV DVB-S (Part Number: PTV-341)
■ LifeView FlyDVB
■ Netcast DVB
■ NEWMI Advanced DVB
■ Pinnacle PCTV Sat (driver >=260)
■ Nexus,Premium (SkyStar1) (the driver 2.x from TechnoTrend)
■ TBS Q-Box
■ Technisat Sky Star 2 and Sky Star 3 USB or PCI
■ Telemann Skymedia 300 DVB (not official)
■ TwinHan compatible (VisionDTV, Power Color, Chaintech,...)
■ WinTV NOVA (Budget) USB or PCI
■ St@rKey usb box
■ Cards with BDA driver (With some cards problems are possible)
■ Besides work in absence of a card is possible, for example for viewing video of files or as the broadcast client.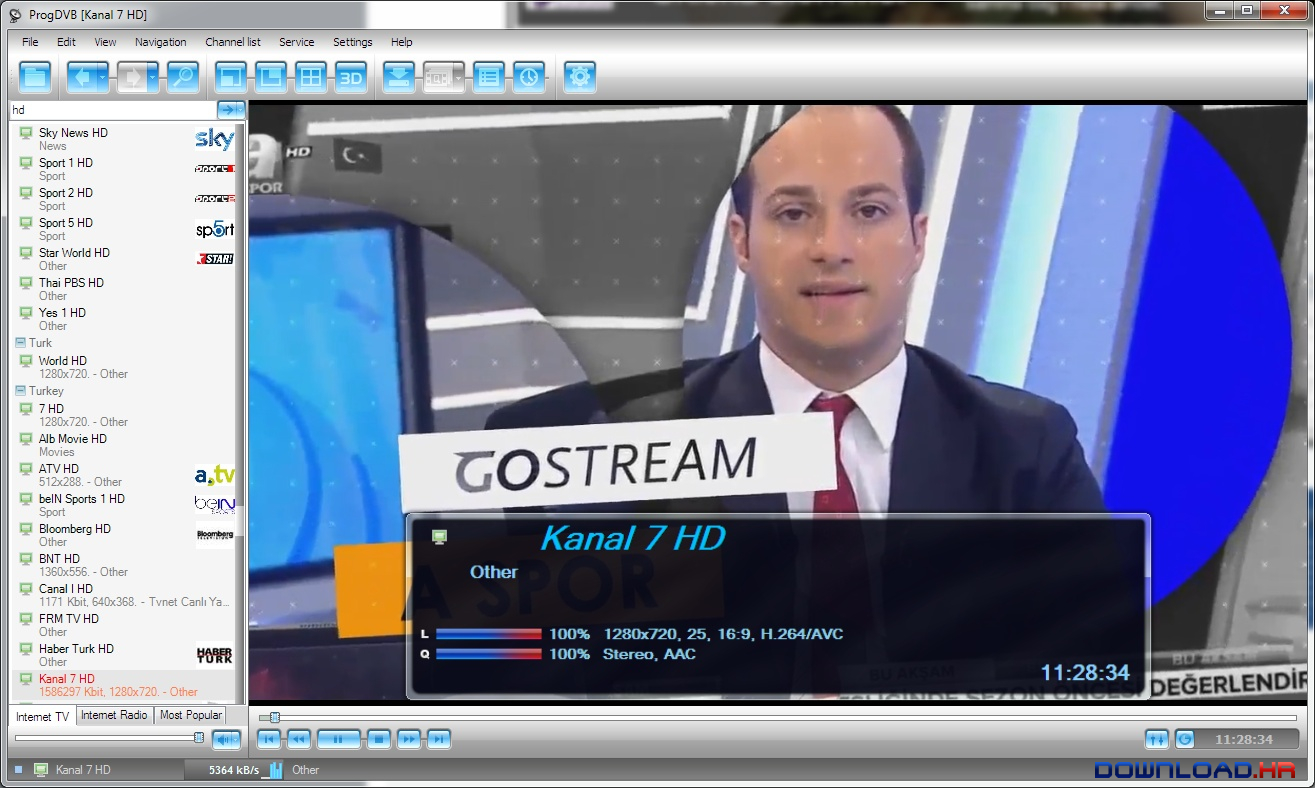 Download ProgDVB| Visit Developer's Website

Internet radio player and recorder
RarmaRadio (formerly RaimaRadio) is an Internet radio player and recorder that enables you to listen to your favorite online radio station from around the globe. It offers a wide variety of stations that are organized by genre and country and automatically keeps track of you history and frequently played stations. You can easily record one or more stations simultaneously and save the recording as individual MP3 files. You can also schedule radio stations to automatically be played or recorded during certain times. Other features include album cover and lyrics display, support for WinAmp plug-ins, station search, favorite station list, random play and more. RarmaRadio also offers a song/artist watch list that can automatically record specific titles when they are played.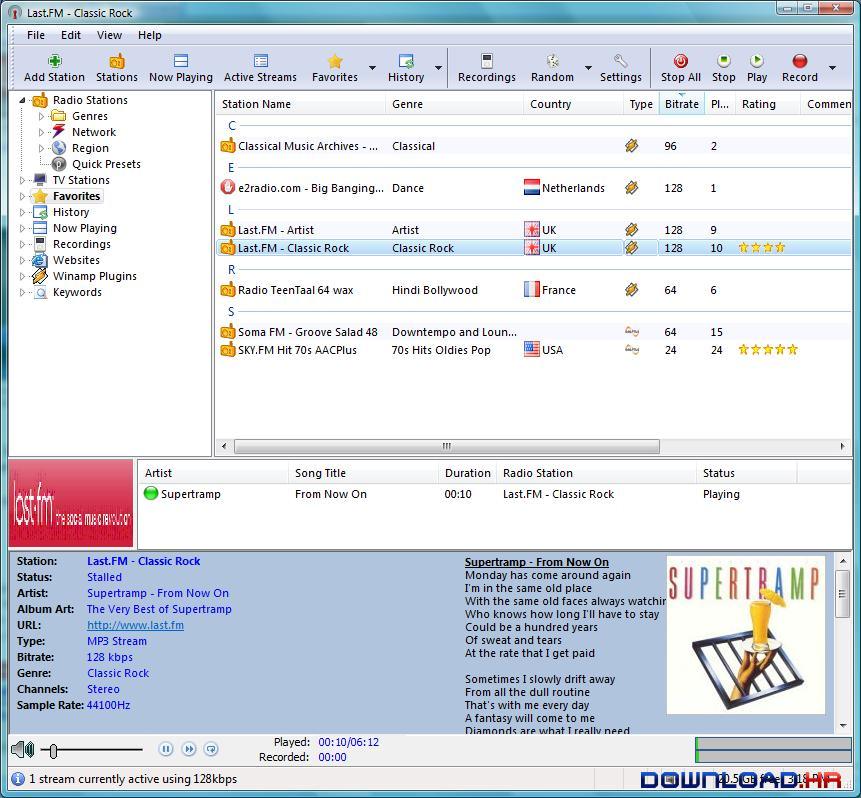 Download RarmaRadio| Visit Developer's Website