If you're here reading this, chances are you're trying to find the best audio players software products for Windows OS. Finding the right program isn't an easy job because of the variety of software available out there. Some of them are free and some of them are paid bringing additional features to users. So, in order to help you here is the list of the 10 best audio players software products you can try rated by number of user downloads on Download.io portal. Hope that you will find our list useful and that you will find the right software for you!

Worlds most popular audio player
Nullsoft Winamp is an audio player that can handle audio CDs, MP3 audio files, and streaming audio broadcasts. Winamp supports MP3, CD, Audiosoft, Audio Explosion, MOD, WAV and other audio formats, custom skins, plus audio visualization and audio effect plug-ins. Additional features including free-form skins, a new decoder, built-in cross fade, and an advanced Media Library.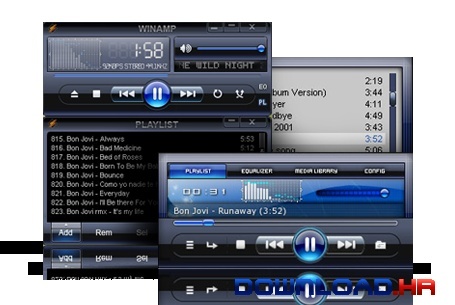 Download Winamp Full| Visit Developer's Website

An application that allows you to mix audio files
Easy to use audio mixer player. This application play 8 tracks simultaneously with loop and volume lock controls. Supports MP3, SWA, AU, AIFF, WAV, WMA, and RA.With Audio Mixer Player you are able to play all your favourite music and even listen to 8 of you favourite tracks at the same time.

Audio Mixer Player has the ability to change it's skin with a simple push of a button. This feature can be very useful because it keeps the users from getting bored of the same interface.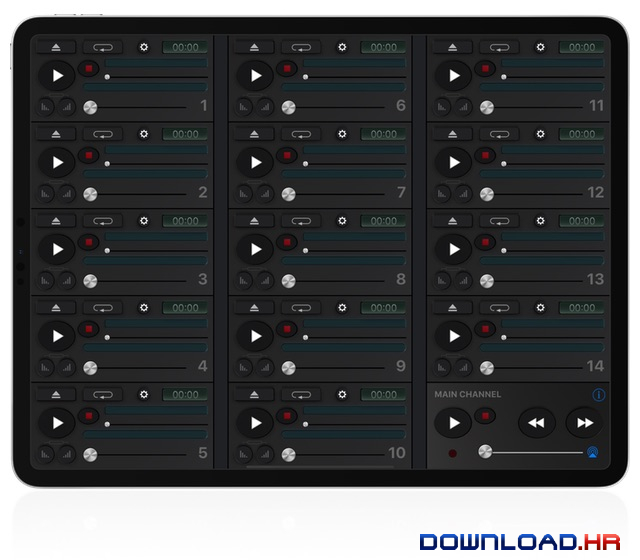 Download Audio Mixer Player
MP3 audio player + sound equalizer.
AudioPLUS is a great looking and easy-to-use MP3 Player. The following audio file formats are supported: *.MP3, *.MP2, *.WAV, *.L3, *.L2 and *.ATX. This program lets you easily create and edit playlists. 10-band Equalizer makes it possible to obtain really perfect sound.

Download AudioPlus| Visit Developer's Website

vanBasco's Karaoke Player is a product that plays Karaoke (.kar) and standard MIDI files. You can change fonts and colors, number of lines and background image. The player lets you change tempo, volume, and key. Changes can be saved to the playlist so that they are remembered in the future. You can mute or play solo individual selections of instruments. There is a real-time MIDI output view of notes, volumes, and instruments; also a piano window where notes are displayed on a big piano keyboard.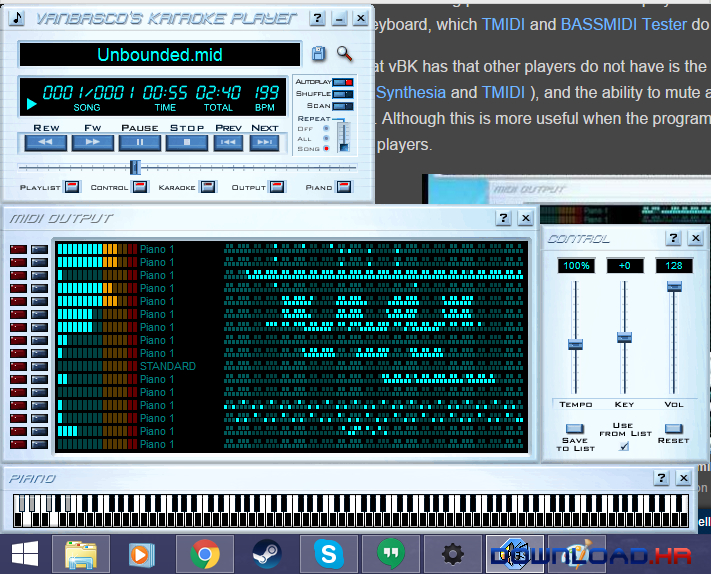 Download vanBasco's Karaoke Player| Visit Developer's Website

Easy Karaoke Player can play karaoke, record karaoke song to WAV file.
Easy Karaoke Player plays karaoke, records karaoke song to wav file. Easy Karaoke Player can play all kinds of multimedia files with a build-in powerful multimedia player. Easy Karaoke Player plays many audio formats such as MP3, MIDI, KAR, WAV, WMA, AC3, OGG, MPA, MP2, AU, AIF, SND, etc., and video formats VCD, MPEG, AVI, WMV, ASF, OGM, DIVX, DAT, SVCD etc. You can sing your favorite song and record it to high quality WAV file. You can download the trial version of Easy Karaoke Player freely.

Download Easy Karaoke Player| Visit Developer's Website

Play karaoke (CD+G and MIDI) and record yourself as you sing along
Play karaoke (CD+G discs, MP3+G, or MIDI karaoke) on your computer. Siglos Karaoke Player/Recorder is a software karaoke player and recorder. It will change your computer into a karaoke machine! Siglos plays CD+G discs directly from your CD-ROM drive and CD+G songs (MP3+G and ZIP) from the hard disc, it can also play MIDI karaoke files. You may record yourself while you sing along, and adjust key to better suit your voice.

Our karaoke player allows you to:

Play karaoke (CD+G, MP3+G or ZIP) with image enhancement features that make CD+G look much better
Play CD+G discs from your computer's CD or DVD player and CD+G songs from your hard drive
Play MIDI Karaoke songs
Adjust the key of any song to suit the singer's voice
Speed up or slow down the music and singing as you see fit
Record yourself singing
Listen to your recorded singing
Save time - use playlists to manage and group your songs
Full screen karaoke player mode gives you the authenticate karaoke experience
Dual monitors are supported: one to play on and one to manage
Full support for Multiplex CD+G discs
Play karaoke songs directly from YouTube
Add your own image backgrounds
Use video and/or live camera background
Use animated backround visualizations that react to the beat
Change the way karaoke player software looks with a variety of different skins
More useful features than any other related programs put together!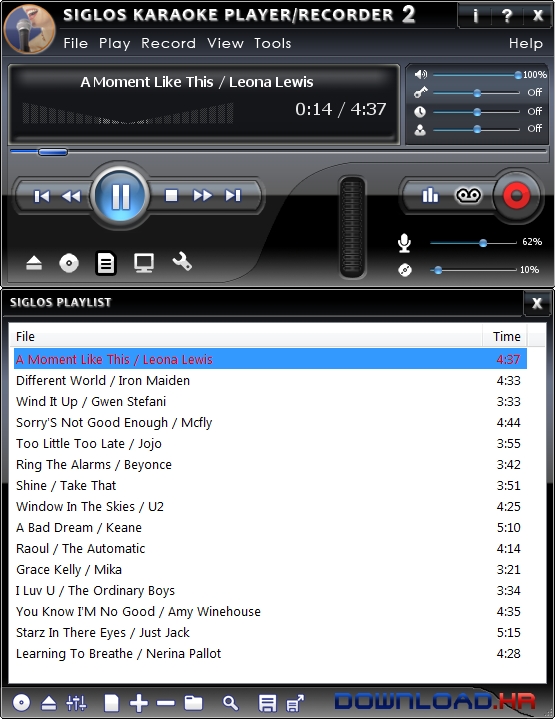 Download Siglos Karaoke Player/Recorder| Visit Developer's Website

Excellent manager of file Karaoke MID, KAR, and MP3
For executions live without loss of time. It allows to create or to modify basic Karaoke with an evolved system of synchronization that allows to synchronize the text with the base in rapid times. Database with instant search of the song. Transpose Midi and MP3 with mixing in real time.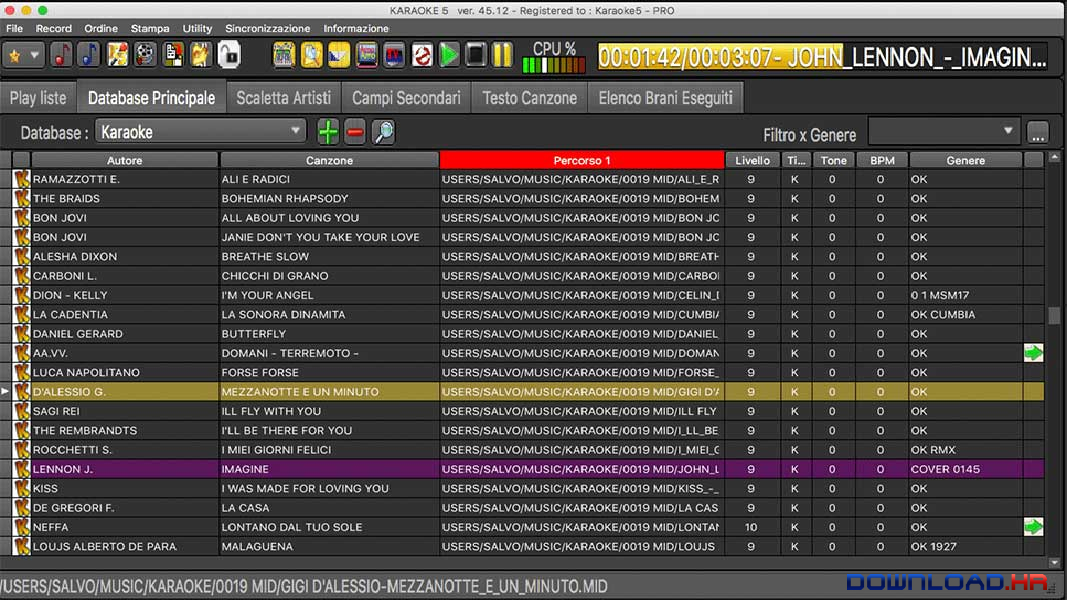 Download Karaoke| Visit Developer's Website

Media Portal turns your PC in a very advanced Multi MediaCenter/HTPC
It allows you to listen to your favorite music & radio, watch your video's and DVD's, view, schedule and record live TV and much more. You get Media Portal for free/nothing/nada/noppes and best of all it is opensource. This means anyone can help developing Media Portal or tweak it for their own needs!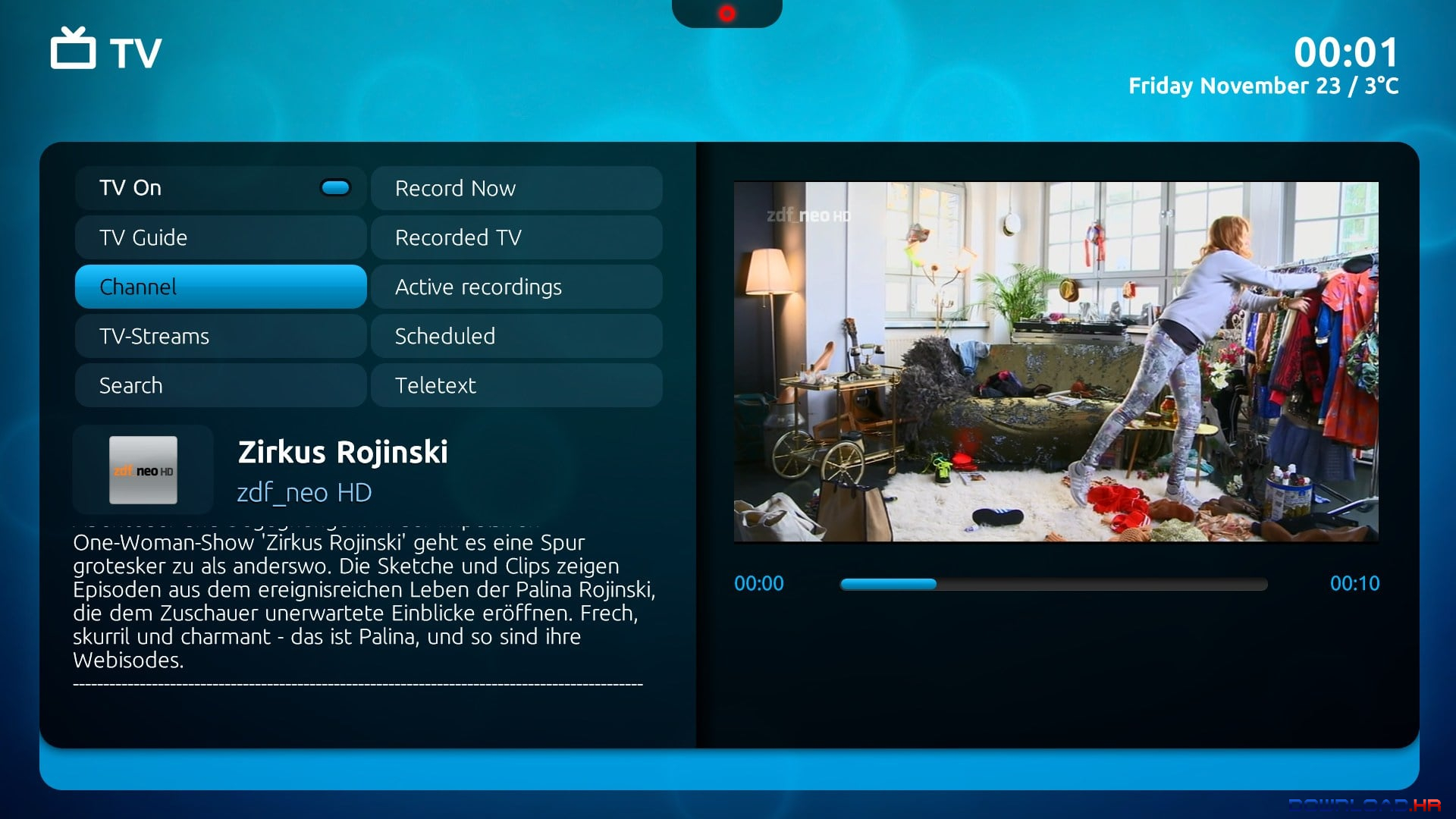 Download MediaPortal| Visit Developer's Website

KaraFun is a karaoke software for PC that offers a complete solution for home karaoke.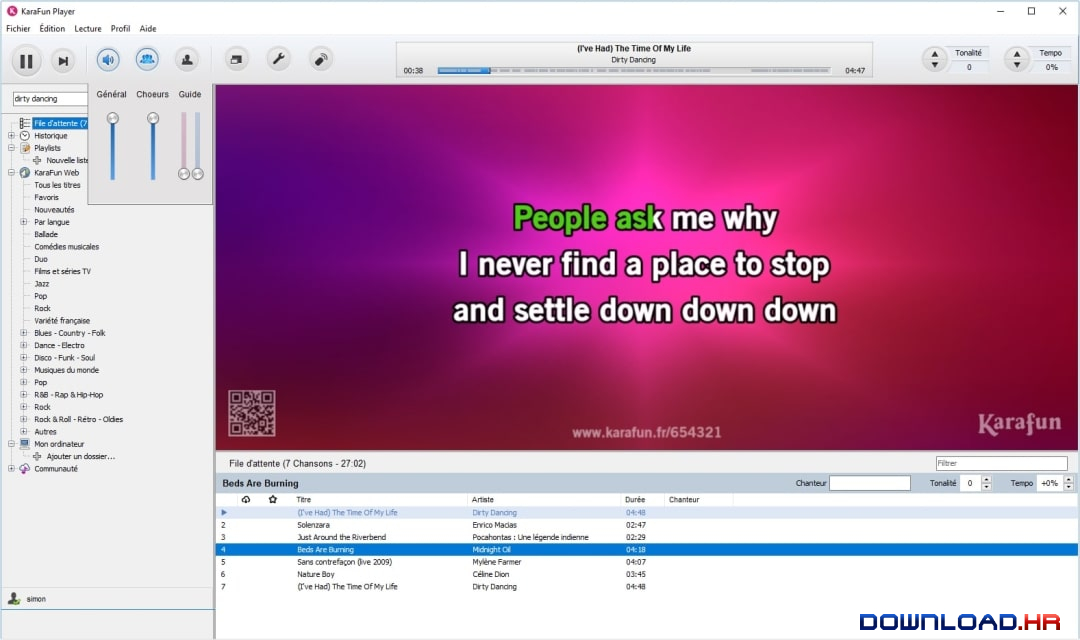 Download KaraFun| Visit Developer's Website

Qualitative and pure playing multimedia of files, including mp3
Mediaplayer - qualitative and pure playing multimedia of files, including mp3; good facilitys, the small size and minimal use of system resources.

Here are some key features of "AIMP":

· Crystal-clear sound, technology of reproduction essentially differs from Winamp and WMP;
· Sensitive equalizer;
· A maximum of functionality from a minimum of resources;
· The minimal consumption of system resources;
· Multilingual support;
· Support of set of formats of audio
· Adjustment of global and local hot keys (patterns from WinAmp and WMP);
· Flexible options of the program and various covers will allow you to make A.I.M.P. completely individual;
· Support of plug-ins with which help it is possible to expand opportunities of the program;
· The audioconverter codes music from the most different formats in wma, mp3, wav, ogg;
· audioGrab allows to overtake AudioCD in Mp3, OGG, WAV or WM;
· The sound recording will allow you to write down a sound from any audio of the device in system;
· The built - in editor of tags, support WMA, MP3, OGG;
· An opportunity of record AudioCD, MP3-disks and disks with given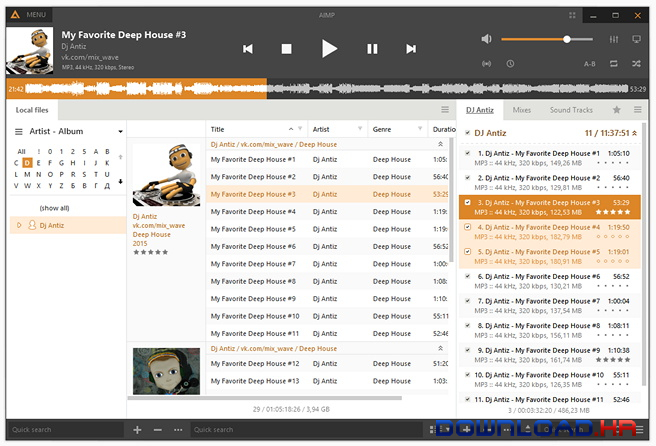 Download AIMP| Visit Developer's Website