If you're here reading this, chances are you're trying to find the best screen recording software products for Windows OS. Finding the right program isn't an easy job because of the variety of software available out there. Some of them are free and some of them are paid bringing additional features to users. So, in order to help you here is the list of the 10 best screen recording software products you can try rated by number of user downloads on Download.io. Hope that you will find our list useful and that you will find the right software for you!

Create screen recordings and tutorials
Camtasia Studio enables you to create professional screen recordings, tutorials, presentations and more. You can record any desktop activity with optional voice narration and then edit the capture into a professional video with annotations, callouts, transition effects, and more. The resulting video can be exported to various formats, including Flash, QuickTime, AVI, RealMedia, MP4, AVI and more. A step-by-step wizard can automatically configure the correct format based on the targeted use. Other features include direct upload to YouTube, quiz and survey integration, timeline editing, media import and more.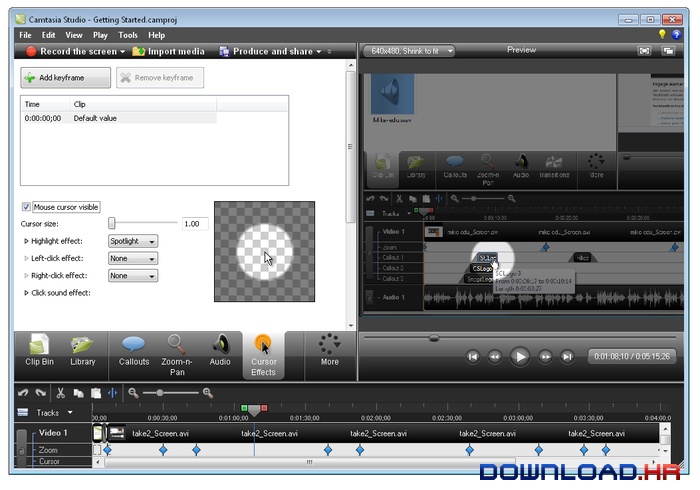 Download Camtasia Studio| Visit Developer's Website

Game recording software
Bandicam is a screen capture and recording software that has been primarily designed for recording of games and streaming videos. You can capture individual snapshots or record the entire action with the press of a keyboard hotkey. Bandicam supports different recording formats, including MPEG-1, Xvid and MJPEG video as well as several presets that let you convert your recordings for YouTube, Divx Player, Edit Premiere and specific height/width requirements. Still captures can be saved in BMP, JPG and PNG format.Other features include auto-capture (take a screenshot every X seconds), optional FPS overlay, FPS management, on-the-fly video compression, support for large resolutions, and unlimited recording times due to support for AVI 2.0 OpenDML extensions.Bandicam can also be used to record or capture regular desktop activity within a designated screen area.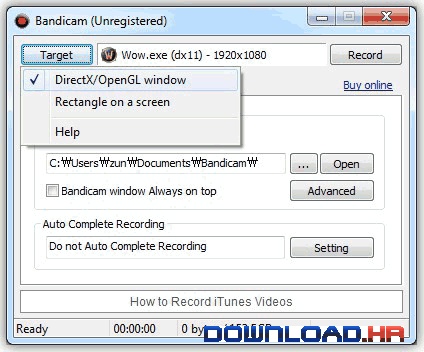 Download Bandicam| Visit Developer's Website

Record videos with audio from your screen or take screenshots easily on your PC.
Debut is a professional screen capture software. With Debut you can take screenshots or record videos from your entire screen, a single window or a selected portion. Save the screenshots as a jpg or recorded video as avi, flv, wmv and other video file formats. Email video recordings automatically when recordings has stopped or send via FTP. Set Debut to record video at specific times, record computer games, create how to demonstrations, capture video messages, adjust framerates, brightness, contrast, add text or captions and much more.

Debut Pro Edition Features:
* Multiple video and audio encoder settings
* Change resolution and frame rate of the output video
* Adjust color settings for the output video
* Optional sound recording for Screen Capture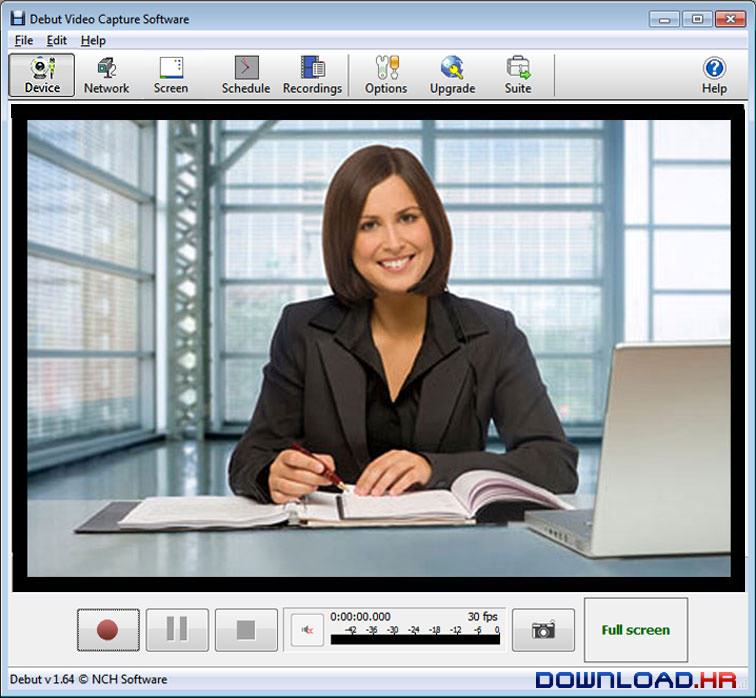 Download Debut Pro Edition| Visit Developer's Website

It captures video from webcam, TV Tuner card, digital video, digital camera etc.
Open Video Capture can capture video from webcam, TV Tuner card, digital video, digital camera and other capture devices. It can set video compression codec and audio compression codec, output frame size and frame rate. It also snapshots pictures with the hotkey. It can set each capture device's properties, preview and record real-time video, watch TV if TV Tuner is installed. It supports open compression system for video and audio. It encodes AVI files with DIVX, XVID, Windows Media Audio and Video Codec, DV Video Encoder, etc.

Download Open Video Capture| Visit Developer's Website

Record and publish desktop videos
BB FlashBack is a Windows screen recorder program, that enables you to capture desktop activity in real-time, like a movie, and then export it to Flash, AVI or standalone EXE file. You can also edit the movie, add annotations which allows users to create and edit movies of their own desktop activity. Movies can be exported to Flash, WMV and AVI and can include sound and annotations. The program is easy to use, and requires little or no technical expertise - just click record and stop when you are done.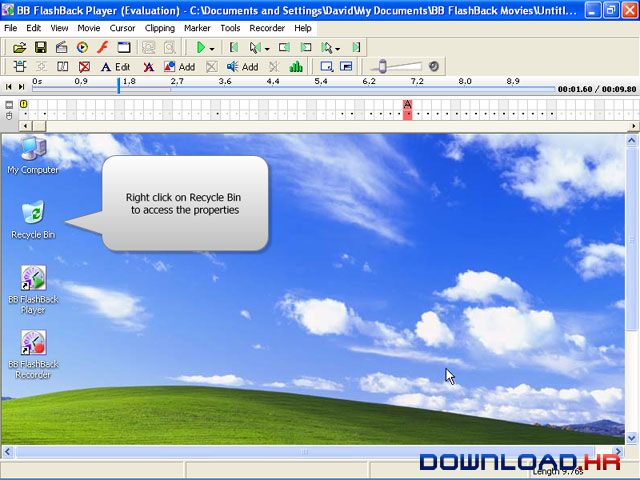 Download FlashBack Pro
Powerful screen recorder for capturing video with sound and taking screenshots.
Icecream Screen Recorder has everything you need for effortless screen capturing and screenshots taking. The program creates screenshots and screencasts, records full screen or selected areas, captures video with audio and microphone, supports scheduled screen recording, and features drawing tools and additional options for controlling the recording.

The program features several recording modes modes that are Custom area, Fullscreen, Last area, Area auto detection and Around mouse. Zooming in and out is available during the screen capture.

There is a drawing panel with a number of basic drawing tools like brush, rectangle, oval, arrow, text and step tool. Using these tools, you can comment on the screenshot or video, highlight important information and make notes. Besides, there is a standard text tool with the ability to choose font color and size. Use the step tool to add numbered markers to the videos or screenshots.

The program supports multiple additional options such as audio recording, particularly, it is capable of recording system sounds and microphone, setting minimum disk space and max file sizes, hiding desktop icons, showing or hiding mouse cursor, showing countdown before recording, disabling screensaver, highlighting mouse cursor and even more.

Videos are saved in WebM, MP4 or MKV format. Screenshots can be saved as images in JPG or PNG format (customized in Settings), URL, or copied to clipboard.

User may add webcamera window of custom size and location within the selected recording area.

Uploading of user watermark along with setting of its opacity level and position in the video is available.

Icecream Screen Recorder supports recording scheduled tasks, all you need to do is set the time for the start and stop and the program will record video within selected area for you at the needed time. Note that the screensavers and Windows sleep mode will be blocked automatically.

The program is available on multiple languages.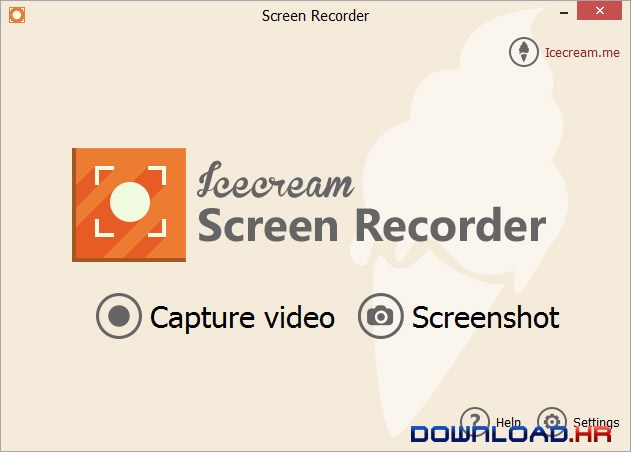 Download Icecream Screen Recorder| Visit Developer's Website

Capture your screen activity and save it as AVI,MPEG,MOV,MP4, WMV,MP3 and more.
Smart Screen Recorder Pro is a program that allows you to save your entire screen activity as video or audio. You will save it as AVI, MPEG, iPhone video, iPod Video, Zune video,WMV, MOV, MP4, 3GP, FLV, MP3,WAV and more. You can choose to fine tune the video and the audio setting - video resolution, video codec , aspect ratio, automatic adjustment of volume , audio bit rate, etc.. With this program you will record your full screen, a window or a custom area on your screen. The program's user friendly interface allows recording with a few clicks. Just select the area you want to record and click the Record button. You will also enable or disable certain recording settings, such as capture the mouse pointer, recording countdown, disable screen saver, highlight area during capture, keep aspect ratio and more. It is the perfect choice for recording chat sessions, instructional videos, streaming videos and Internet TV shows. You will also record sound of your speakers, microphone and the Line In of your computer. Runs on all Windows systems. Comes with free technical support and 100% 60 days money back guarantee.

Download Smart Screen Recorder Pro| Visit Developer's Website

VH Screen Capture Driver is a DirectShow filter, which emulate Video Capture card and captures screen activity.
VH Screen Capture Driver is a DirectShow filter, which emulates Video Capture card and captures screen activity.

Do you want to capture screen content, but your favorite capture software doesn't support capture from screen? Now, with VH Screen Capture Driver, you can select capture for screen as a virtual device in any DirectShow-based capture application.

VH Screen Capture Driver is designed to be highly compatible with DirectShow capture software and is optimized to provide best performance. It can be used with any DirectShow-based application which you like as a capture source, still the capture speed depends on specific software. VH Screen Capture Driver allows to keep aspect ratio during resize, and follow mouse pointer when output size less than capture area. It a good solution to broadcast screen content through network (internet), because you can reduce required bandwidth and keep good video quality.

Main features of VH Screen Capture Driver:
•Follow mouse pointer
•Skype support
•multimonitor support
•fast and highly optimized capture from screen
•real-time scaling (resizing) of captured images
•keep aspect ratio during resize
•control for output video dimensions
•auto selection for best optimization method
•interactive window or region selection
•realtime window position indentification
•manual region setup
•align video dimensions for non aligned capture regions
•fill non-visible parts with border color
•framerate controll
•capture mouse movements and shows mouse clicks
•supports URL for source (VHScrCap://)
•full Flash and Windows Media Player support
•XML settings loading (see example)
•multi-instance support
•controlling and connection to any VHScrCap instance (for applications, which cannot show capture filter's properties)
•new API (ver. 2 and later), supports C++, C#, Java, Delphi, etc.
•includes free VH Screen Codec (optimized to compress screen activity)

Download VH Screen Capture Driver| Visit Developer's Website

Easy-to-use screen recorder that also features sound capturing
BB FlashBack Express is an application that helps you create tutorials, demonstrations or training material by its screen recording feature. With the aclaimed usability and best of breed technology of is big brother, BB FlashBack, the Express edition represents fantastic value. Movies can be exported to Flash or AVI for use on CD-ROM, distribution over a network or internet. Typically, users can be creating great movies with BB FlashBack Express in minutes. To enable easy publishing of Flash movies in web pages, BB FlashBack Express adds customisable playback controls to movies and ermbeds them in HTML files via editable templates. The custom compression engine produces compact movie files without sacrificing quality, making them easier to deliver by E-mail or internet download. BB FlashBack Express movies have a wide range of applications including: staff training, producing tutorials on PC tasks and demonstrating software products to potential customers. NOTE: After 30 days, you need to register for a free license key.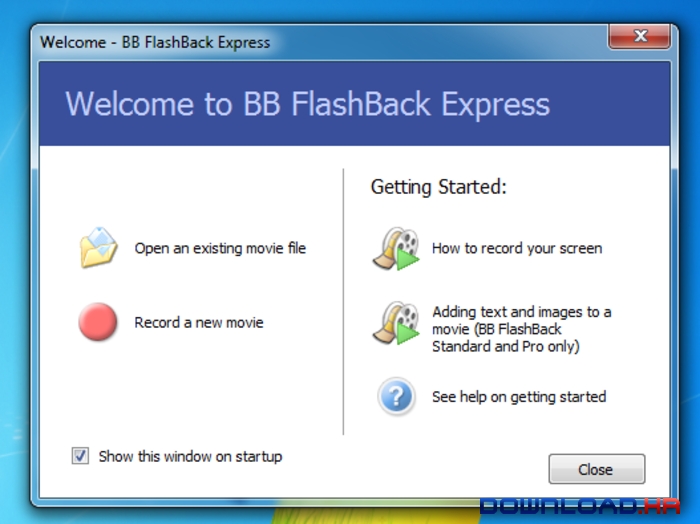 Download FlashBack Express
Capture any video playback
Replay Video Capture enables you to capture anything you watch on your screen and save it as MPEG-2 or Windows Media 9 video files. This includes videos from hard-to-capture web sites, DVDs, webcams, chat sites, media players and more. Unlike other program that attempt to capture the video stream, Replay Video Capture basically records the portion of your desktop that show the video playback - an easy-to-use tool to select the proper playback window is provided. Other features include adjustable video settings, recording size and time limits and a universal audio driver to capture sound if your sound card does not support recording.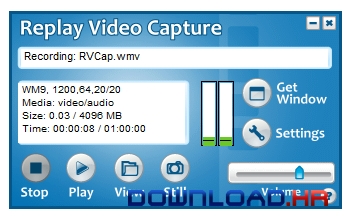 Download Replay Video Capture| Visit Developer's Website