If you're here reading this, chances are you're trying to find the best pdf software products for Windows OS. Finding the right program isn't an easy job because of the variety of software available out there. Some of them are free and some of them are paid bringing additional features to users. So, in order to help you here is the list of the 10 best pdf software products you can try rated by number of user downloads on Download.io. Hope that you will find our list useful and that you will find the right software for you!

Adobe Acrobat Reader is free software that lets you view and print Portable Document Format (PDF) files
Adobe Acrobat Reader is the most reliable, free global standard document management system available. View, edit, sign, and annotate PDF documents by working directly on the text.

VIEW PDFs
• Quickly open and view PDF documents.
• Search, scroll, and zoom in and out.
• Choose Single Page or Continuous scroll mode.

ANNOTATE PDFs
• Comment on PDFs directly using sticky notes and drawing tools.
• Annotate documents easily with highlights and markup texts.
• View and respond to activity in the comments list.

WORK WITH OTHERS AND SHARE PDFs
• Access shared documents quickly. Simply view, review, sign and send.
• Collaborate with others by adding your comments to shared PDFs.
• Receive activity notifications for files you've shared.
• Track pending actions for documents shared with you.
• Sharing PDFs is made effortless. Create links you can send by email.

WORK WITH SCANNED DOCUMENTS
• Access scanned PDFs that you've captured using the free Adobe Scan app.
• Upload and sign documents. Open your scans in Acrobat Reader to fill, sign, review, and share.

FILL AND SIGN FORMS
• Easily fill out and sign PDF forms and other documents by typing text into fields.
• PDF form filler feature lets you use your finger or stylus to add an e-signature to any document.

STORE AND PRINT FILES
• Sign into your free Adobe Document Cloud account to store and access files across devices.
• Star files to keep important documents at your fingertips.
• Connect to your Dropbox account and access other storage providers including Google Drive.
• Print documents directly from your device.

IN-APP PURCHASE
Subscribe for even more PDF power. Subscriptions work across desktop, web, and mobile.

ACROBAT PRO DC
• Organize and edit PDFs.
• Create PDFs using documents or pictures (like JPG).
• Convert PDFs into Microsoft Word, Excel, or PowerPoint versions of your documents.
• Merge multiple PDF files into one document.
• Sign and send documents to others for review.

ADOBE PDF PACK
• Convert JPG to PDF and create PDF documents from other picture files and docs.
• PDF viewer also lets you export PDF documents to Microsoft Word, Excel, PowerPoint or RTF.
• Organize and combine files.
• Send documents to others for review.

EXPORT PDF
• Export PDFs to Microsoft Word, Excel, PowerPoint, or RTF.
• Make scanned PDFs editable.




Download Adobe Acrobat Reader| Visit Developer's Website

Convert PDF to Doc, XLS, HTML, Text, CSV or images and get perfect results.
Total PDF Converter converts PDF to Doc, Excel, HTML, Text, CSV, TIFF, JPEG, PNG, or BMP. It converts one PDF file as well as a batch of PDF files in no time. Moreover, it supports all types of PDF files, including PS, EPS, PRN, PCL, XPS, and OXPS. The resulting files are always prefect: the layout is strictly preserved. The program is very flexible. Conversion parameters are set automatically for new users. Advanced users may change all settings (output file compression, enumerating, file name template, adding a digital signature, etc.). The program can also convert every page of a multi-page PDF to a separate file. Alternatively you can combine several PDF files into one TIFF image. Total PDF Converter works via user interface or command line. The server version has ActiveX. Download your free copy now!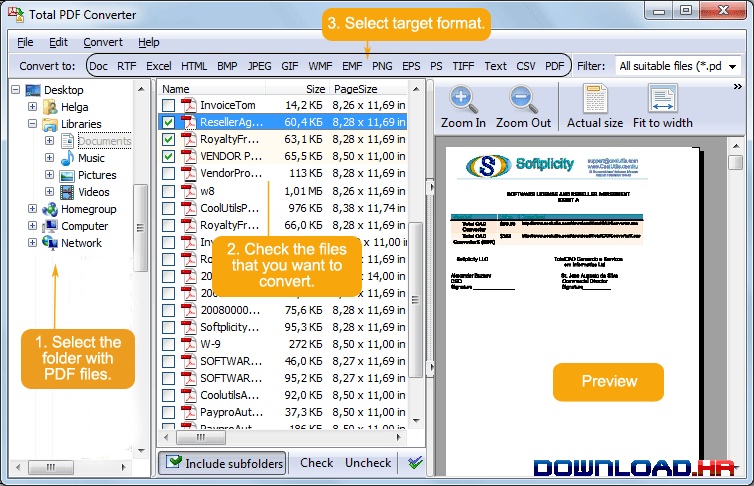 Download TotalPDFConverter| Visit Developer's Website

A powerful application, combining two utilities in one product - PDF conversion and PDF creation
ABBYY PDF Transformer is a software product developed by Digital Media and it is listed in File category under PDF. ABBYY PDF Transformer is licensed as Trial which means that software product is provided as a free download to users but it may be limited in functionality or be time-limited. You may need to pay at some moment to continue using product or to use all functionalities. You can run ABBYY PDF Transformer on Windows XP/Vista/7/8 operating systems. ABBYY PDF Transformer was last time updated on 30.06.2015 and it has 35,701 downloads on Download.io. Download and install ABBYY PDF Transformer safely and without concerns.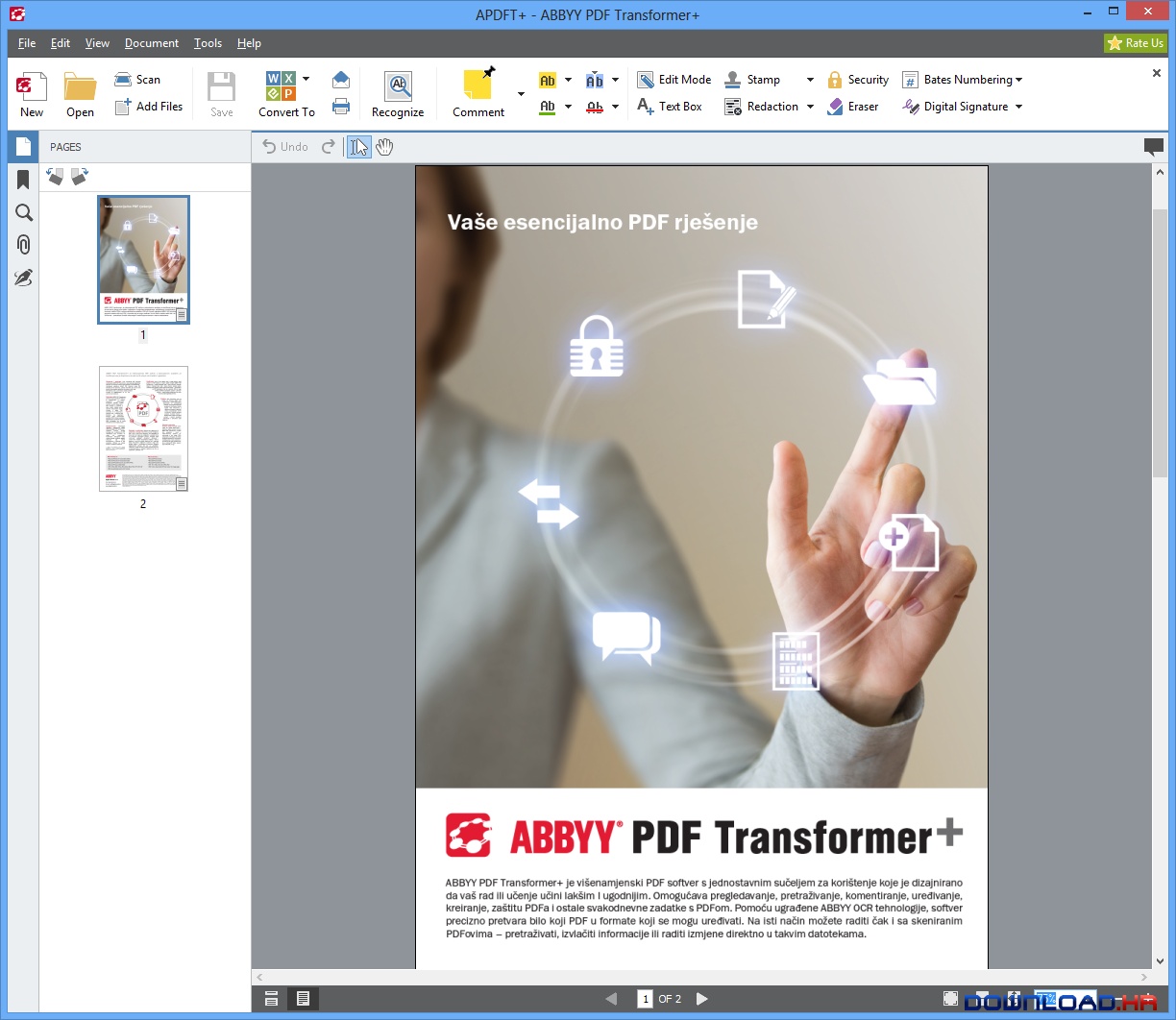 Download ABBYY PDF Transformer| Visit Developer's Website

Converts your PDFs to an easily editable document and then back to PDF format.
Smart PDF Converter Pro is easy to use and extremely helpful. It will let you convert your PDF files to several formats: HTML, DOC, RTF, XLS, JPEG, TIFF, and TXT. You can convert your PDF to a single webpage or add buttons to your HTML, so you can scroll from one page to another with one click of a button. You can convert to an easily editable .doc file or use the exact method if you need an exact layout of the file. You can convert to single or multiple-sheeted Excel file. Smart PDF Converter Pro can convert to JPEG and TIFF, for which you can set different resolution and quality. Smart PDF Converter features unique but yet simple interface, all you need to do is to add your PDF file into the software, set an output format, an output folder and press Convert. The software features an advanced settings menu from where you can choose different conversion methods. After you convert and edit your PDF files you can easily convert them back to PDF format. Smart PDF Converter features a complete instructions manual. If you can not find an answer to your question on our webpage or in the Help section, please contact us at [email protected].




Download Smart PDF Converter Pro| Visit Developer's Website

Edit PDFs like a word processor - use tabs, spellcheck, find & replace...
Infix is the only PDF editor that intelligently re-creates the original content so that you can edit it in the way you would expect.

Most PDFs just contain fragments of text - just a few words at a time. Other PDF editors allow you to edit each fragment individually.

Infix is the product of more than a decade's work and development in the professional print industry. It uses a set of intelligent algorithms to recreate the original structure of the document. This means you can edit a PDF just like you would a Word document.

Nothing comes close to Infix in the arena of PDF editing!

Use Infix to edit and reflow text across columns and pages. Manipulate graphics, images, pages and more.

Edit PDF documents made by any software - Adobe Acrobat, Distiller, MS Word - it handles them all!

Infix enables you to edit existing PDF documents directly, removing the need to convert to other formats.

Infix makes short work of updating brochures, technical manuals and reports, avoiding the need to have the original documents or fonts available - a real lifesaver when the original material is missing.

Use the advanced Search and Replace feature to make seamless alterations throughout long documents or across multiple PDFs. It's easy to change product names throughout a manual or amend the headers and footers on every page - tasks that would otherwise take hours or days to do by hand!

Infix is industry proven technology. At its heart is a sophisticated layout engine which offers full text edit and reflow as well as search and replace facilities in any kind of PDF.

As well as this Infix offers all of the standard editing facilities you would expect such as page cropping, annotation, cut and paste between PDFs, graphics manipulation and more.

Infix also includes the the Infix PDF Printer for creating PDFs from any document on your system.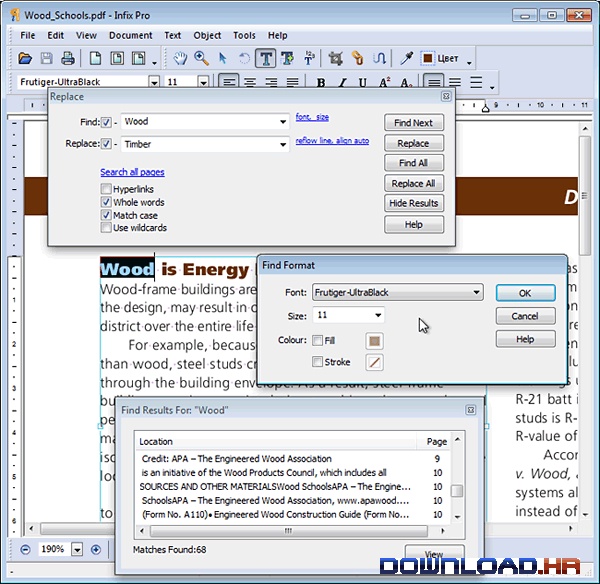 Download Infix PDF Editor| Visit Developer's Website

A powerful document to pdf converter
Advanced Word to Pdf Converter Free is an application which allows users to convert hundreds of windows printable documents, such as word (doc,docx,docm), txt, rtf to searchable pdf (as default format, as image format)document.

The converter can be used as a PDF writer or PDF creator from multiple applications as soon as it supports printing. Advanced Word to Pdf Converter Free supports the fast, affordable way to create professional-quality documents in the popular PDF file format.

Its easy-to-use interface only allows you to create PDF files by simply click the "Convert" button. The Converter includes PDF options as Top, Bottom etc .It accurately retains the layout of the original document file.

Here are some key features of "Advanced Word to Pdf Converter Free":

· Convert Word(doc,docm,docx),rtf,txt to PDF.
· Support Command Line.
· Output PDF has two formats: default format, image format.
· Support page sizes user defined.
· Support file paging to convert.
· Support drag and drop files.
· Choose the entire folder to convert.
· Intelligent processing of large files.
· Easy to use. Convert with one click.
· More setting options to let you control the output file more accurately.
· Save the imported file list.
· Create PDF with high good quality.
· Process the conversion at very high speed.
· It can automaticly view the output files after converted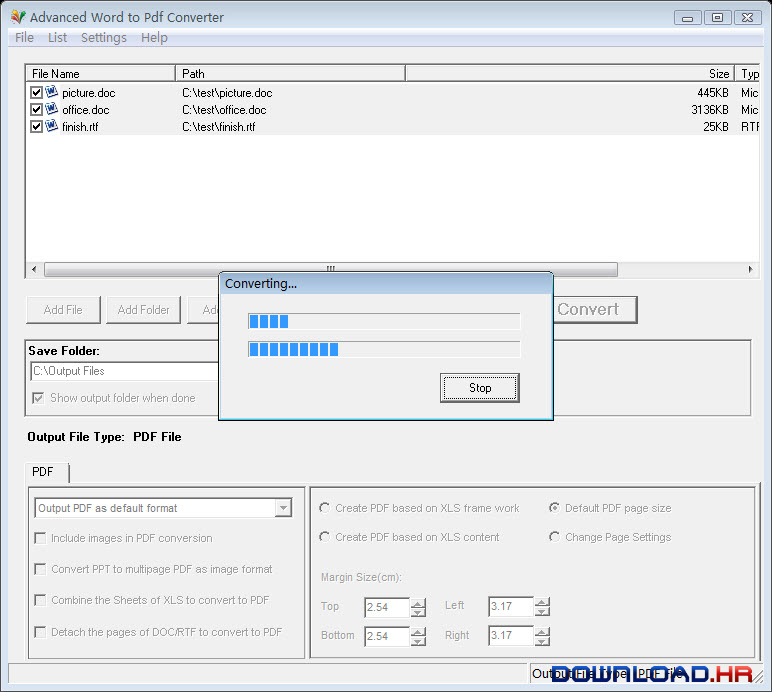 Download Advanced Word to Pdf Converter| Visit Developer's Website

The Easiest way to creating Professional PDF file from PowerPoint
PPT to PDF Converter is the fast, affordable way to create professional-quality documents in the popular PDF file format. Its easy-to-use interface allows you to create PDF files by simply click the "Save as PDF" button from MS PowerPoint, creating documents which can be viewed on any computer with a PDF viewer. PPT to PDF Converter supports Font embedding, resolution, compression and multi-language.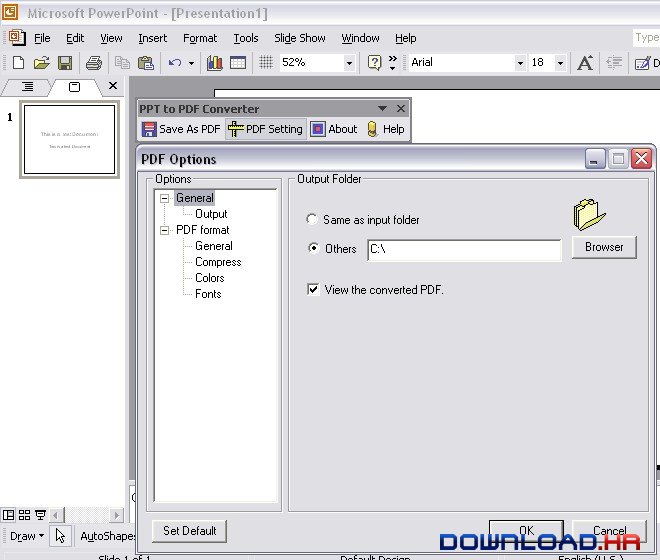 Download PPT to PDF Converter| Visit Developer's Website

doPDF allows you to easily convert any printable document to PDF. For free.
Using doPDF you can freely convert documents to searchable PDF files from any Windows application. It installs as a printer driver and helps you generate the PDF files by simply selecting the "print" command from any application (you can convert your Word documents, Excel sheets, PowerPoint presentations, AutoCad drawings, company's reports, contracts, workflows, agreements, marketing plans, forms, products list, price list, charts, emails or web pages). The resulted PDF files can be viewed on any computer with a PDF viewer (reader) installed.

This PDF creator is compatible with Windows 8/7/XP/2003/Vista (32 and 64-bit versions) and requires approximately 10MB of free disk space for the installation. It doesn't require third party tools to be installed in order to generate the pdf file (like Adobe Acrobat or GhostScript).

doPDF has a lot of features that allows you to: modify the paper size, modify the resolution (from 72 to 2400 dpi), change page orientation (portrait, landscape), change the quality settings, embed font subsets and lots more. The user interface supports localization, thus using doPDF in your own language (currently English, German, Spanish, French, Italian, Czech, Korean, Dutch, Japanese, Polish, Swedish, Portuguese, Brazilian, Serbian, Ukrainian, Romanian, Chinese Simplified, Russian, Greek and Hungarian are supported).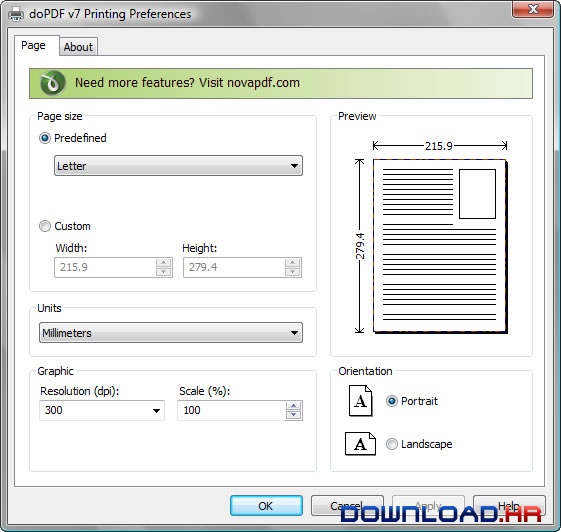 Download doPDF| Visit Developer's Website

Foxit PDF Editor is a tool for modifying page contents in Portable Document Format (PDF) documents. Unlike other so-called "PDF Editors", which are designed only to work with "Notes" and limited page
Easily create and edit PDF documents and fillable forms.
Sort pages, add headers/footers/watermarks, and export PDF.
Convert paper into editable and searchable PDF for paperless.
Collaborate with other users so the whole team can participate.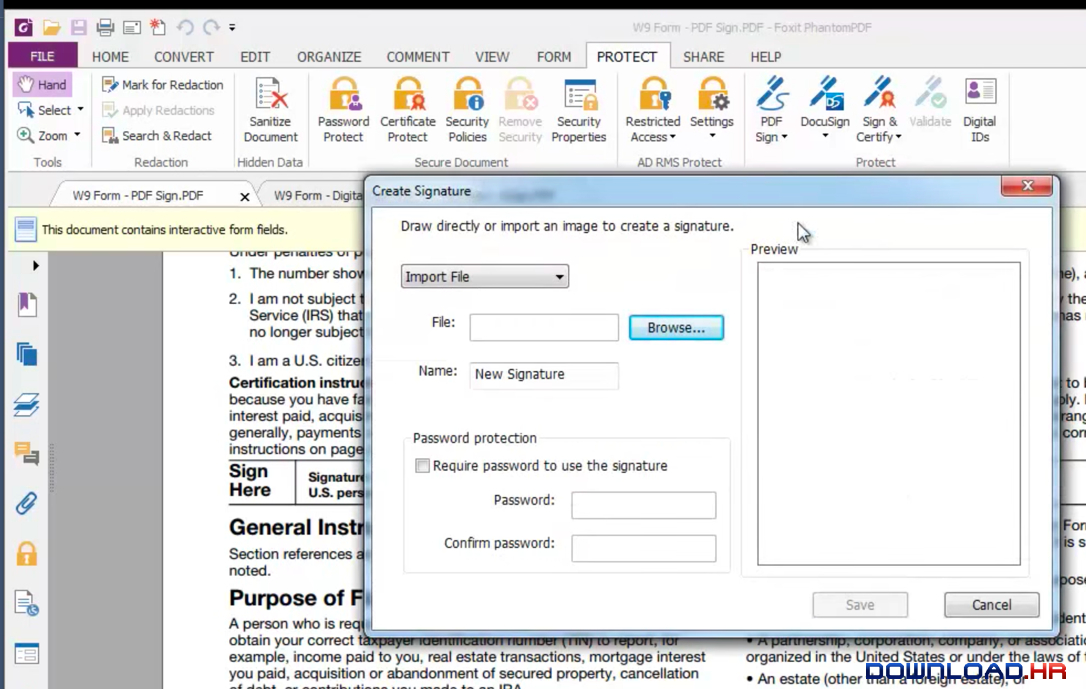 Download Foxit PDF Editor| Visit Developer's Website

Foxit Reader is a small alternative to Adobe Reader
Foxit Reader is a free PDF document viewer, with incredible small size, breezing-fast launch speed and rich feature set.

In the past, you've had to download a huge PDF reader from another software company, go through a lengthy installation process and wait for an annoying splash window to disappear just to open a PDF document. Moreover, if you want to annotate a PDF document, you have to pay US$299 to buy certain software.

Now with Foxit Reader, you don't have to endure such pain any more. The following is a list of compelling advantages of Foxit Reader:

•Incredibly small: The download size of Foxit Reader is just a fraction of Acrobat Reader 20 M size.
•Breezing-fast: When you run Foxit Reader, it launches instantly without any delay. You are not forced to view an annoying splash window displaying company logo, author names, etc.
•Annotation tool: Have you ever wished to annotate (or comment on) a PDF document when you are reading it? Foxit Reader allows you to draw graphics, highlight text, type text and make notes on a PDF document and then print out or save the annotated document.
•Text converter: You may convert the whole PDF document into a simple text file.
•High security and privacy: Foxit Reader highly respects the security and privacy of users and will never connect to the Internet without users' permission. While other PDF readers often silently connect to the Internet in the background. Foxit PDF Reader does not contain any spyware.




Download Foxit Reader| Visit Developer's Website