If you're here reading this, chances are you're trying to find the best tag editors software products for Windows OS. Finding the right program isn't an easy job because of the variety of software available out there. Some of them are free and some of them are paid bringing additional features to users. So, in order to help you here is the list of the 10 best tag editors software products you can try rated by number of user downloads on Download.io. Hope that you will find our list useful and that you will find the right software for you!

Mp3tag is the universal Tag editor for various audio formats.
Mp3tag is a powerful and yet easy-to-use tool to edit metadata of common audio formats where it supports ID3v1, ID3v2.3, ID3v2.4, iTunes MP4, WMA, Vorbis Comments and APE Tags. It can rename files based on the tag information, replace characters or words in tags and filenames, import/export tag information, create playlists and much more. Mp3tag supports online database lookups from, e.g., Amazon, discogs, or freedb, allowing you to automatically gather proper tags and cover art for your music library.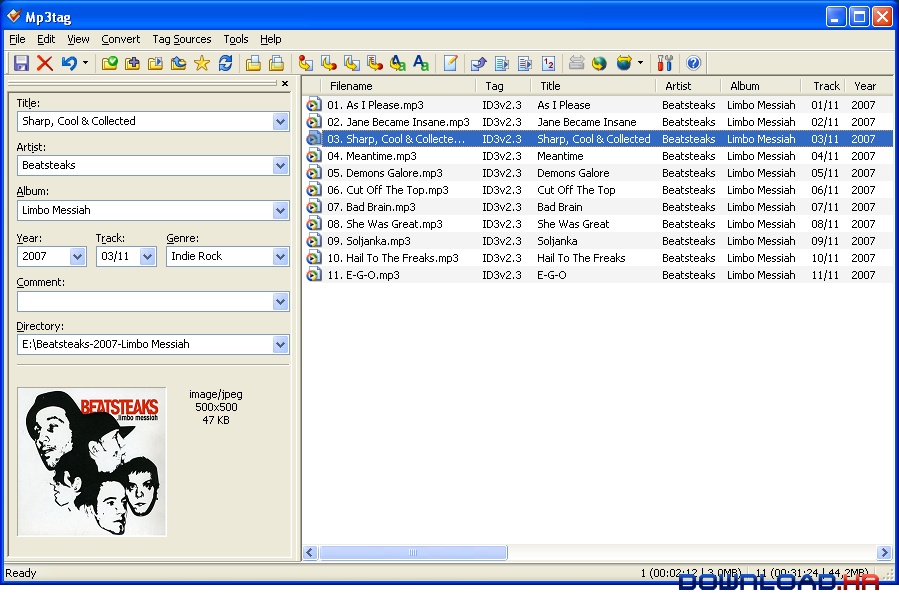 Download Mp3tag| Visit Developer's Website

Batch rename of files using Tag/Filename/Folder name/Audio file information
Batch rename of files using Tag/Filename/Folder name/Audio file information. User defined Formats using Tag fields, File/Folder name or Tokens, Mpeg bitrate/mode as variables. Powerful case conversion including custom case and all the options you would ever want. Replacement matrix. ( remove unwanted characters or words or replace them. User defined matrix ). Smart filters enable you to have only the files that are potentially wrong listed for renaming. Further refine your list to be processed by marking files to be skipped or ever edit the end result your self. Undo function.

Features

Batch rename of files using Tag/Filename/Folder name/Audio file information.
-User defined Formats using Tag fields, File/Folder name or Tokens, Mpeg bitrate/mode as variables.
-Powerful case conversion including custom case and all the options you would ever want.
-Replacement matrix. (remove unwanted characters or words or replace them. User defined matrix)
-Smart filters enable you to have only the files that are potentially wrong listed for renaming.
-Further refine your list to be processed by marking files to be skipped or ever edit the end result your self.
-Undo function.
Batch Tag update.
-Supports both ID3v1 & ID3v2 up to date versions.
-Supports Ogg Vorbis comments.
-Supports APEv2 tags.
-Supports MP4 tags.
-Select specific fields to be updated.
-Use File/Folder tokens, Tag variables to create tag information.
-Filter files by the existence of tags or even by the existence of specific fields.
-Update either Tag or all of them.
-Option to clear specific fields.
-Option to skip non empty fields.
-Use the case options.
-Use of the replacement matrix.
-Update tags by copying/moving or auto synchronizing one to the other.
-Delete all Tags or either one of them.
-Batch process of pictures/lyrics (export, delete or both).
-Complete control trough the update process.
Organize.
-Easily create/merge play lists with preview support or simply find and listen to your favorite music.
-Encode/decode your files with LAME,Ogg Vorbis or mpcenc. (trans code with out losing tag information from one format to the other)
-Restructure the files on your hard disk ( copy,move or even create shortcuts ) in new user defined location based on Tag field information.
-Find duplicate files using smart and aggressive detection.
-Export files in delimited, fixed length format, Simple HTML or multiple pages using user defined templates.
-Import information from delimited files to rename and.or update your files, customized mapping to columns.
Album/filename rename & update various online sources.
-Disk ID generated from the files in the folder or usage of the original CD-ROM supported.
-Album/Artist filter.
-Single track query.
-Use album art and/or full comments, credits, tones, styles, composer
-"Various artists" album support.
-Auto sort according to duration.
-Auto match according to Tag/Filename.
-Edit the results and preview changes.
-Rename and or update files at batch or one by one.
-Amazon grabber.
-Custom web sites parsing.
Catalog your files in a powerful library.
-Store cover art and up to 4 pictures per album.
-Store detailed info for each artist like bio, and misc other info, pictures etc.
-Use allmusic to retrieve the above data effortlessly.
-Powerful user defined tree views.
-Persistent user queries with random record retrieval, prompted values etc.
-Hierarchical play lists.
-Export to xls, HTML, play list files.
-Very fast with 1000's of files.
General
-Custom file filtering using Tag fields/bitrate. ( multiple user defined filters are supported with and/or functionality, Wildcard support <*?>, sounds like ~ support).
-Search in local or network locations.
-File mask support including wildcards (*?).
-Sub folder support.
-Custom colors to easily spot files according to Tag existence or Bitrate.
-Smart ID3 Tag detection in case of both being present.
-User defined ID3v2 padding size.
-Supports ID3v2 compressed frames.
-Language files support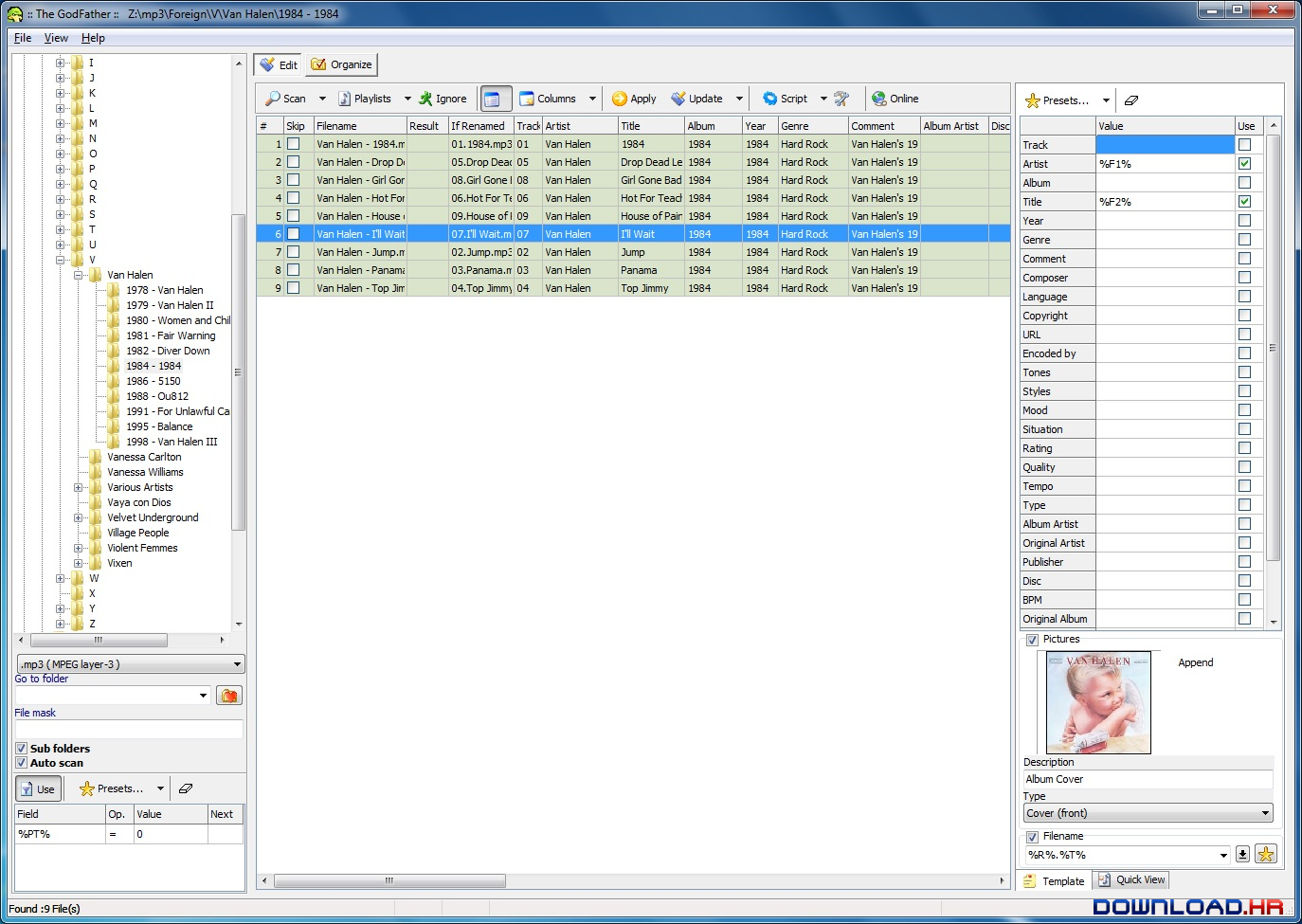 Download The GodFather| Visit Developer's Website

Multifunction program for renaming MP3/OGG/MP+ files, using TAG information and vice versa
Here are some key features of "TagScanner":

· Music files renaming by TAG info
· Supports MP3, OGG and MPEGplus files
· Support for ID3 Tag version 1.0 / 1.1 / 2.3 / 2.4
· Support for ID3v2 Lyrics and Attached pictures
· Supports ID3v2 compressed tags
· Supports OGG-info tags
· TAG generation by folder/filename
· TAG version conversions
· TAG generation from internet database (freedb)
· TAG case conversions
· Built-in player
· Worksheets technology
· Works with subfolders
· Advanced TAG editor with batch features
· More than 140 Genres + ability to write your own styles
· Powerful Playlists editor
· Write extended playlists like Winamp or Sonique
· Playlists export to HTML, Excel and CSV(e.g. for MySQL)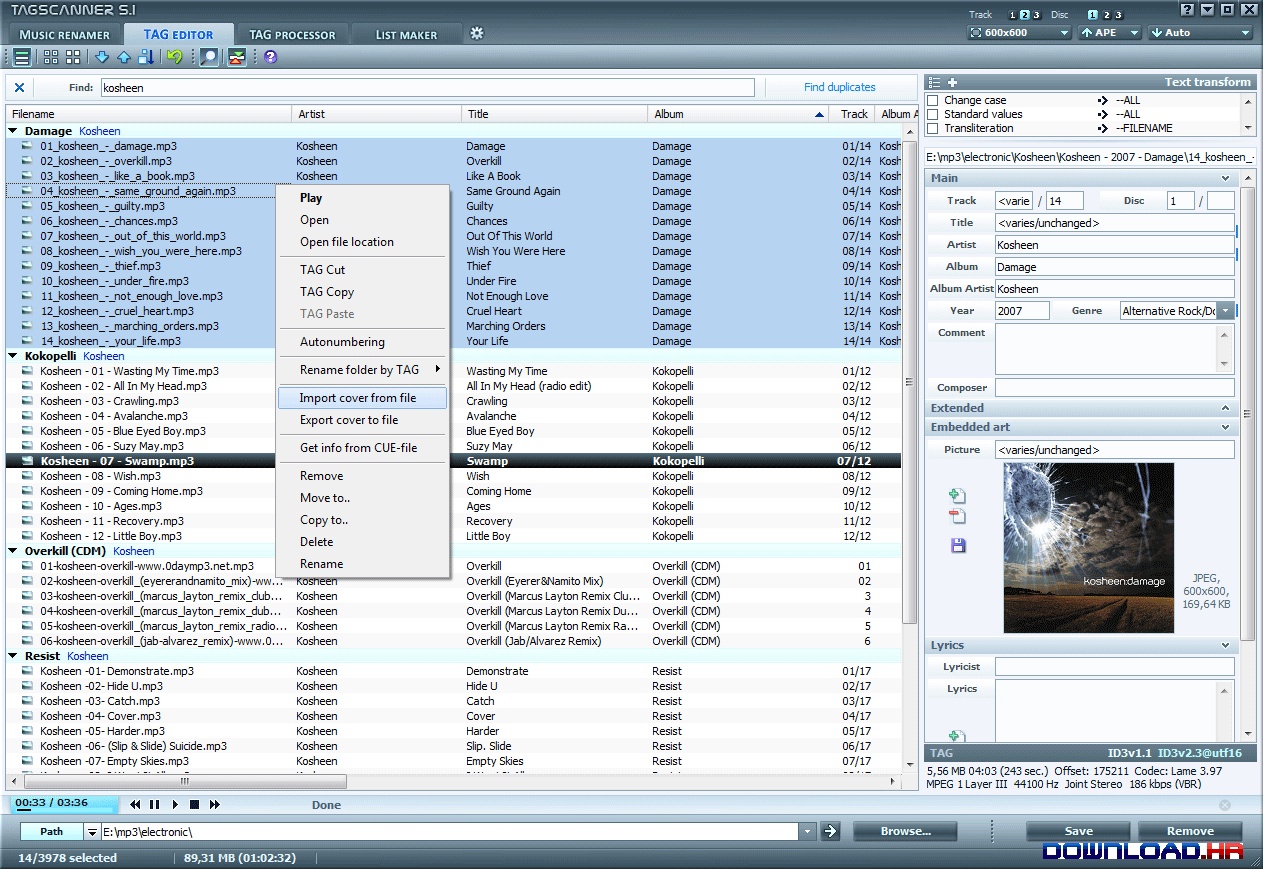 Download TagScanner| Visit Developer's Website

Simple, yet powerful tool to tag and organize your music
MetatOGGer is an application that can tag, rename and organize your Ogg and MP3 files.

MetatOGGer gives you the possibility of reverting at any moment. You add the tracks (either Vorbis or MP3) by adding either single files or folders, and you can also drag and drop files to the output window.

Using MetatOGGer you can easily personalize the grid to show only certain tags, and to sort the tracks according to multiple criteria. Every usual tag can be displayed in the window, and if you needed to use exotic tags you can show them in the "Other tags" column, where you can edit them trough a simple modification dialogue.

MetatOGGer is the first tagging tool which boasts a dynamic and vector user interface, based on Windows Presentation Foundation (WPF). This software offers an excellent simplcity-power report compared to the competition.

Here are some key features of "MetatOGGer":

· Edit tags, manually or using C # scripts;
· To get tags from filename or path;
· To rename files based on tags;
· To organize files based on tags (copying, moving, symbolic linking with Vista);
· To retrieve tags from a local database containing more than 300000 discs;
· To retrieve covers from internet;
· Identify files from their acoustic fingerprint;
· To quickly clean unwanted tags.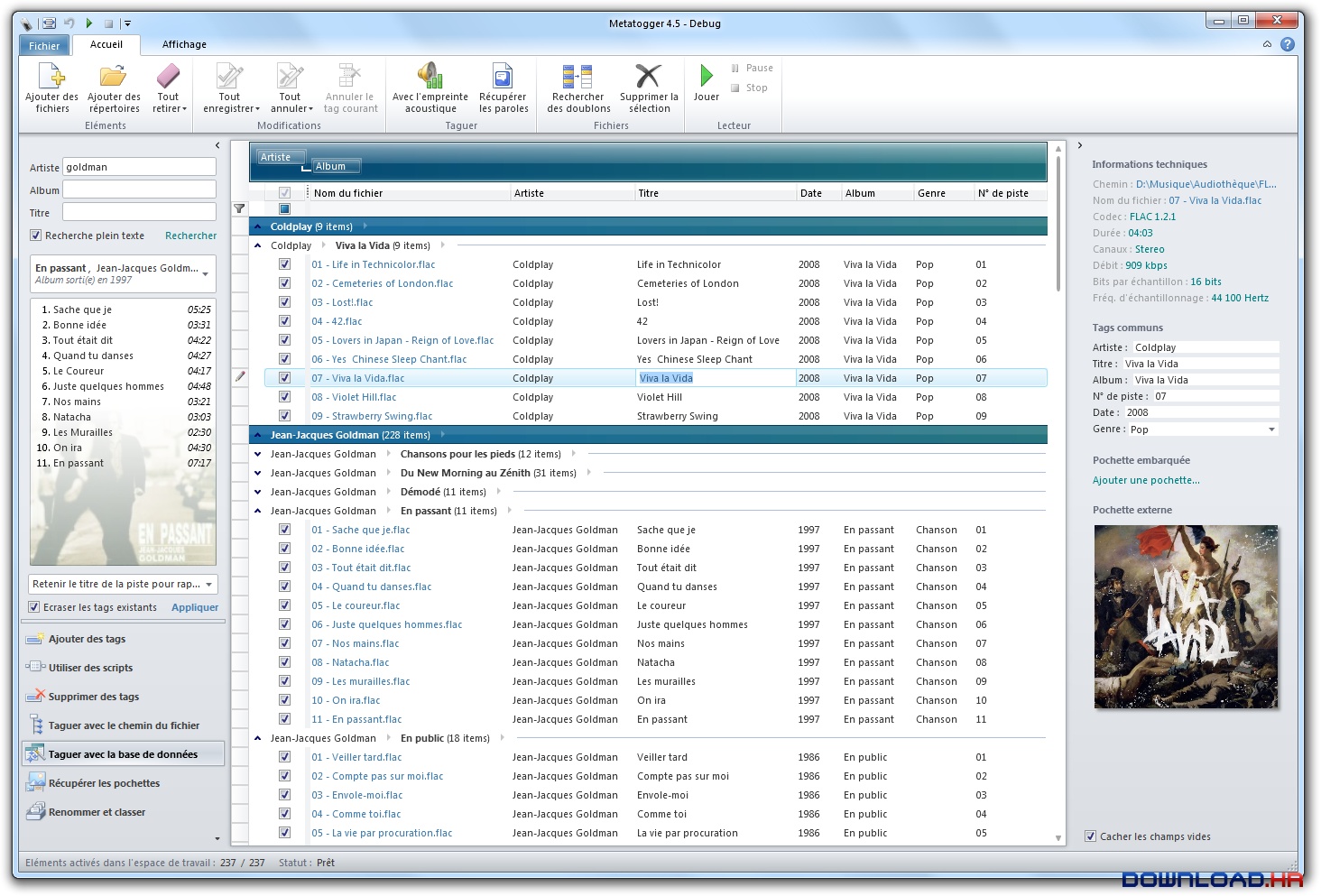 Download MetatOGGer| Visit Developer's Website

A program that will rename MP3 files and that can also fill ID3 tag
Useful if you need to rename a large number of files in a directory accordingly to their ID3 description and a given "formula" (e.g. (%Track) %Artist - %Title).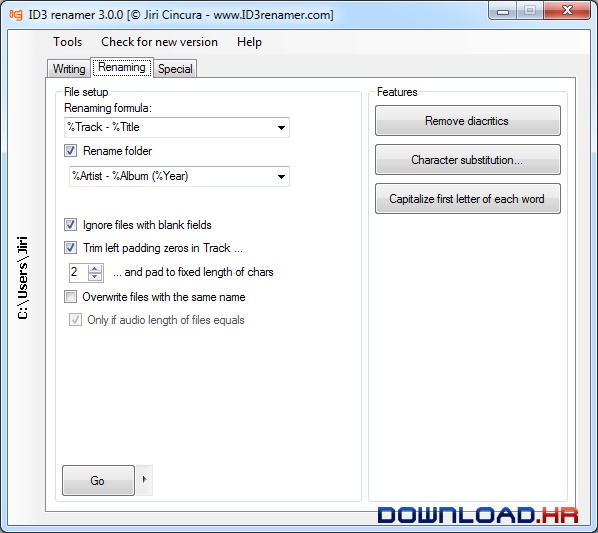 Download ID3 renamer
Tired of missing mp3 tags? This tool fills them in automatically! Free download.
Got a bunch of MP3 files with missing tags? Get 1st MP3 Tag Editor and get them filled in automatically, without lifting a finger. The program will connect to a database and import song name, album title and other tags based on track length, number of tracks and other properties (Internet connection required). Besides accessing FreeDB, the program is compatible with Amazon.Com services' so you can just enter the artist/band name and get names of all the tracks for a selected album. And this is just the start of 1st MP3 Tag Editor's cool features.

The core of the program is its MP3 editing options and its ability to rename files based on existing tag information. Because most aficionados have hundreds and thousands of tracks, this program comes with a wealth of batch processing options. The program can insert/delete/change tags for thousands of music files with just one mouse click. Similarly, the program can generate tags based on file names or location. It can also automatically create playlists. All these options free users from the drag of doing things manually by automating most common MP3 related tasks.

In addition to editing MP3 tags, the program can process Apple iTunes M4a, WMA, FLAC, OGG Vorbis, Musepack MPC, WAV, AAC, WavPack and APE tags. So if you are looking for an MP3 tagger and MP3 renamer, 1st MP3 Tag Editor is the way to go.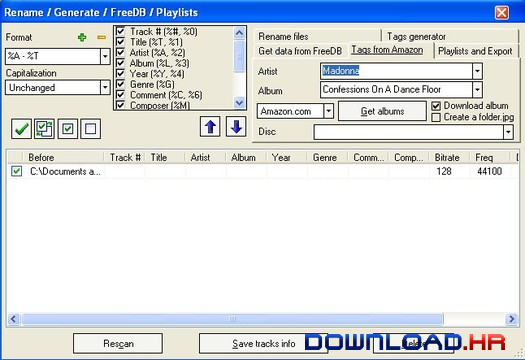 Download 1st MP3 Tag Editor| Visit Developer's Website

Keep your music collection in order. Find tags, covers, play and rename files.
Bringing your music collection into perfect order has never been easier. Watch as TagTuner completes media file information, renames and plays your music.
TagTuner offers you the best ways to complete your music file tags, whether you want to get the information from the Internet or add it manually.
The ?Getting Album Info from the Internet? feature lets you find not only tags like Artist, Song Name, Album Title, but also the original CD cover and at the same time rename the files in your favorite style. This is simple, because TagTuner remembers your settings. For example, you set your most preferred file naming format just once and the next time it will be applied automatically.
You can also edit tags manually, one by one, while listening to your music, or using the built-in tag editor to edit several songs at once. Afterwards, you can even rename files in one keystroke.
The built-in player enables you to handle your music collection and create playlists without moving your attention to other applications. Set global shortcut keys for your most favorite playlists and switch among them with speed and ease as your mood changes.

Features
Online album information and cover search. TagTuner maintains its own search server and returns all of the search results at once.

Quick files renaming. TagTuner lets you use media file tags like Album Title, Artist Name, Song Name, Track Number etc. to build meaningful file names for your music collection. You can create your favorite renaming templates and apply them to selected files, as well as use the default template just by pressing the shortcut key. You can also easily change the case or capitalize the first letter of each word of your file names or tags.

The tags extraction. TagTuner enables you to get the information from your file and folder names and automatically tag the audio files without the necessity of manually typing each tag.

Full-featured tag editing environment. The built-in Tag Editor lets you edit one or more tags at once, add comments, load lyrics and artwork, one by one, for entire album and for thousands of selected files, or clear all tags at once. You also can synchronize ID3v1 and ID3v2, copy and paste, and swap tags for hundreds of files.

Simplification of complex operations. The Macros allow you to organize multiple elementary commands into a single list and execute them through shortcut keys. You can apply a Macro to any number of selected files each time you need to repeat the same set of actions.

Misspelled and mistaken operations roll-back. TagTuner is the first tag editor software that implements the Undo feature for any tag editing and files renaming actions.

Build-in media player. Tag Tuner contains a player that lets you play all of the supported media formats as well as to set the global shortcut keys for your most favorite playlists.

Play lists creation. TagTuner enables you to organize your music into lists of songs known as "playlists". You can use HotTunes to create playlists to suit a specific mood and switch between them with lightning speed by stroking the shortcut keys. You are free to organize songs by a particular artist, album or mood and so forth.

Windows Explorer context menu extension. In order to reach TagTuner faster you can add it to the Windows Explorer context menu.

Full Unicode support. TagTuner uses a worldwide standard character encoding, named Unicode, to enter and display tags and file names. No matter what language you use it will always appear properly in TagTuner.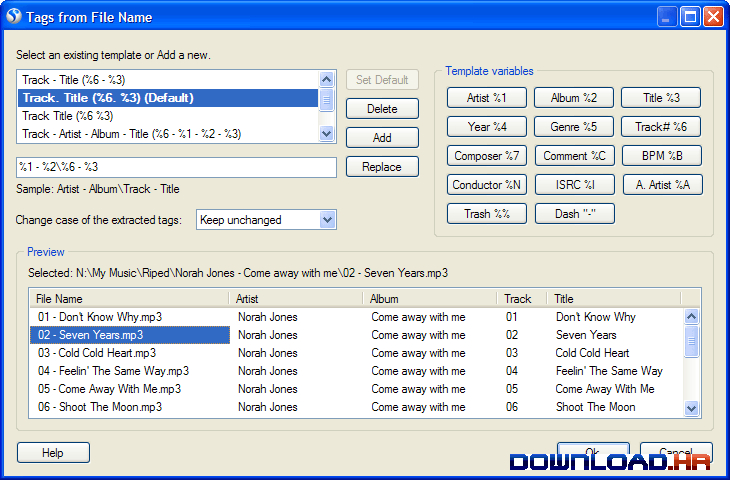 Download TagTuner
The powerful music tool with UNICODE support, tag editor, playlist generator.
Music filenames are often inconsistent and erroneous. Mp3 Tag Assistant Professional allows you to change filenames based on their tagged information saving you time and effort. Automate the tedious task of changing tagged information in MP3 WMA M4A (iTunes) FLAC APE OGG OFR MPC SPX WV TTA files. Easily copy or move music files, create playlists/filelists, change filenames, edit lyrics and coverart.

Make your audio files complete by filling in detailed information such as main tags, original tags, commercial information, lyrics, comments and coverart. Tagged information can also be filled in automatically by connecting to Freedb.com.

Save hours of manual labor by working in Batch Mode using special feature 'Actions', allowing you to edit very large lists of music files!

Additional Features:
* Supports MP3, WMA, MPEG-4 iTunes (M4A), FLAC, Monkey's Audio (APE), Ogg Vorbis (OGG), Musepack (MPC), WavPack (WV), OptimFROG (OFR), Speex (SPX) and The True Audio (TTA) files.
* Supports UNICODE symbols in audio tags. You can use symbols of your national alphabet in WMA/MP3 tags (diacritic symbols, umlauts, hieroglyphs, etc.).
* Supports ID3v1 and ID3v2 MP3 tags, WMA metadata, iTunes metadata, APE tags and Vorbis comments.
* Add and clear coverarts, comments and lyrics to tags.
* Freedb (CDDB) support, web lyrics search.
* Playlist operations (create, open, change, save). Quickly create PLS/M3U playlist from folder.
* Copy/Move your files using templates.
* Generate filenames using information from tags. Generate tags from file and folder names.
* Generate CSV, TXT, XML filelists and PLS, M3U playlists.
* ID3v1<>ID3v2 tags synchronization.
* Copy tag to tag, move and swap tags.
* Format a "Track#" tag.
* Multi-format the tags. You can add a new value to several tags.
* Automatic and manual change the case of tags and filenames.
* Batch tag editing, file renaming.
* Wizards and advanced dialogs.
* Integration with Winamp and a built-in MP3 player.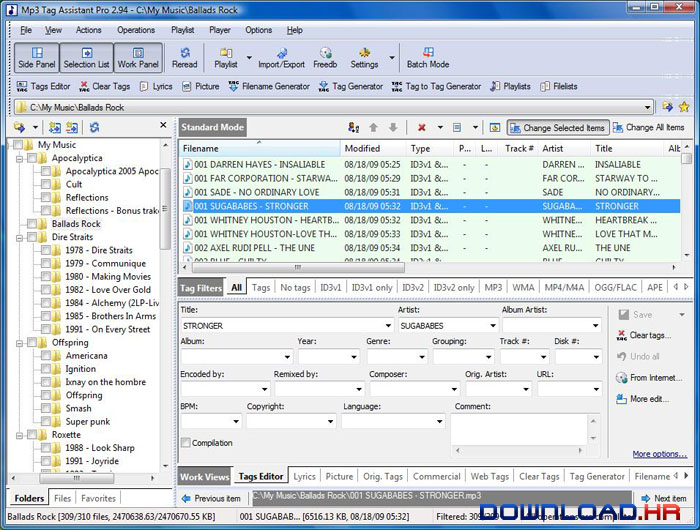 Download Mp3 Tag Assistant Professional| Visit Developer's Website

ID3 Tag Editor is an easy and intuitive audio tag editor.
Any audio file can contain meta data that can be used by audio players to identify composition and search song in playlist. Abyssmedia ID3 Tag Editor is an easy and intuitive audio tag editor for Windows. It helps you organize your music collection and edit/copy/add/remove meta data from audio file. Using music recognition technology, it will find the Title and Artist of unknown songs. ID3 Tag Editor support MP3 tags, MP4 tags, FLAC tags, WMA tags, OGG Vorbis tags and APE tags.

Main features:
Automatic identification of the Title and Artist for unknown songs (like Shazam and SoundHound).
Add or edit tag information such as Genre, Title, Artist, Album, Year, BPM, InitialKey, e.t.c.
Manage Album Covers inside audio files.
Strip all tag information from an audio file.
Support ID3v1.1, ID3v2.3, ID3v2.4, MP4, WMA, APEv2 Tags and Vorbis Comments.
Supported audio formats: MP3, OGG, WMA, APE, M4A, FLAC, WAV, WV
User interface and tagging are fully Unicode compliant.
Close integration with other audio tools.
Abyssmedia ID3 Tag Editor is completely free.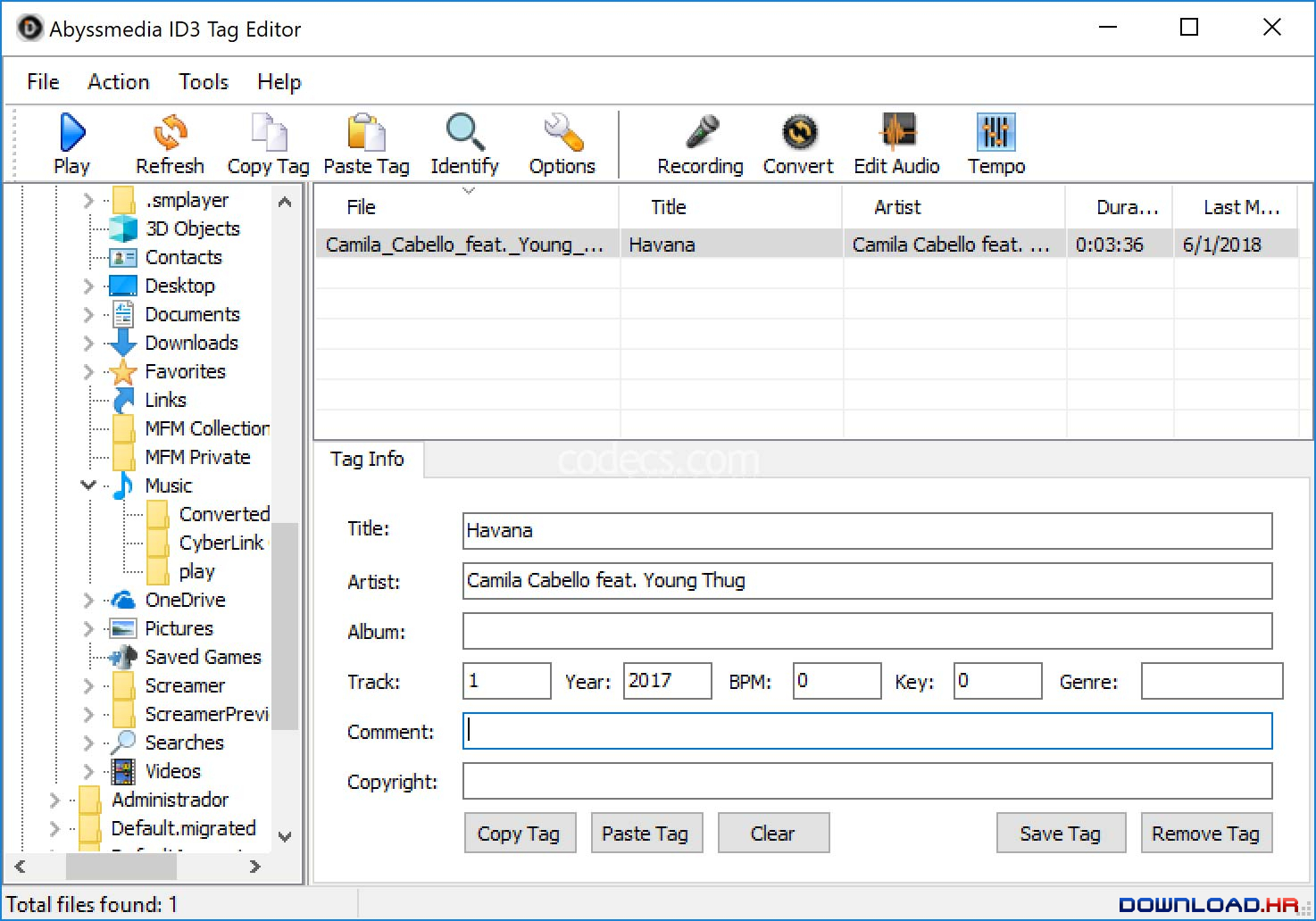 Download Abyssmedia ID3 Tag Editor| Visit Developer's Website

Mass-edit tags
MP3 TAG EXPRESS
The Quickest and Easiest way to edit audio tags and rename audio files


MP3 Tag Express is an MP3 tag editor for Windows that enables you to batch edit audio tags and rename audio files across one or more folders simultaneously. It provides a wealth of tag and file name editing functions that make it a great productivity tool for DJs and collectors; the most common tasks can be accomplished with speed and ease. Some of the features include: powerful character trimming, text and character substitution, bulk track numbering and file re-numbering, create tags from folder and file names, re-name files from tags, bulk copy/pasting of tags and cover art, export tag and file information to Excel, mp3 permanent volume adjustment, and an audio disc ripper to high quality mp3 format with auto-tagging of the track titles. Also works with m4a, m4b, wav, flac, and wma files. Multi-level undo allows you to roll-back changes. A comprehensive video tutorial demonstrates how to get the most out of the product