If you're here reading this, chances are you're trying to find the best ftp clients software products for Windows OS. Finding the right program isn't an easy job because of the variety of software available out there. Some of them are free and some of them are paid bringing additional features to users. So, in order to help you here is the list of the 10 best ftp clients software products you can try rated by number of user downloads on Download.io. Hope that you will find our list useful and that you will find the right software for you!

Free FTP client that allows you to transfer files across the Internet.
SmartFTP is an FTP (File Transfer Protocol), FTPS, SFTP, WebDAV, Amazon S3, Backblaze B2, Google Drive, OneDrive, SSH, Terminal client. It allows you to transfer files between your local computer and a server on the Internet. With its many basic and advanced Features SmartFTP also offers secure, reliable and efficient transfers that make it a powerful tool.

SmartFTP can be used for:
Web site publishing and maintenance
Upload and download of images, documents, movie and music files
Managed file transfers. Automate file transfer processes.
Backup and synchronize local and remote files

Here are some key features of "SmartFTP":
rotocols
FTP and FTPS (Secure FTP)
SFTP over SSH
WebDAV
Amazon S3 (Enterprise Edition)
Google Drive (Ultimate Edition)
Microsoft OneDrive (Ultimate Edition)
Google Cloud Storage (Enterprise Edition)
Backblaze B2 Cloud Storage (Enterprise Edition)
Box (Enterprise Edition)
Terminal Emulator (Ultimate Edition)
Integrated Editor
HIPAA 5010 compliant
FIPS 140-2, 186-4 compliant
Modern Graphical User Interface (GUI)
High DPI support
File/Folder Synchronization
Multilingual (more than 20 languages)
Thumbnails View and Preview
Source File Preview
Visual Compare
Advanced Schedule
IPv6
On-the-fly Compression (MODE Z)
UTF-8 Support
Support for KeePass, LastPass, Bitwarden and 1Password password manager
Multiple Connections
Auto reconnect and resume of broken transfers
Transfer Integrity
Verified Transfers (XCRC, XMD5, XSHA)
FXP (Server-To-Server Transfer) support
Remote Edit of files
Search for files and folders on the server
Local Browser
Bulk Rename
Software Development Kit (SDK)
Enhanced NAT/UPnP Support
UPnP (Universal Plug and Play), ICS, ICF
Transfer Queue
Scheduling (Enterprise Edition)
Uploads/Downloads/FXP
Unlimited simultaneous threads
International Domain Names (IDN)
Proxy / Firewall support
SOCKS5, SOCKS4, SOCKS4A, HTTP Proxy
URL Watcher
FTP command line
Custom Commands
CHMOD (Properties)
Section 508 compliant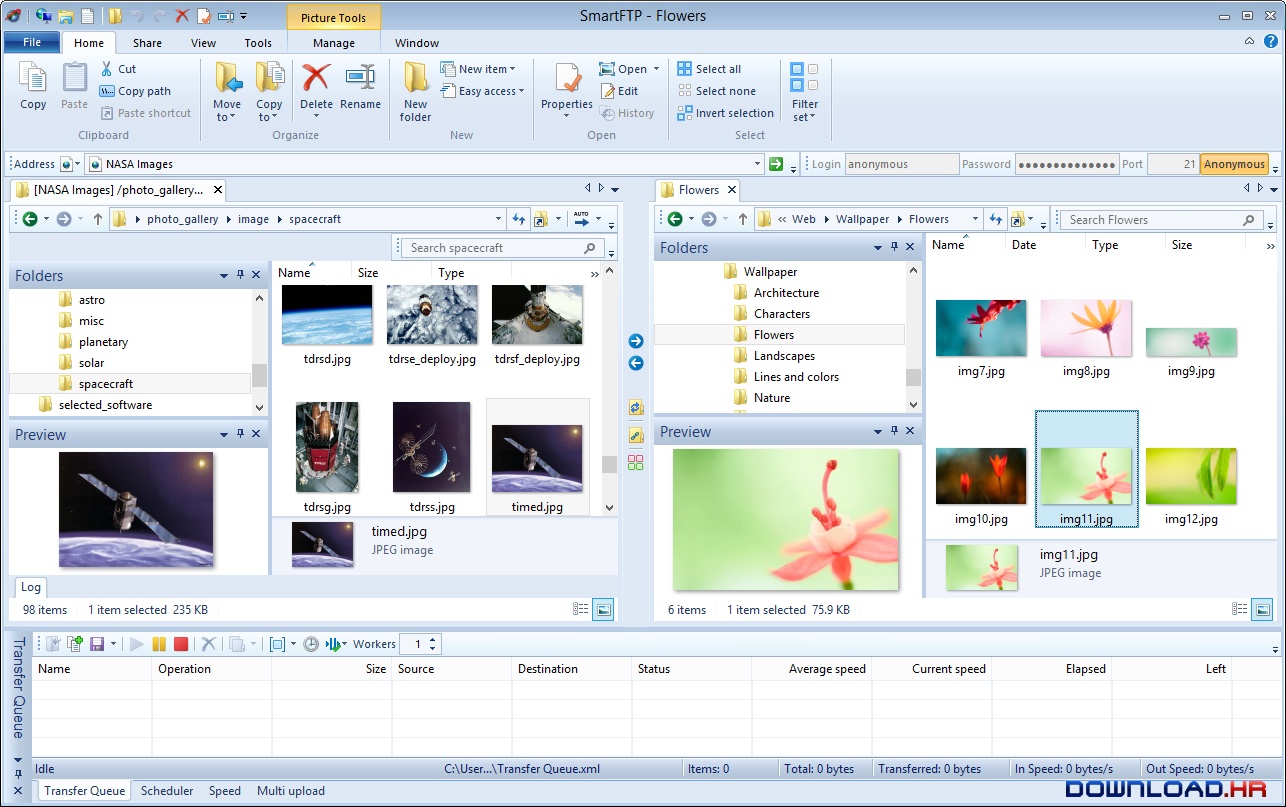 Download SmartFTP| Visit Developer's Website

A fast FTP and SFTP client for Windows with a lot of features
FileZilla is a small but powerful FTP client with many features. It includes a site manager to store all your connection details and logins as well as an Explorer style interface that shows the local and remote folders and can be customized independently. The program offers support for firewalls and proxy connections as well as SSL and Kerberos GSS security. Additional features include keep alive, auto ascii/binary transfer and more. A nice program for beginners and advanced user alike.

Among others, the features of FileZilla include the following:
Supports FTP, FTP over SSL/TLS (FTPS) and SSH File Transfer Protocol (SFTP)
Cross-platform. Runs on Windows, Linux, *BSD, Mac OS X and more
IPv6 support
Available in many languages
Supports resume and transfer of large files >4GB
Tabbed user interface
Powerful Site Manager and transfer queue
Bookmarks
Drag & drop support
Configurable transfer speed limits
Filename filters
Directory comparison
Network configuration wizard
Remote file editing
Keep-alive
HTTP/1.1, SOCKS5 and FTP-Proxy support
Logging to file
Synchronized directory browsing
Remote file search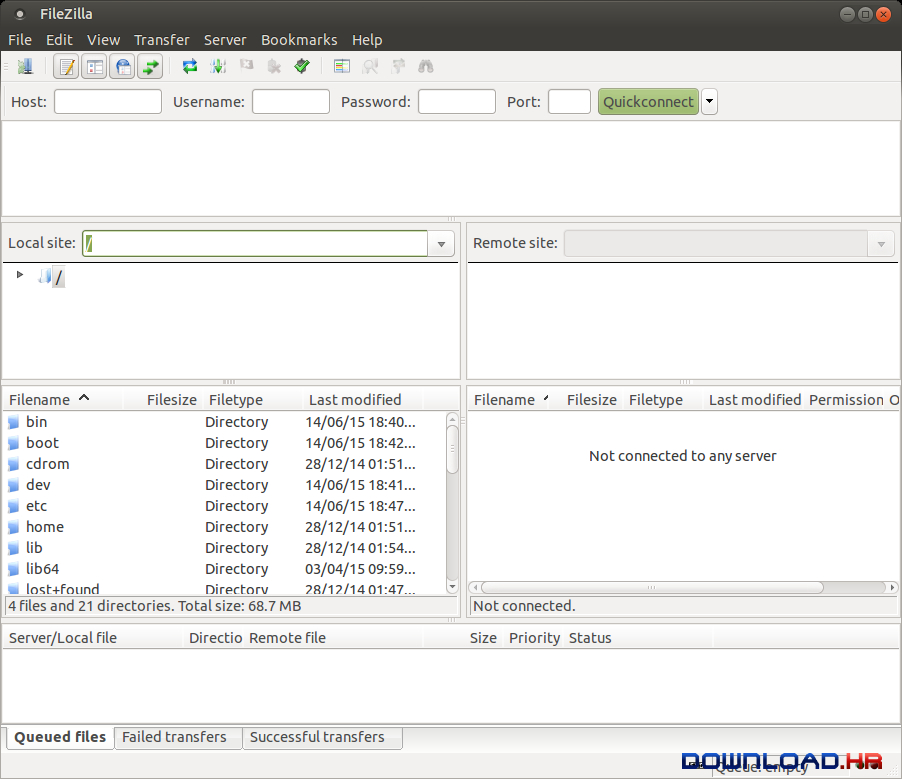 Download FileZilla| Visit Developer's Website

Freeware SFTP (SSH File Transfer Protocol) and SCP (Secure CoPy) client
Freeware SFTP (SSH File Transfer Protocol) and SCP (Secure CoPy) client for Windows using SSH (Secure SHell). Its main function is safe copying of files between a local and a remote computer. Beyond this basic function, WinSCP manages some other actions with files.

WinSCP offers numerous basic and advanced features, including:

Command-line interface
Scripting and task automation
Selectable user interfaces
Portable use
Connection tunneling (port forwarding)
Integration to Windows, PuTTY and other applications
Workspaces
Master password
Transfer queue / background transfers
Transfer resuming
File encryption
Binary and text transfer modes
Timestamp conversions
Directory caching
Separate shell session for executing remote commands
Custom commands
File masks for selecting files
Operation masks for changing filenames
Functions for working with file names and paths
Checking for application updates
Advanced transfer settings
Logging including XML logging
Selectable configuration storage
Administrative restrictions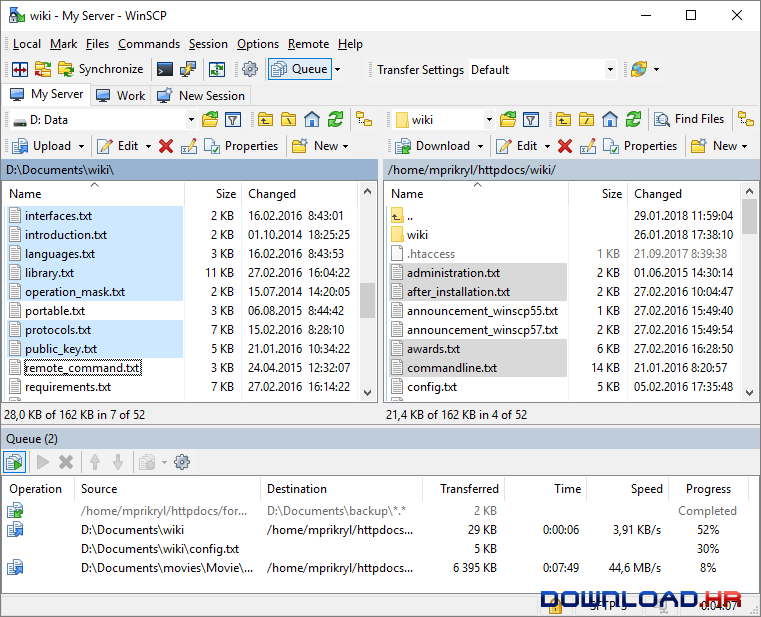 Download WinSCP| Visit Developer's Website

A powerful multithreading FTP client with some cool features.
FEATURES
Multithreading for simultaneous transfers !
File and Directory Upload
File and Directory Download
URL Connect and URL Download
URL Snatcher (grabs URLs from Clipboard)
Sanity check for downloaded ZIP and RAR archives
Archive viewer for ZIP and RAR
Download of directory trees as TAR archives (if supported by server)
Queue Timer for scheduled transfers
SmartResume: Aborts resume if files differ
Bandwidth Limiting
FTPSearch Interface
HTTP file download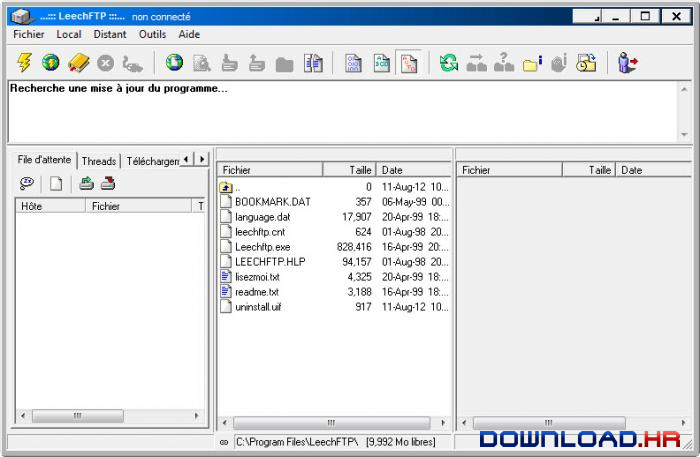 Download LeechFTP| Visit Developer's Website

Fresh FTP is an important tool for webmasters to upload or download web content from a remote server
Fresh FTP (File Transfer Protocol) is an important tool for webmaster to upload or download web content (html, graphic, sql backup file, website statistic, etc) from a remote server. It supports multithreading for simultaneous transfer, file and directory upload, ability to resume uploads and much more.

Fresh FTP features:
- clipboard monitoring.
- show directory & sub total size.
- show most visited site.
- save and load queue.
- password protection
- new notification when queue completed.
- customized toolbar.
- send QUIT command on disconnect (graceful disconnect).
- process queue on start.
- new feature to get server feature command.
- display server's welcome message.
- option to start with site manager.
- download/upload queue schedule
- quick connect toolbar.
- set action after transfer completed.
- custom list view.
- set default local folder.
- speed limit feature.
- local & remote folder treeview
- moving file feature from local to server or vica versa.
- ftp proxy/firewall.
- integration with your antivirus application to scan downloaded file.
- synchronize between local & remote folder feature.
- set attribute file or folder for Unix.
- keep alive option.
- drag and drop with windows explorer
- connect with Passive Mode on FTP server




Download Fresh FTP
A free FTP Client with SSL/TLS, SSH/SFTP, dragdrop, resume/retry, proxy/socks/firewall
Free FTP Client with SSL/TLS, SSH/SFTP, site to site transfers, dragdrop, browser integration, user-friendly interface(s), FTP/HTTP Proxy, Socks 4/5 support, remote file searching, queue manager, auto retry and resume of transfers, transfer bandwidth control, htaccess editing, advanced dir listings, queueing of multiple FTP transfers on multiple sites, sessions, start, stop, and resume of FTP transfers, advanced directory listings, .htaccess editing, auto s/key support, keep alive, auto-reconnect, file permissions (chmod), and much more!

Client features include:
Secure SFTP, SSL, TLS, & FTPS
International Domain support
Fast and secure client transfers
HIPAA compliant security
Mode Z compression
User-friendly interface(s)
Site to Site file transfers
FULL drag and drop support
Start/stop/resume of transfers
Auto retry of failed transfers
Transfer bandwidth control
Browser integration
File masking (wildcards)
Keep Alive functionality
Remote file searching
File permissions (CHMOD)
Advanced directory listings
.htaccess & .htpasswd editing
One click transfers
Keep Alive functionality
Automatic S/Key support
Favorites via menu & drop down
Desktop shortcuts & drop u/l's
Command line support
FTP/HTTP Proxy, Socks 4&5 support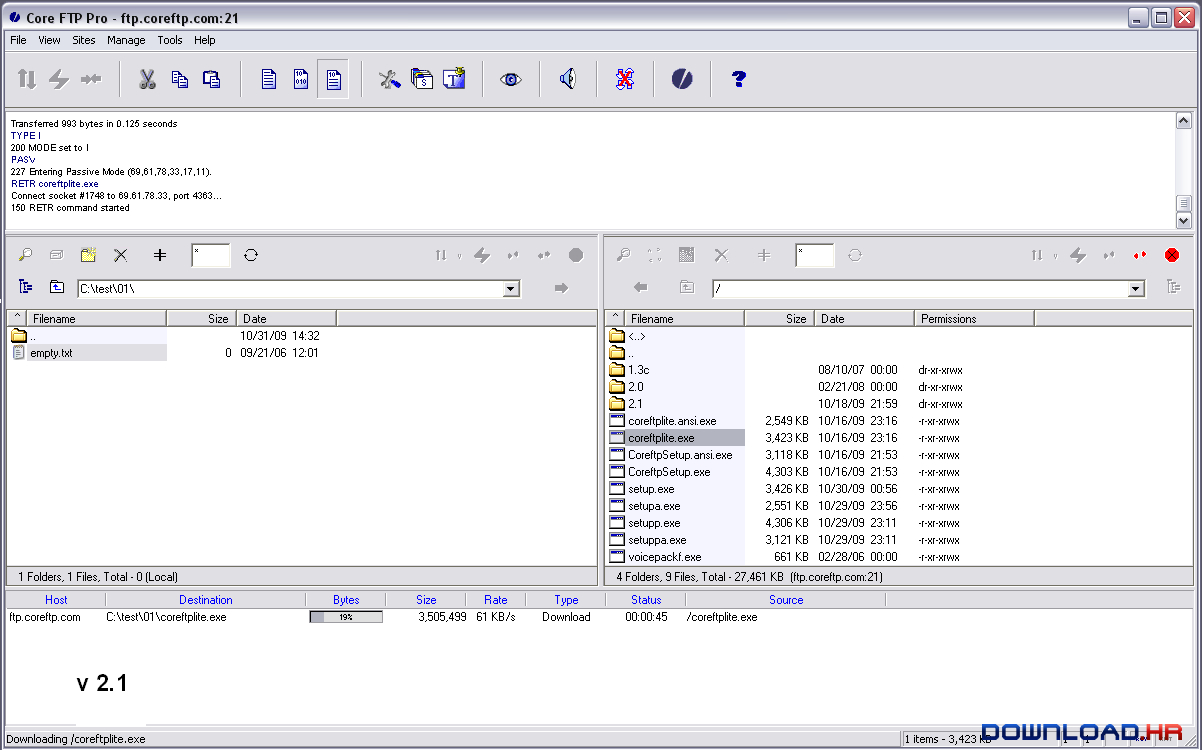 Download Core FTP Lite| Visit Developer's Website

FTP, SFTP, WebDAV, Cloud Files, Google Docs & Amazon S3 Browser
Edit any file with your preferred editor.

To edit files, a seamless integration with any external editor application makes it easy to change content quickly. Edit any text or binary file on the server in your preferred application.

Distribute your content in the cloud.

Both Amazon CloudFront and Akamai content delivery networks (CDN) can be easily configured to distribute your files worldwide from edge locations. Connect to any server using FTP, SFTP or WebDAV and configure it as the origin of a new Amazon CloudFront CDN distribution.

Amazon CloudFront
Manage custom origin, basic and streaming CloudFront distributions. Toggle deployment, define CNAMEs, distribution access logging and set the default index file for your distribution.

Google Storage for Developers
Grant access to files using ACLs with an authenticated URL to share files with securely.

Rackspace Cloud Files
Manage your Rackspace Cloud Files storage including the configuration of Akamai content delivery network (CDN).

Amazon S3 for the rest of us.

Browse Amazon Simple Storage Service like your harddisk. Supporting the latest and greatest additions to the S3 storage options. Define website endpoints, logging options, storage class and geographical location of your content.

Versioning and MFA
Support for bucket versioning and Multi-Factor Authentication Delete. With versioning enabled, revert to any previous version of a file.

ACL
Configure Access Control Lists (ACLs) for fine grained access permissions. Copy a signed URL for temporary access.

Metadata
You can edit standard HTTP headers and add custom HTTP headers to files to store metadata and control cache expire settings. Batch editing included.

Manage your Google Docs.

Convert uploads to Google Docs format and Optical Character Recognition (OCR) for image uploads. Define access control lists to share documents with other users using Google login credentials.

First class bookmarking.

Organize your bookmarks with drag and drop and quickly search using the filter field.

Files
Drag and drop bookmarks to the Finder.app and drop files onto bookmarks to upload.

Spotlight
Spotlight Importer for bookmark files.

History
History of visited servers with timestamp of last access.

Bonjour
Auto discovery of FTP & WebDAV services on the local network.

Import
Import Bookmarks from third-party applications.

Browse with ease.

Browse and move your files quickly in the browser with caching enabled for the best performance. Works with any character encoding for the correct display of Umlaute, Japanese and Chinese.

Quick Look
Quickly preview files with Quick Look. Press the space key to preview files like in Finder.app without explicitly downloading.

Accessible
The outline view of the browser allows to browse large folder structures efficiently. Cut & paste or drag & drop files to organize.

Web URL
Quickly copy or open the corresponding HTTP URLs of a selected file in your web browser. Includes CDN and signed URLs for S3.

Transfer anything.

Limit the number of concurrent transfers and filter files using a regular expression. Resume both interrupted download and uploads. Recursively transfer directories.

Download and Upload
Drag and drop to and from the browser to download and upload or copy files between servers. No hassle.

Synchronization
Synchronize local with remote directories (and vice versa) and get a preview of affected files before any action is taken.

Growl
Support for Growl, the global notification system for file transfer events. See growl.info.

Advanced SSH features.

No compromise accessing your SFTP servers with all the bells and whistles.

Authentication and security
Supports Public key authentication, Keyboard Interactive (PAM) Authentication and one-time passwords. Support for various encryption ciphers (3DES, Blowfish, Twofish, AES, CAST) and Authentication algorithms (MD5, SHA1). Optionally transfer files using Secure Copy (SCP).

Interoperability
Read settings from your existing OpenSSH configuration options including Host aliases, public key authentication preferences and default login user. Integration with Terminal.app to open the current working directory in a shell. Works with PuTTY private keys.

Archives
Archive and expand TAR, ZIP files remotely over SSH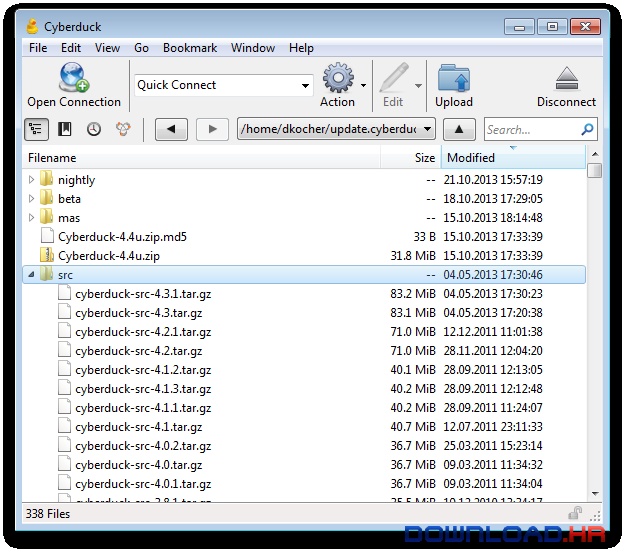 Download Cyberduck| Visit Developer's Website

Perform your file tranfer basics with this no-frills FTP tool.
The no-frills FTP Commander offers an interface consisting of two side-by-side panels representing
the local computer and the FTP server. The latter contains a list of about a dozen preset FTP servers.
To establish a connection, select the server you want on the list and push the Connect button. You can preconfigure a list of most frequently accessed servers and make your life even easier. You can also execute two-way file exchanges and activate multiple downloads.

FTP Commander also lets you run programs located on local disks or view documents. It allows you to delete, rename, and copy files; create and delete directories in the FTP server; and work in command-line mode. A session log file is also available.

And what's more, the program is absolutely free and does not contain any annoying ad banners.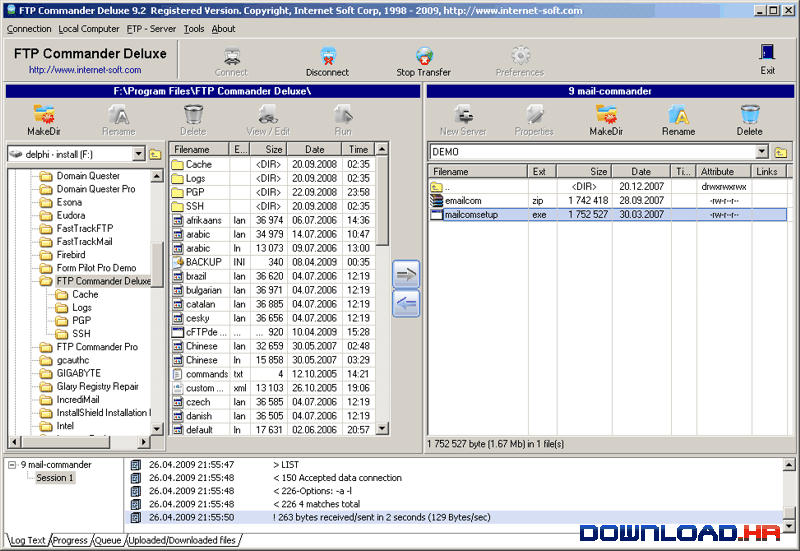 Download FTP Commander| Visit Developer's Website

FTP-Client with unique features (ftp, fxp, tls, ssl, full glftpd support...)
Staff-FTP is a unique ftp client that is easy to use. Unlike others it comes with full tls/ssl support (also with FXP). It also includes a glftpd-manager with all the site commands (drftpd and other command sets as well).

Easy to use FTP and FXP Client
This is not only a ftp program but it also supports FXP which is a way to quickly transfer data from one server to another without the limit of your bandwidth.

Custom FTP-Commands
Each FTP server supports different custom commands which can be very helpful for you. The software will show you everything in a nice interface.

Many Unique Options
There are so many unique features like a script engine, filter lists for mp3 genres or a real status bar for fxp transfers; just to mention a few.

Multi-Language Support
The software comes with many languages built in and a lot of features that you will not find in any other ftp software.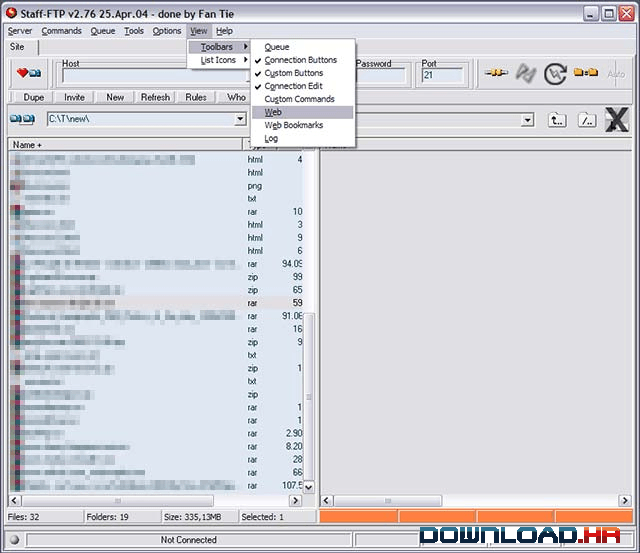 Download Staff-FTP| Visit Developer's Website

High performance FTP synchronization product
FTP Synchronizer is an FTP sync product that allows you to synchronize files between local computers and remote FTP servers.

* If you are a webmaster, do you still pick up all updated web pages manually and upload them one by one? You really need this product to update web sites. You just focus on your own job, FTP Synchronizer will detect all changed web pages and upload them for you by a single click!
* If you want to backup files to an FTP server, FTP Synchronizer definitely can help you. It has multiple threads file transferring engine to speed up the sync process. Save plenty of valuable time for you!
* If you simply need FTP sync functions, no need to look elsewhere anymore. You have got the best!

* Multiple threads file transferring
Uploading/downloading many files at the same time. Save plenty of time.(?)
* Detects conflict
How about if you modified a same file in both local and remote computer? Most software can NOT handle this, they simply overwrite older files with newer. Please, don't do this! FTP Synchronizer takes care this situation. You can ensure your files will not be overwritten by mistakes! (?)
* Inclusion/Exclusion filters
Only synchronize necessary files (?)
* Supports both non-security and security connection. Like SFTP, SSL etc. (?)
* Supports proxy/firewall
SOCKS4, SOCKS5, HTTP Proxy, Simply Relay, SOCKS4A, SITE hostname, OPEN hostname, USER [email protected] etc (?)
* File verification. Ensure files synchronized correctly (?)
* Priority list. Lets you control which files should be synchronized first (?)
* And much more...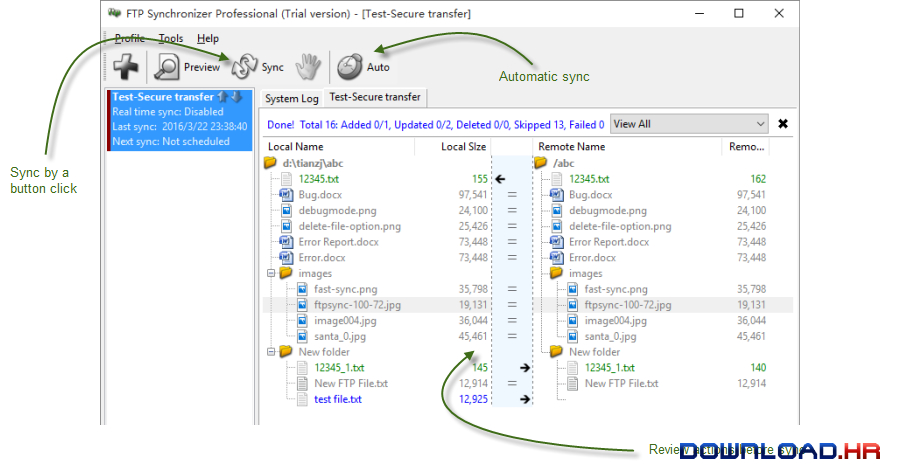 Download FTP Synchronizer| Visit Developer's Website