If you're here reading this, chances are you're trying to find the best network tools software products for Windows OS. Finding the right program isn't an easy job because of the variety of software available out there. Some of them are free and some of them are paid bringing additional features to users. So, in order to help you here is the list of the 10 best network tools software products you can try rated by number of user https://www.network-inventory-advisor.com/on Download.io. Hope that you will find our list useful and that you will find the right software for you!
Inventory PC network, track software and hardware parameters and build reports
Network Inventory Advisor is an agent-free utility which brings you fast and reliable PC network inventory. It excellently performs scanning of Windows, Mac OS X and Linux and provides IT managers with rich functionality for an easy software licenses audit.

With Network Inventory Advisor it's possible to group inventoried software titles by publisher, version, software type, etc. You can also specify software usage status (allowed, prohibited, must-have, etc), add notes to any software title (for reminding, licensing or other purposes), sort and filter them by multiple parameters, and build flexible report.

The latest version of Network Inventory Advisor introduces automatic
software changes tracking. This means that whenever there's a software change on a node, you get automatically notified with the special alert.

Network Inventory Advisor also discovers and tracks all hardware in your network. You can easily collect data on your assets models & manufacturers, CPU types & speeds,hard drives, network adapters, motherboards, video, audio, memory, peripherals, & more.

Network Inventory Advisor can be installed in any network on a Windows PC. In just several clicks you can scan all the nodes remotely (including Mac computers, Linux machines, printers, routers, and other SNMP-powered nodes). More than that you can easily schedule network scans with ClearApps PC inventory software and receive inventory reports to your e-mail, or have them uploaded to your server, or simply exported to specified network location.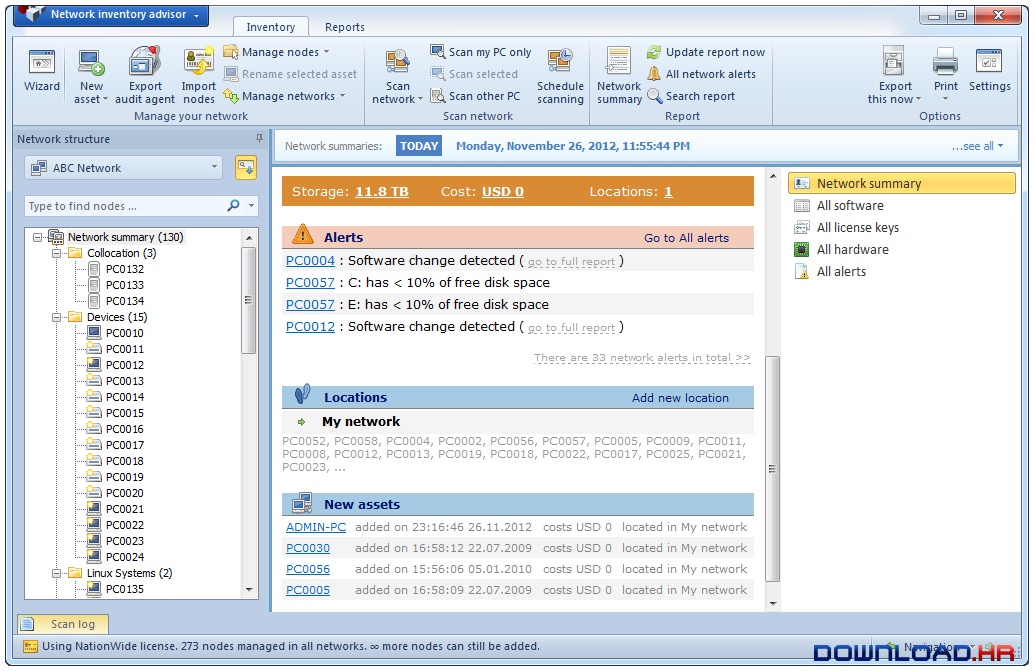 Download Network Inventory Advisor | Visit Developer's Website

Network topology simulator application that you can rely on to set up networks without needing any expensive hardware
GNS3 is a handy and accessible piece of software that was designed to be a graphical network simulator.

It was specially developed in order to allow you to design complex network topologies and to launch simulations on them.

You can also download GNS3 Portable.

Features Emulating Cisco routers.

Simulating simple Ethernet, ATM and Frame Relay switches.

Load-balancing between multiple hypervisors.

Load and save in Dynagen's INI-like format.

Image export (JPEG, PNG, BMP and XPM).




Download GNS3 | Visit Developer's Website

Fast multipurpose IP scanner. Supports shares, SNMP, NetBIOS, WMI, PowerShell.
SoftPerfect Network Scanner is a fast universal IPv4/IPv6 scanner intended for both system administrators and general users interested in computer security. The software can ping computers, scan ports, discover shared folders and comes with flexible filtering and display options. Fully supports both IPv4 and IPv6 discovery. Performs a ping sweep and displays live devices. Detects hardware MAC-addresses, even across routers, writable and hidden shared folders, internal and external IP addresses. Retrieves any system information via WMI, remote registry, file system and service manager, currently logged-on users, configured user accounts, uptime, etc. Scans for listening TCP ports, some UDP and SNMP services. Supports remote SSH, PowerShell and VBScript command execution, Wake-On-LAN, remote shutdown and sending network messages. Launches external third party applications. Exports results to HTML, XML, JSON, CSV and TXT. Integrates with Nmap for OS discovery, vulnerability tests, and much more. Can be run from a USB flash drive without installation. Download from www.softperfect.com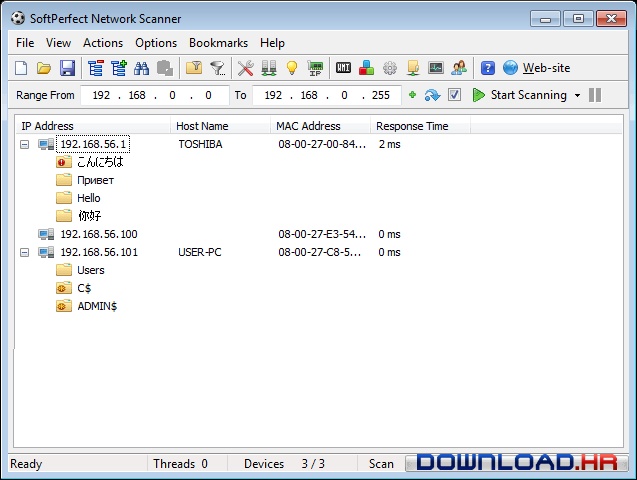 Download SoftPerfect Network Scanner | Visit Developer's Website

Free surf anonymously to protect your online security and privacy via hiding IP
Surf Anonymous Free is a free Internet utility that anonymizes your web surfing by hiding your IP address, thereby protecting you from the vulnerabilities associated with it. Surf Anonymous Free can connect to our servers and gets the most stable, fresh and fast working IP location called proxy. Then it puts that information in your browser such as Firefox, Internet Explorer or Opera. Your real IP address and location will become inaccessible. So you can browse with completely concealed identity. It's Easy, Fast, and Free!

Common missions of Surf Anonymous Free include protecting users to surf securely to insecure sites, to prevent tracing or monitoring of network traffic, to disguise your computer's IP address, making you untraceable, to un-block yourself from restricted websites or forums, to send anonymous E-mails by veiling your real IP address in email headers, etc.

Surf Anonymous Free is amazingly automated. You don't need to be a computer genius to run and install it. Just click the Hide IP button and a fake IP address will be assigned instantly. Click 'Select Fake Location' button, you can select any country at your wish from the country list and then you'll be assigned fake IP addresses from the designated country automatically.

Surf Anonymous Free has been testified to be 100% clean of any malware, advertising, pop-ups or spam. It is compatible with Internet Explorer, FireFox, Opera, Maxthon, MyIE and all types of routers, firewalls, home networks, wireless networks, etc.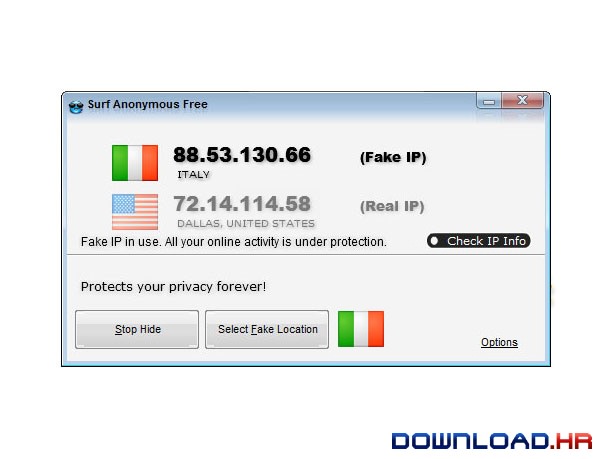 Download Surf Anonymous Free
Turn your laptop into wifi hotspot
mHotspot is a completely free software which converts your windows 7 & 8 laptop into a virtual wifi router and creates a secure wifi hotspot.
You can share single internet connection(LAN, Ethernet, Data-Card, 3G/4G, Wif) for multiple devices like laptops, smartphones, android phones, PDAs, Ipads etc.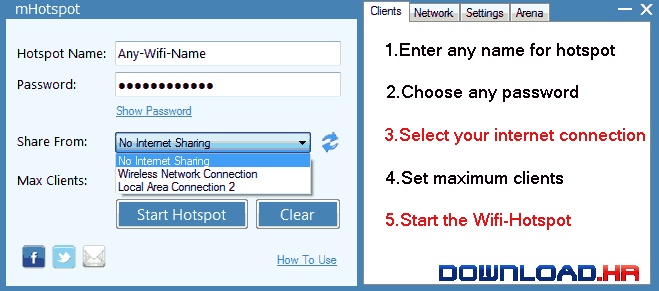 Download mHotspot | Visit Developer's Website
PRTG Network Monitor is the powerful network monitoring solution
It ensures the availability of network components while also measuring traffic and usage. It saves costs by avoiding outages, optimizing connections, saving time and controlling service level agreements (SLAs).

Bandwidth
Determine how much bandwidth your devices and applications are using and identify the source of bottlenecks.

Database
Monitor specific datasets from your databases with individually-configured PRTG sensors and SQL queries.

Application
Manage all your applications and get detailed statistics about every application running in your network.

Cloud
Centrally monitor and manage all your cloud computing services from anywhere.

Server
Monitor all types of servers in real time with regard to availability, accessibility, capacity, and overall reliability.

LAN
Keep track of your entire local network, including your workstations, routers, switches, servers, and printers.

SNMP
Monitor a diverse range of devices using the SNMP functionality of PRTG.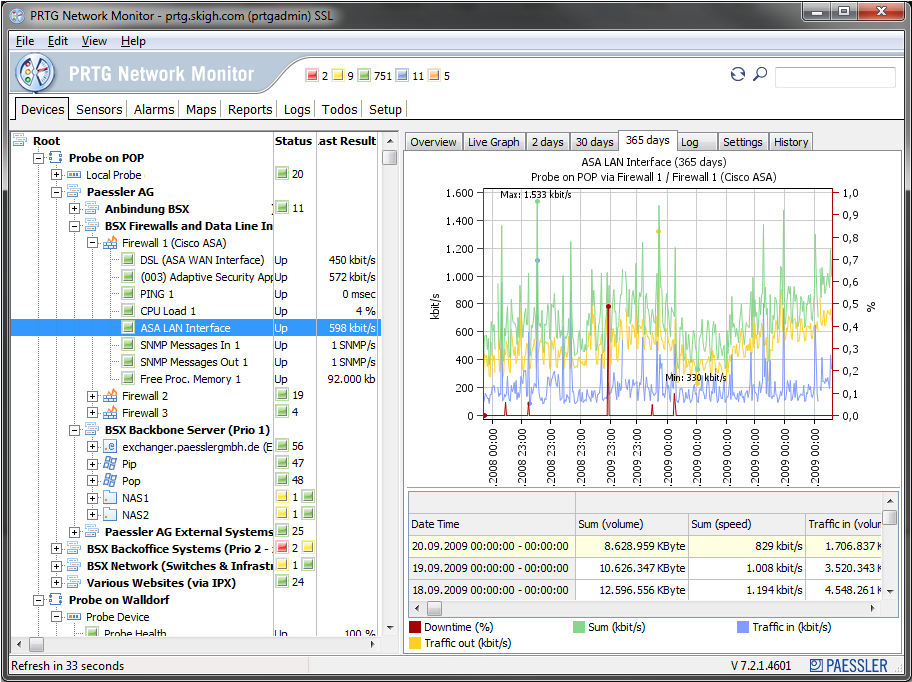 Download PRTG Network Monitor | Visit Developer's Website
Invisibly monitor and record all employee activity from one location.
NetVizor is network monitoring software that invisibly monitors your entire network from one central location! Track workstations and users that may use multiple PC's on your network. Deploy NetVizor from one location and record everything users do, including screenshots, keystrokes typed, program and internet usage, emails and chats, file/document usage, and much more. Generate detailed activity reports in seconds, view your entire network in real-time, and receive instant behavior alerts when unwanted activities occur.

Combining real-time remote surveillance with complete computer activity monitoring, behavior filtering, alerting, reporting, and security auditing, NetVizor is the most comprehensive network monitoring and administration solution available anywhere

Some Features:
Monitor an Entire Network from One Location
Single Click Realtime Network Overview
Real-time Remote Monitoring and Control
Real-time Remote Administration
Roving user Tracking
Robust Report Generation
Remote Security Auditing
Website and Application Blocking
Portable Drive Blocking
Chat Client Blocking
Browse Remote PC File Systems
Real-time Instant Activity Alerts
Records ALL user activities
Remote Stealth Network Installation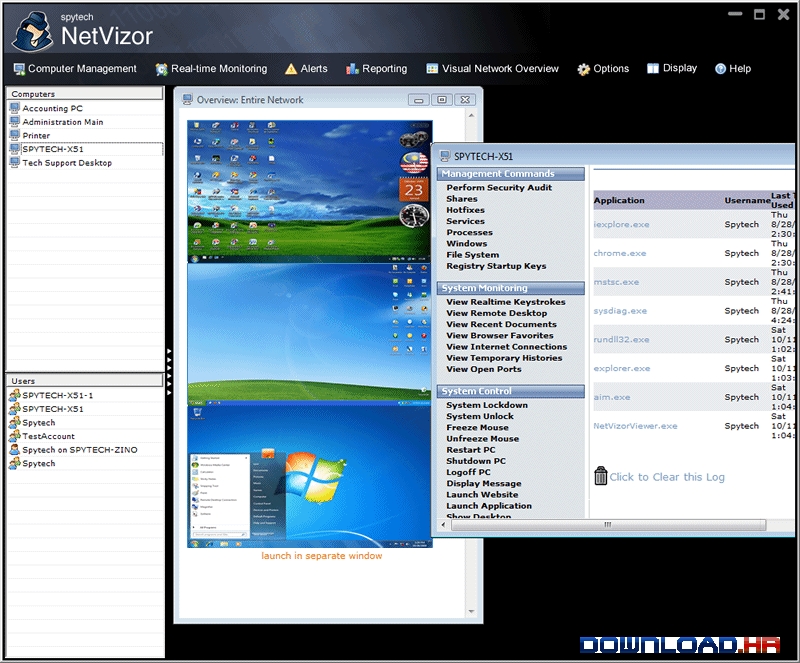 Download NetVizor | Visit Developer's Website

Hamachi allows you to establish secure direct connections to computers that are not accessible otherwise
Hamachi is a zero-configuration virtual private networking (VPN) application. In other words Hamachi is a program that allows you to arrange multiple computers into their own secure network just as if they were connected by a physical network cable.

On-demand networking
Create and manage virtual networks on-demand as you need them.

Manage and restore networks
Manage and restore virtual networks for end-users with the click of a mouse, from anywhere via the web.

Centralized software deployment
Quickly and easily provision virtual network client software to new computers without having to go onsite.

Unattended access
Run Hamachi in the background of networked computers so you always have access even when they're unattended. Available with Standard, Premium and Multi-network subscriptions.

Gateway virtual networking
Provide remote users with secure access to your private network/LAN from a centralized LogMeIn Hamachi gateway, without modifying firewalls or network routers.

Hub-and-spoke virtual networking
Provide remote users with secure access to specific computers on your network from any location, without modifying firewalls or network routers.

Mesh networking
Quickly and easily create a simple, virtual, mesh network that allows remote machines to directly connect to each other, thereby giving users basic network access to all the network resources they need.

Encrypted communications
Secure communications using AES 256-bit encryption, over public and private networks.

Centralized access controls
Control network access and usage, including password management, network authentication, network locking, and ongoing network membership.

Network / client configuration management
Configure default settings for individual networks and clients, with support for full, restricted and minimal client interface modes.




Download Hamachi
Automatically scan all devices within specified subnet
The Dude will automatically scan all devices within specified subnets, draw and layout a map of your networks, monitor services of your devices and alert you in case some service has problems.

Download The Dude | Visit Developer's Website
Shows who is connected to your wireless network.





Download Wireless Network Watcher | Visit Developer's Website