If you're here reading this, chances are you're trying to find the best hard disk tools software products for Windows OS. Finding the right program isn't an easy job because of the variety of software available out there. Some of them are free and some of them are paid bringing additional features to users. So, in order to help you here is the list of the 10 best hard disk tools software products you can try rated by number of user downloads on Download.io. Hope that you will find our list useful and that you will find the right software for you!

scan junk files and delete these junk files in windows system.
Wise Disk Cleaner is a free disk utility designed to help you keep your disk clean by deleting unnecessary files. Usually, these unnecessary or junk files appear as the results of program incomplete uninstallers, temporary Internet Files, etc.
It is best if these files are wiped out from time to time, since they may, at some point, use a considerable amount of space on your drives. Wise Disk Cleaner, with its intuitive and easy to use interface, helps you quickly wipe out all the junk files. There are two ways in which you can do that. If you are a beginner, you may use the wizard and use the program's default settings in order to clean-up your system. In you are an advanced user, you can customize the operations: you can manually select folders to be cleaned-up, you can erase files with certain extensions, exclude folders from the scan, etc.
When deleting file, you can choose to erase them forever, or, in case you are not sure about them, you can delete them to Recycle Bin.
Using the program is indeed easy. It also works fast when both scanning for files and deleting files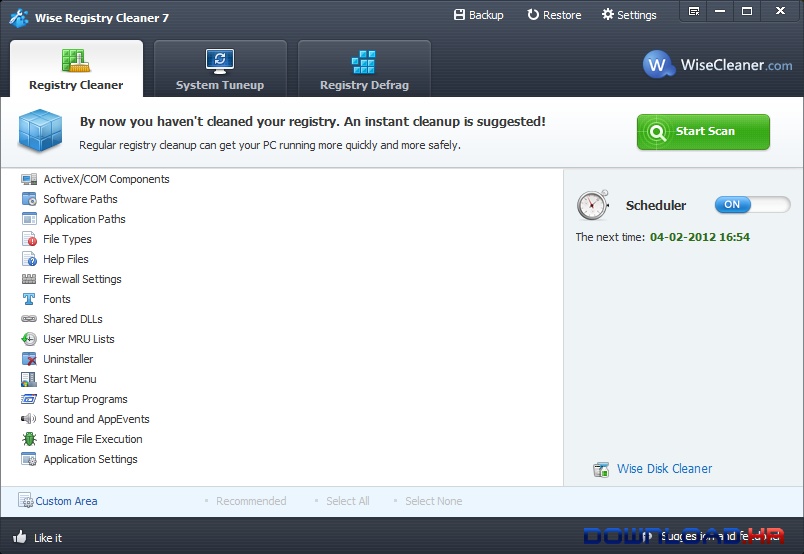 Download Wise Disk Cleaner| Visit Developer's Website

Provides a GUI for working with hard disk drives that have been formatted to the WBFS file system.
Wii Backup File System Manager Features:
Listing of games with titles, sizes and codes.
Drag-and-drop support for adding multiple files at once to the WBFS drive.
Easy to use interface which also reports available, total and used disk space at a glance.
Batch processing of multiple ISOs.
Rename discs on the WBFS drive.
Multilingual support
French, courtesy of TheCrach
Italian and Perugino, courtesty of cerocca
German, courtesy of BarbaxX
Spanish, courtesy of dgtor
Dutch, courtesy of villadelfia
Chinese (Traditional), courtesy of IvanChen
Homebrew Channel entry creation
Indirect Drive-To-Drive transferring and cloning
Automatic RAR archive extraction
Batch extraction and deletion
Exporting list of games on drive to a .CSV
Ability to use more than one cover directory
Channel Creation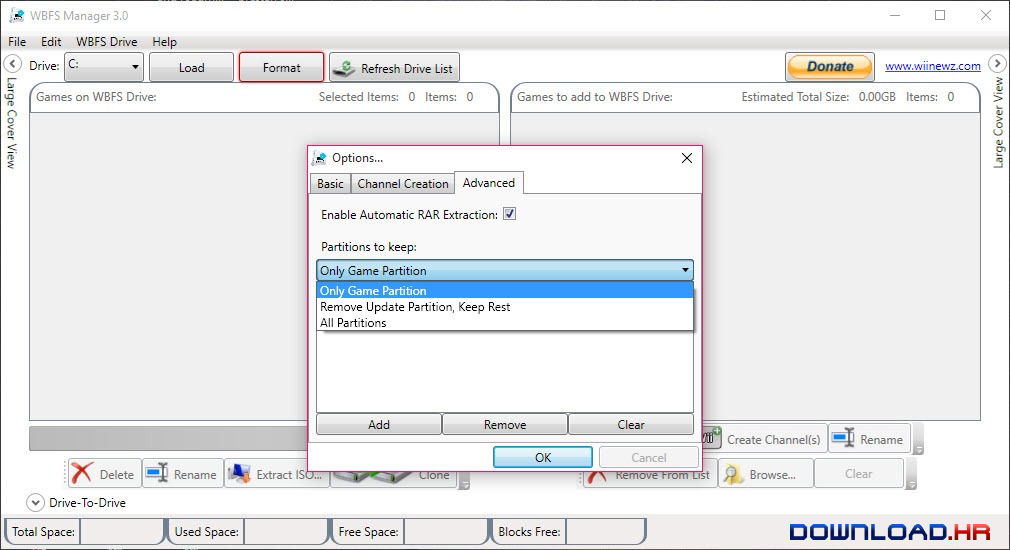 Download Wii Backup File System Manager
Auslogics Disk Defrag - get the maximum out of your hard drive performance.
Disk Defrag will speed up your computer by optimizing file system. It can defragment files, consolidate free space and move system files to the faster part of the disk. With Disk Defrag you'll get the maximum out of your hard drive performance. It is supplied with a powerful engine and smart algorithms which allow Disk Defrag to run much faster than similar tools. And with its comprehensive reports you will always be aware of what have been done.

Disk Defrag features:

- fast and safe defragmentation of the disk drives
- optimization of clusters' structure and file system for even better disk performance
- useful disk fragmentation map that displays defragmentation process in real time
- simple and intuitive user interface
- comprehensive defragmentation report
- extremely low system resources usage

Running Auslogics Disk Defrag at least once a weak assures your hard disks are optimized for maximum performance.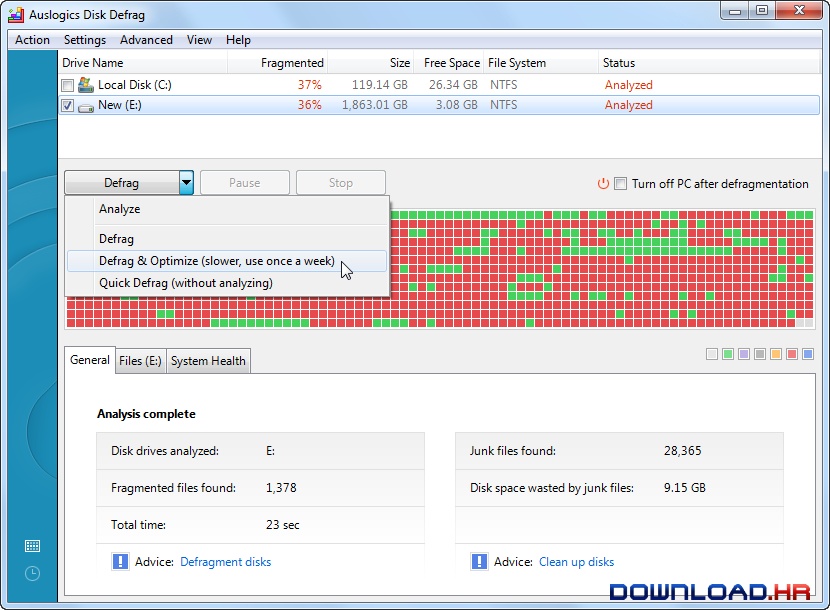 Download Auslogics Disk Defrag| Visit Developer's Website

Utility for low-level hard disk drive formatting
HDD Low Level Format Tool is a handy application designed to erase, low-level format and re-certify a SATA, IDE or SCSI hard disk drive with any size of up to 281 474 976 710 655 bytes. Will work with USB and FIREWIRE external drive enclosures.

Low-level formatting of Flash Cards is supported too. Low Level Format Tool will clear partitions, MBR, and every bit of user data. HDD Low Level Format Tool will utilize Ultra-DMA transfers when possible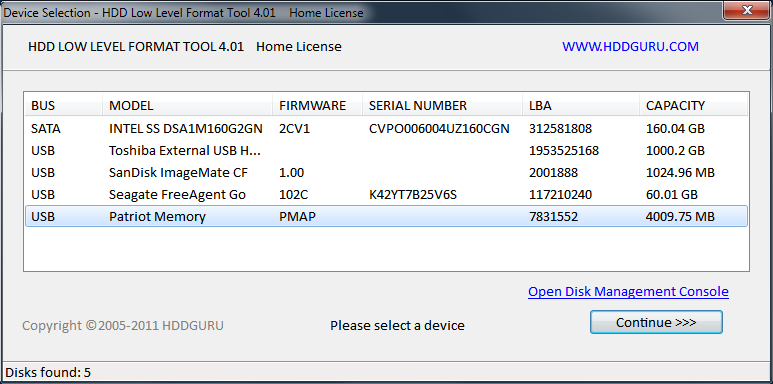 Download HDD Low Level Format Tool| Visit Developer's Website

A free hard disk partitioning and data management tool
Partition Logic is a free hard disk partitioning and data management tool. It can create, delete, format, and move partitions and modify their attributes. It can copy entire hard disks from one to another.

Partition Logic supports most basic PC hardware without any additional work or configuration. It has very modest (by today's standards) requirements:

Pentium-class or better x86 processor.
Supports all modern Intel x86 and AMD processors.
32 megabytes RAM memory (16 megabytes if operating in text mode).
IDE (ATA) or SATA hard disks, or USB disks for partitioning.
IDE (ATAPI) or SATA CD-ROM drive, if booting from the CD version.
Standard PC floppy disk, if booting from the floppy disk version.
For graphics mode, a VESA 2-compatible graphics card with linear framebuffer support.
USB or PS/2-syle keyboard.
USB or PS/2-style mouse, if operating in graphics mode.


Partition logic has the following limitations:
No hardware support for non-USB SCSI hard disks
No support for Sun or BSD disk labels.
Cannot format partitions as NTFS or EXT3.
Cannot resize FAT or EXT filesystems.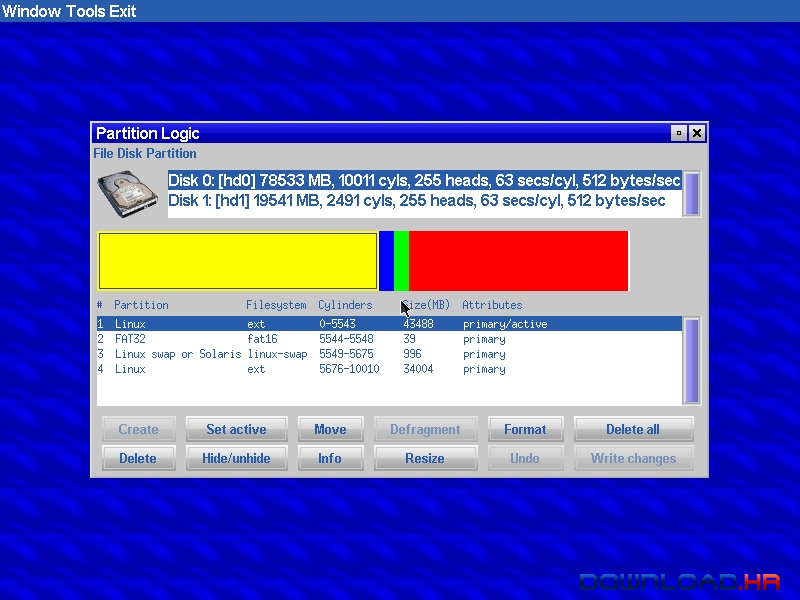 Download Partition Logic| Visit Developer's Website

cloning, migrating and imaging internal/mobile hard disks, SSD and USB media
The Free Edition of HDClone is the ideal tool for cloning, migrating and imaging contents of internal/mobile hard disks, SSD and USB media. Since it works on physical level it can be used with any operating system and any filesystem. HDClone copies the data for you. This allows you to transfer entire system installations to a newer hard disk quickly and easily (hard disk migration) and to do backups. It also adds the additional disk space automatically if desired. Since HDClone has its own operating system and is self-booting, it can be used even if the installed operating system is damaged. Therefore HDClone is also a great solution for data rescue on damaged hard disks or system installations. The commercial versions HDClone Basic Edition, HDClone Standard Edition, HDClone Advanced Edition, HDClone Professional Edition, and HDClone Enterprise Edition offer extended features.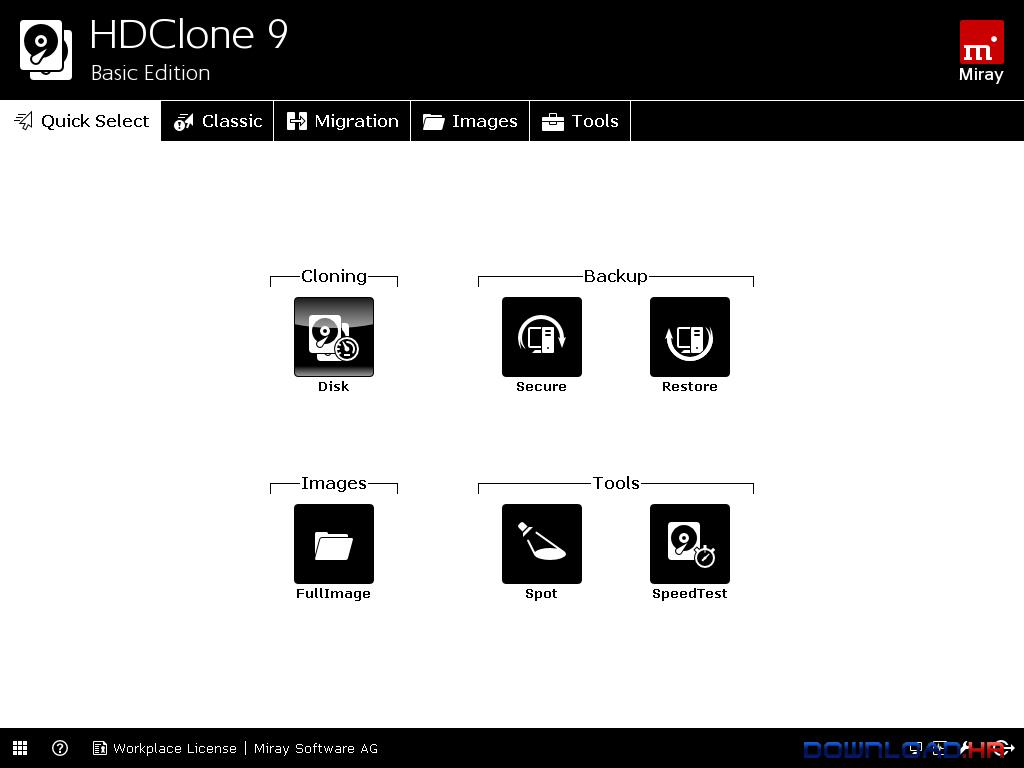 Download HDClone Free Edition| Visit Developer's Website

IObit SmartDefrag defrags your hdd drive most efficiently
Faster PC & Quicker Access Speed
Disk fragmentation is the main cause of slow computer. With enhanced multi-threading defrag engine and improved defrag speed, Smart Defrag provides better solution for faster data access and outstanding disk performance. Then you can enjoy faster game launching speed, copy files in half the time, etc.

Faster PC & Quicker Access Speed
Quicker System Boot Time
As your computer getting older, it takes longer to startup your computer and begins to work. Smart Defrag helps fix this problem easily. Configuring Boot Time Defrag feature, those files on HDD that cannot be moved while system is running can be quickly defragmented for faster startup.

Quicker System Boot Time
Enhanced Game Performance
Nobody wants to experience long game load time. Game Optimize in Smart defrag can optimize your game experience quickly with ultra-fast engine, and all you need to do is select the game you'd like to defrag.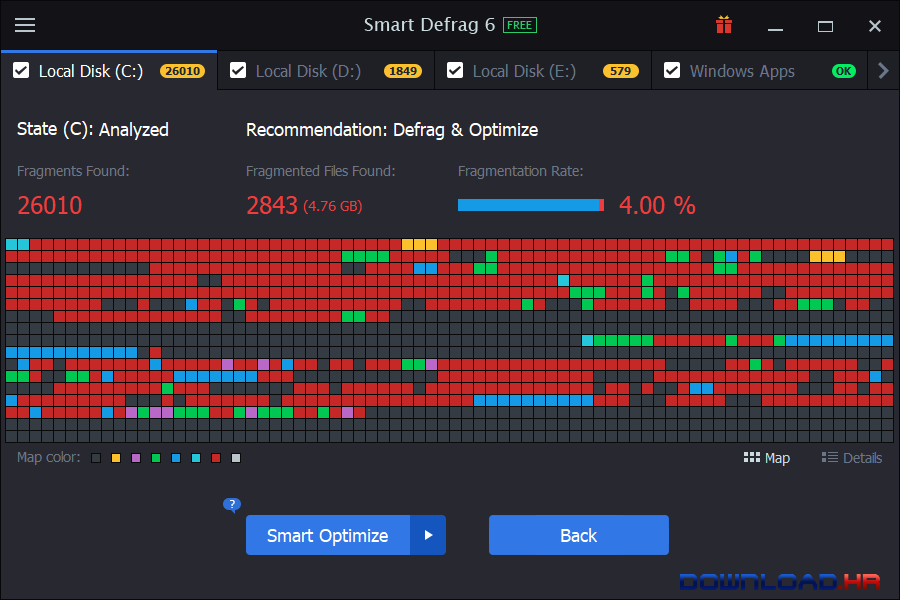 Download IObit SmartDefrag| Visit Developer's Website

When will your hard disk fail? Find out now!
Data loss is a nuisance. Total hard disk failure is a catastrophe. Ashampoo HDD Control 3 provides an early warning system against impending failure and gives users time to backup and store important data before the crash.

Ashampoo HDD Control 3 comes with a well-structured and clear user interface. All relevant information is bundled on the start screen and provides extensive data on the health status of all available hard disk drives.
The new history view helps predict future developments and allows users to take precautionary action. Users can view single parameters such as drive temperature, e.g. to track down heat issues. The program displays on-screen notifications for irregularities and can notify users through email, if desired. This latest edition also features network support to check the health of up to three PCs in your home network.
Among health monitoring, the application also comes with varies tools to maintain and declutter your drives. You can detect and remove resource hogs and redundant files or delete sensitive files irrevocably. There is also an option to recover accidentally deleted files.
Ashampoo HDD Control 3 bundles all essential tools for hard disk maintenance and is a worthwhile data security investment.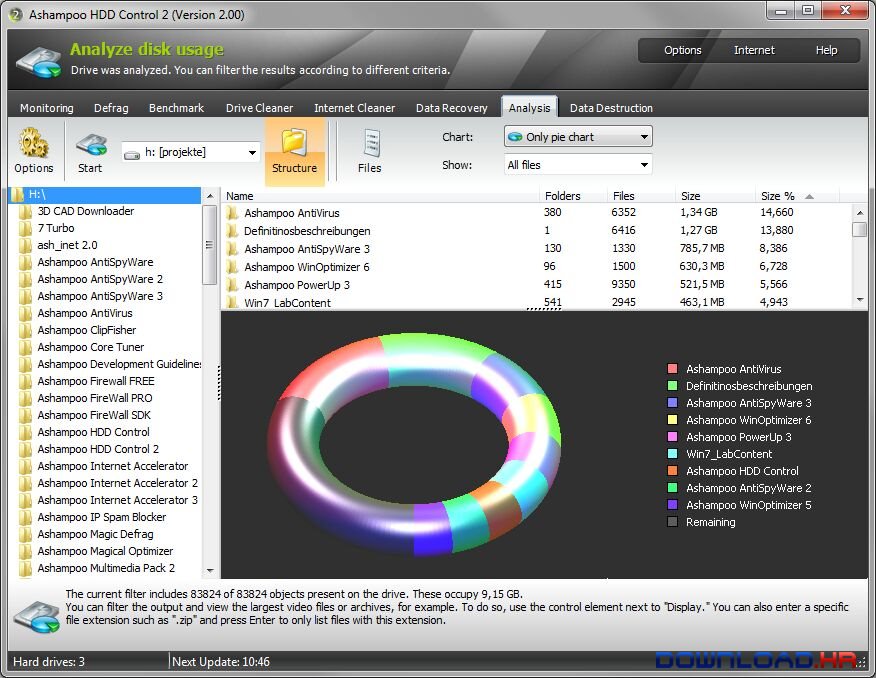 Download Ashampoo HDD Control| Visit Developer's Website

A hard disk utility that can test burst speed, temperatures, benchmark and more
Here are some key features of "HD Tune":

· Benchmark: measures the raw performance
· Transfer Rate
· Access Time
· CPU Usage
· Burst Rate
· Hard Disk information which includes firmware version, serial number, disk capacity, buffer size, transfer mode
· Hard Disk Health
· S.M.A.R.T. Information (Self-Monitoring Analysis and Reporting Technology)
· Temperature
· Power On Time
· Copy text to clipboard
· Copy screenshot to clipboard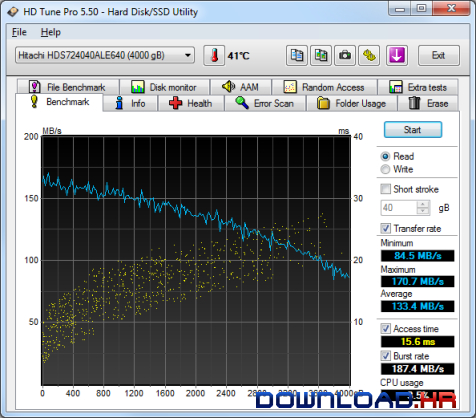 Download HD Tune| Visit Developer's Website

Can detect a lot of hard drives troubles and give a solution for them
HDD Observer is a monitoring and repairing tool for your hard drives.
HDD Observer can detect a lot of hard drives troubles and give a solution for them:
- Monitor hard drives health, performance and temperature
- Monitor hard drives activity and show it in a system tray icon
- Check file system fragmentation and registry fragmentation
- Defragment file system and registry
- Automatically and real-time find and remove un-needed files and registry values
- Windows XP/2003/Vista compatible
- Low memory usage
HDD Observer is not only a high technologic product - it is one of the most intelligent soft for hard drives monitoring. And this is because it has some unique technologies implemented by us especially for this program. One of them is SmartBehavior - a very complex behavior technology implemented in monitoring tools.
For example, if HDD temperature is near its critical value then HDD Observer begins to check it more frequently to exactly detect the time when the temperature will reach it's critical value. Evident - if critical value is reached, then HDD Observer will check HDDs with a lower frequency to release any system resources.
Another interesting feature is 'System Fragmentation Monitoring':
HDD Observer begins fragmentation check only when computer is idle, and all system resources are free.
In this case HDD Observer will check for fragmentation until will finish or the user will need any system resources. After check it informs the user about fragmentation level and can even defragment HD using its build-in defragmentation tools.
These and many other features make HDD Observer the most advanced HDD troubles monitoring and repairing program.