GOM Audio 2.2.20.0 for Windows
A lightweight free audio player that supports CD/DVDs, MP3s, M4As, live broadcasts and internet radio stations.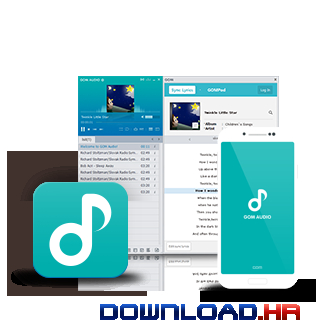 GOM Audio is a free music player that can play music from CDs and other formats at high quality. It provides effects and useful features, such as multi-speed playback, pitch adjustment, and equalizer, which are ideal for both general listeners and musicians. GOM achieves the highest quality audio that is optimized for different environments. In addition, it provides sync lyrics for audio playback, so you can listen to music while following the lyrics. If no lyrics are available, you can enter your own lyrics using the Sync Lyrics Editor and then upload them. Moreover, through the Podcast Service, you can listen to popular podcasts by streaming or downloading them. What's even more surprising is that you can enjoy all of these functions not only on your PC, but also on your mobile device. Useful Features Playback speed control (0.1x to 2.0x, including an audio correction function) A-B Repeat Pitch control Equalizer (Preset and Save My EQ functions) Reverb (Preset and Save My Reverb functions) Audio Effects (Surround, Normalize) Sync lyrics and editor Podcast streaming and downloading Internet radio (Open Internet Streams) Shuffle Playlists Edit ID3 Tags Change Skins Plugin Support Power Options Widgets and lock screen controls (for mobile) Link to music videos (for mobile) Support cloud storages (for mobile)
Software Summary:
You can run GOM Audio on Windows operating systems. GOM Audio is a software product developed by GOM & Company and it is listed in the category. GOM Audio is a free software product and it is fully functional for an unlimited time although there may be other versions of this software product.