IGEO MS OUTLOOK PASSWORD RECOVERY 1.0 for Windows
IGEO SOFTWARE SYSTEMS PVT LTD
Software recovers the password from Outlook PST file within 5 seconds.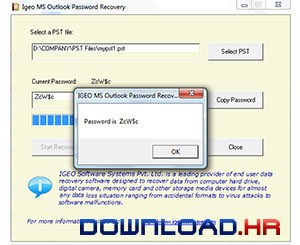 This software has been specifically designed to provide users with a utility that can locate their PST file password for them, essentially decrypting their file by accessing the user's personal folder. The passwords are protected by Outlook using complex encryption algorithms. This software decrypts the password and shows it to you, which you can then continue to use in order to access your PST file. However, it is possible that the password that had been used is extremely complex, in which case the software will be unable to decrypt it and show it to you. In such cases, however, the software creates an alternative password for you which you can use to access your PST file. This is possible because Outlook doesn't save your password as the encrypted version of the exact combination of numbers and letters that is your actual password. Rather, it stores your password as a hash value, which means that there will be several letter and number combinations that can be used to access your PST file. This software will simply detect the hash value of your password and generate a combination of numbers and/or letters that pertain to this hash value, which can then be used as an alternate password in order to access your PST file. This software is compatible with several versions of Microsoft Outlook, ranging from Outlook 2002 to Outlook 2013, and provides you with your password within 5 seconds. However, you do not need to have Microsoft Outlook on your computer in order to recover your password; you simply need the PST file that you need the password for. However, it should be noted that this PST file cannot be in the recycling bin; it needs to be in a location on your hard disk that is recoverable by a system search in order for this software to successfully find it and decrypt its password. This software is an extremely powerful tool that you can use to recover your PST file password within seconds, and also serves as a versatile; all purpose utility for all your Outloo
Software Summary:
You can run IGEO MS OUTLOOK PASSWORD RECOVERY on Windows operating systems. IGEO MS OUTLOOK PASSWORD RECOVERY is a software product developed by IGEO SOFTWARE SYSTEMS PVT LTD and it is listed in the category. IGEO MS OUTLOOK PASSWORD RECOVERY is a free software product and it is fully functional for an unlimited time although there may be other versions of this software product.