Portable Offline Browser 7.5 for Windows
MetaProducts Corporation
Browser & Email / Offline Browsers
Portable Offline Browser is an offline browser/downloader.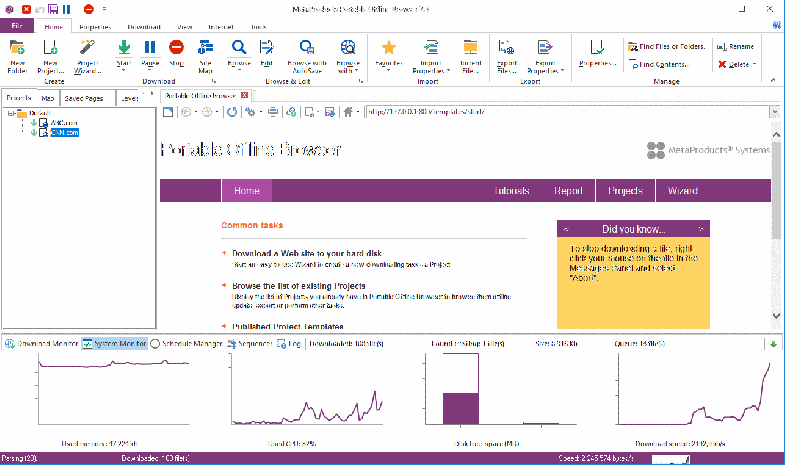 Portable Offline Browser is an offline browser/downloader. It can be installed to a Flash/USB drive and run directly from it. You can plug the drive with the installed Portable Offline Browser into any Windows system and use it with no need to adjust settings. All your Projects and downloaded files will be there! And when you unplug, none of your personal data is left behind. Portable Offline Browser lets you take the web site with you when you travel with your laptop computer. When the flight attendants ask everybody to disconnect from the Internet, you still have your web sites on your hard drive. Even if the online content moves or changes, your files are still intact. You can even save streaming audio and video files to your hard disk, and play them back at the highest quality. And its powerful export feature allows you to share and transfer files, or burn them to CD in normal or Autorun mode. Best of all, the downloaded web sites can be viewed on Windows, Macintosh, and Linux computers. Save Streaming Audio and Video for Viewing Offline There are lots of audio and video streams available, but you can`t save them to your disk within your browser, Media Player or Real Player. Portable Offline Browser can do this for you. Simply give it RTSP://, PNM:// or MMS:// URL and watch the file from your hard disk. You can also download the file with the highest possible quality even on a slow modem Internet connection. Convenient Office-2010 like interface provides more flexibility while working with Offline Explorer. The lower part of the main screen enables you to monitor and control your downloads. Download Monitor shows all downloading channels and their activity. System Monitor - contains charts to see CPU, memory usage, free disk space, and download speed. Log - shows all details of the download activity, internal server access, etc.
Software Summary:
You can run Portable Offline Browser on Windows operating systems. Portable Offline Browser is a software product developed by MetaProducts Corporation and it is listed in the Browser & Email category under Offline Browsers. Portable Offline Browser is licensed as Shareware which means that the software product is provided as a free download to users but it may be limited in functionality or be time-limited. You may need to pay at some moment to continue using product or to use all functionalities.