RonyaSoft CD DVD Label Maker 3.02.18 for Windows
RonyaSoft
Graphic & Design / Editors
Design and print great-looking CD/DVD labels and covers on your home printer.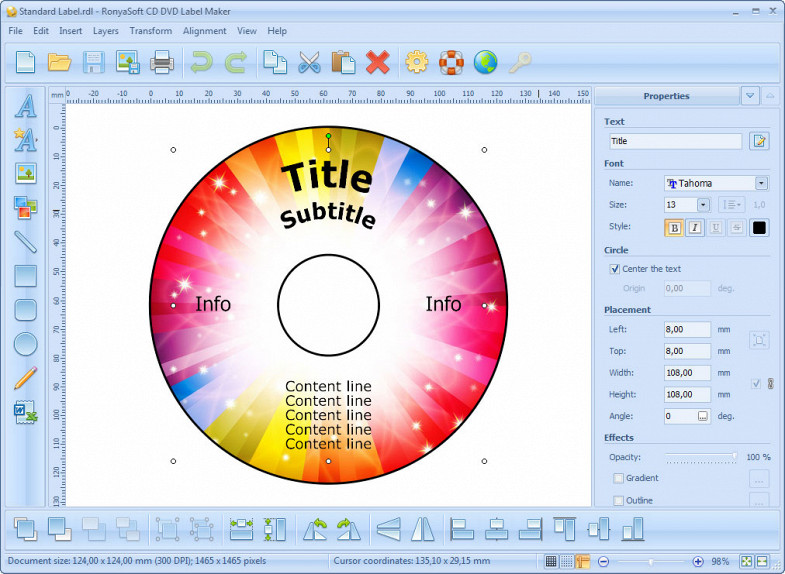 Create and print great-looking CD and DVD covers, box inserts and labels on plain paper, popular label stocks and CD printers. The program comes with everything you need to quickly design your own DVD covers, and takes care of all the technicalities completely automatically. RonyaSoft CD DVD Cover Maker software comes with a number of templates that help you design inserts, labels and covers for just about any media format in existence. It supports templates for CD jewel cases and regular and slim DVD boxes. RonyaSoft Label Creator can print on all popular stock paper, and supports most CD label printers. CD/DVD covers and inserts can be printed on plain paper, too. Ready-to-use pre-designed templates are included, making it easy to create perfect-looking Audio CDs, MP3 discs, archive discs, DVD movies and Blu-Ray collection discs. Use clipart pieces, photos and pictures to enhance your labels. A variety of images, fonts, shapes and effects are available to help you design attractive covers. Non-standard labels and covers are also supported via custom templates. For example, create your own cover template for PlayStation or Wii discs. Printing your newly designed graphics is also easy. Just select your label printer or choose your stock paper type, and CD DVD Label software will take care of the rest. Then it's simple: just stick your labels on the disc with the help of a CD labelling device. Make fine covers yourself!
Software Summary:
You can run RonyaSoft CD DVD Label Maker on Windows operating systems. RonyaSoft CD DVD Label Maker is a software product developed by RonyaSoft and it is listed in the Graphic & Design category under Editors. RonyaSoft CD DVD Label Maker is licensed as Shareware which means that the software product is provided as a free download to users but it may be limited in functionality or be time-limited. You may need to pay at some moment to continue using product or to use all functionalities.