Spam Reader 3.8.0.0 for Windows
An Outlook plugin that uses a Bayesian algorithm to filter spam.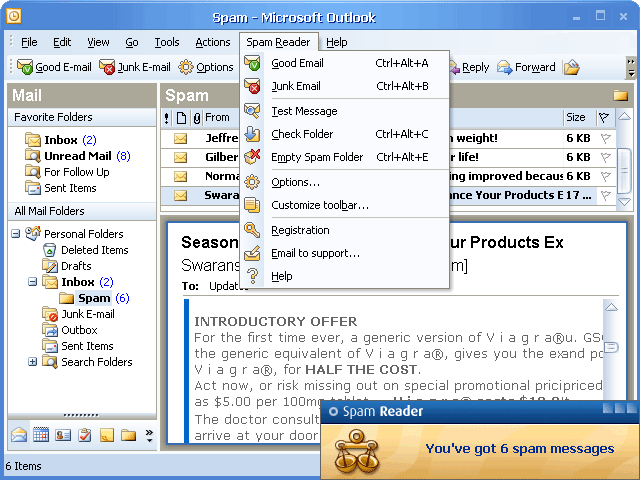 Spam is a disease. It is a plague of the modern Internet. Is there a cure? Various techniques were developed and tried. But spammers quickly make them obsolete using even newer tricks. Fortunately, Reverend Tom Bayes, who lived in the 18th century, has given us a powerful weapon against spam. He wrote a formula for guessing how likely it is that something will happen based on two or more independent events. Several years ago Paul Graham proposed to use this formula to guess whether a piece of e-mail contains spam. The new method is called "Bayesian filtering". Its main difference is its ability to evolve with time. Spammers develop new tricks to fool spam-protection systems, but Bayesian filters learn to catch these tricks immediately. Spam Reader is an MS Outlook plugin that extends this powerful e-mail software's functionality with a Bayesian spam filter. There is no need to run an external program. Spam Reader fully integrates into MS Outlook. After installing it, you will see a new toolbar and a new item in the main Outlook menu. Spam Reader analyzes each message when you receive it and puts it into the Spam folder as needed. Spam Reader does not break your existing Outlook filtering rules. This allows you to safely use it with multiple mail list folders and usenet accounts. Spam Reader ships with a large database of known junk e-mail fingerprints. It is trained on a database of more than 20,000 spam messages. Updates are provided from the Spam Reader web site on a regular basis. In addition to using the pre-installed spam database, you can create your own spam protection rules. This doesn't require any special knowledge. Just point at a message and tell Spam Reader whether it should treat mail like that as spam or not. You can also add mail senders into the White and the Black lists. Don't waste your time reading junk mail. Thanks to Reverend Tom Bayes and Spam Reader, we now have a cure against spam.
Software Summary:
You can run Spam Reader on Windows operating systems. Spam Reader is a software product developed by LuxContinent LLC and it is listed in the category. Spam Reader is licensed as Shareware which means that the software product is provided as a free download to users but it may be limited in functionality or be time-limited. You may need to pay at some moment to continue using product or to use all functionalities.
Alternatives in on Windows