Idle Champions of the Forgotten Realms is a Dungeons & Dragons strategy video game that brings together D&D characters from novels, adventures, and multiple live streams into a single grand adventure.
Event: Brightswords 3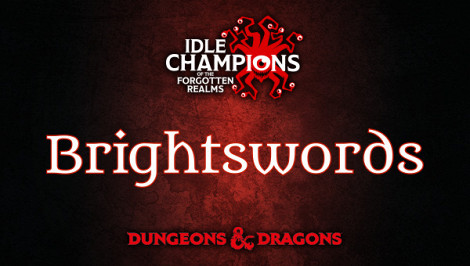 Seeking rest and respite from a year of adventure, the Champions arrive in the tranquil town of Longsaddle - only to find it under siege!

Drow from the Underdark are on the hunt in Longsaddle for a Harpell artifact, and it's a race against time to find it before they do...

Brightswords 3 introduces Lazaapz, the Goblin Armorer Artificer, and brings back returning Champions Turiel, the Aasimar Cleric and Wulfgar, Human Barbarian and member of the Companions of the Hall. Players will have until Monday, September 14th, 2020 at 12:00PM PDT, to complete event objectives!

Learn more on our official blog here.
Idle Champion Spotlight: Lazaapz
"Where was this device discovered," Lazaapz whispered, "and how old is it?"
The goblin artificer reached out of her mechanized armor to run her fingers along the surface of the Eldritch Machine, admiring the elegant craftsmanship. It resembled a large metallic sarcophagus, covered in arcane runes written in an ancient language.
"It was unearthed during one of our recent expeditions to Xen'Drik," the surly envoy of House Cannith responded. "Our analysis has confirmed that this device was constructed by the Cul'sir Dominion approximately forty thousand years ago."
"Incredible. THEY WERE SO SMART! I've only seen a handful of other machines they've created. There was the one down in the Cogs but it was broken, and then there was the last one your employers brought..." Lazaapz trailed off as she wandered around the machine, inspecting it from every angle.
"House Cannith trusts that you will keep the results of your testing discrete as per our previous arrangement."
"Did you see this?"
"I'm not sure what you're pointing at." The envoy shifted to get a better view of what Lazaapz was gesturing towards.
"These are symbols associated with Dal Quor. Do you see them? WHOA! If this machine is from over forty thousand years ago, that could mean it has something to do with the Quori. Weren't the Quori corporeal on our plane back then? OH BOY! Do you know what this could mean!?"
"...I'll leave you to it," said the envoy, turning to leave the workshop. Lazaapz didn't notice. She rarely noticed people when her mind was fixated on a mechanical puzzle. AND WHAT A PUZZLE! This will be fun...
Learn more on our official blog
here
.
About the Game
Idle Champions of the Forgotten Realms
is an official Dungeons & Dragons strategy management game.

Idle Champions is a licensed Dungeons & Dungeons strategy management video game uniting iconic characters from novels, campaigns, and shows into one epic adventure.

You start with iconic Dungeons & Dragons characters like Bruenor Battlehammer from R.A. Salvatore's Forgotten Realms novels, Jaheira from Baldur's Gate, and you unlock additional Champions through adventures and events, like Drizzt Do'urden, Farideh, and Jim Darkmagic.

Gameplay gets deeper with each Champion you unlock. Master formation strategy to complete hundreds of adventures in a fantasy world based on official Wizards of the Coast D&D books like Waterdeep: Dragon Heist, Tomb of Annihilation, and Curse of Strahd.
Key Features:
Unlock Renowned Champions
Collect renowned Champions from the world of Dungeons & Dragons, including fan-favourites from the Force Grey series. Unlock more Champions and gear to add to your party in limited-time events.


Mastering the position of each Champion to maximize their special abilities is the key to completing each adventure. Each Champion's abilities and gear requires careful thought to create the best combination. Only the most powerful formations will defeat the waves of Dungeons & Dragons monsters.


Explore the Forgotten Realms
Take your Champions on a journey through the Sword Coast. Players will be able to explore familiar locations within the Forgotten Realms as they tackle each adventure.


Your adventure continues even when you're not playing. Set-up your perfect formation and let your Champions battle monsters to earn gold until return again.


Revisit and replay your favourite adventures with new challenging restrictions for even greater rewards.


Run several adventures simultaneously to utilize the vast roster of Champions.


Veteran players will be able to automate certain aspects of gameplay by using a brand new system inspired by mechanical beings from D&D lore called Modrons.
A Note About Premium Purchases:
You can download and play Idle Champions of the Forgotten Realms for free, however, some premium in-game items can be purchased for real money.

Gems earned for free in-game by killing bosses and completing adventures can be redeemed for Silver Chests and Gold Chests that contain equipment, potions, contracts, and gold. Gold chests can be purchased for real money if you do not want to wait and save up gems for them.

Silver Chests contain three cards of Common to Rare rarity. Silver Chests have a chance of dropping Rare equipment cards, but do not contain Epic equipment cards.1

Gold Chests contain five cards of Uncommon to Epic rarity. Gold Chests always contain at least one Rare equipment card and have a chance of dropping Epic equipment cards.2

Basic Silver and Gold Chests can drop equipment for all basic non-event Champions, including Hitch and Drizzt. They will not drop equipment for event Champions (for example Gromma, Krond, or Barrowin).

Event and Promo Chests function the same as basic Silver and Gold Chests, however, they only drop equipment cards for specific Champions. Check the description in the in-game Shop to determine whose items they can drop.

Guaranteed "Shiny" equipment cards are available as a reward for real money purchases, however, they also have a small chance of appearing in any Silver Chests or Gold Chests that you purchase for free.3

Bonus "Golden Epic" equipment cards are generally only available as a purchase bonus for real money transactions, however, specific Golden Epic cards may become available through free means at Codename Entertainment's discretion.

In-game purchases range from $2.99-$59.99 USD (or equivalent local currency) per item.
1
Chance of a Rare equipment card in a Silver Chest is approximately 3.2%.
2Chance of a Rare equipment card in a Gold Chest is 100%. Chance of an Epic equipment card in a Gold Chest is approximately 12%. To mitigate bad luck, a system exists to guarantee at least one Epic equipment card within every 10 Gold Chests.
3Chance of a Shiny equipment card in a Silver or Gold Chest is approximately 0.1% per chest.
Game Summary
You can run Idle Champions of the Forgotten Realms on all modern Windows OS operating systems. Idle Champions of the Forgotten Realms is a game developed by Codename Entertainment Inc. and it is listed in Games category under Action. Idle Champions of the Forgotten Realms is licensed as Idle Champions of the Forgotten Realms. Idle Champions of the Forgotten Realms was last time updated on Dec 3rd, 2020.
Download Idle Champions of the Forgotten Realms for Windows
Idle Champions of the Forgotten Realms has over player recommendations to date. Interested? Download and play Idle Champions of the Forgotten Realms and see for yourself.